I'm tall. Taller than most women. Taller, in fact than most men. I'm 6ft 3in (190.5 cm), which according to the Office of National Statistics means that I tower over the average 5ft 9in (175.3 cm) man, and the 5ft 3 (161.6 cm) woman. I'm weathered enough to know that my height is somewhat unusual, but I do know that I am not alone up here. People are catching up. The UK's average height rose by 3.9in (10cm) during the 20th Century, and up to 7.8in (19.8 cm) in other countries. Official Health of the Nation figures show that 30% of men under 25 are now over six feet tall, and if the current trend continues it's expected that within a couple of generations, the average British man's height will be 6ft and woman's will be nudging 5ft 7in. Almost within my elevation index…
Yet, despite our increasing loftiness, access to apt footwear, clothing and garden tools is still proving somewhat tricky. When it comes to the right sized tools, the main issue is the handle length for the gardening fundamentals; fork and spade. The majority of handles come up short, which means we are holding the fork/spade at the very end of the handle. That means means we attain no natural leverage from the fork/spade, we're hunched over and are hence causing extreme pressure on our lower backs.
Over the years, I have carefully curated tools and kit, befitting the lofty gardener and I thought it time to share my treasure trove1. So for those of us who stand (head and) shoulders above the national average, you no longer need to come short – literally, when it comes to your gardening gear. Clothing I shall handle in a subsequent post, today it's all about tools; those fundamentals that form my basic kit. Some of these recommendations may of course also be relevant for those looking for lumbar solace in their gardening activities.
What is the right fork/spade size?
To ensure you aren't putting any unnecessary strain on your (lower) back, choosing the right size and weight is important. The chosen fork and/or spade size is correct for you, when your hand can rest comfortably in a 90 degrees angle while holding the handle. That means that the total length (blade, shaft and handle combined) should be approximately to elbow height (when arms are at your side). Similarly, the weight of the spade is correct, if you can comfortably turn the spade from vertical to horizontal position in-front of you whilst holding the handle with both hands.
Favourite garden tools & kit
Fiskars forks & spades
There was a time when I was obtusely snooty about my gardening tools. Only celestially hand-forged, wooden handled tools were allowed through these garden gates. However, little did I realise that tools such as these are naturally burdened by their beautifully hand forged steel, wooden shaft and handles – and are hence, relatively heavy to work with. Fine for a couple of hours, but if you garden as madly as we do here, that extra load takes its toll. They're also not great at absorbing shock, which again for nutter gardening, can present issues.
I was first introduced to Fiskars at a trade fair many years ago, knowing them only for my mother's sharp, orange scissors. Turns out, those cunning Finns, make a lot more than scissors…
Fiskars garden tools are made of a durable, lightweight composite/plastic material and metal. At 120/125cm long, they have the longest handles I have come across, and are therefore brilliant for the taller gardener. If you are tall-ish, they are also available in a medium length (108cm). For reference, our soil here is heavy clay, with generous amounts of impenetrable rock, which the Fiskars handle very well indeed2. There are two ranges, both of which I use and recommend; the Xact™ and Ergonomic™ range.
Xact™ Soil Work Digging Spade & Soil Work Fork – size L: Length 120cm – recommended for users with height of 175m-195m. Weight spade: 1.64kg, fork: 1.80kg. Shaft consists of 50% steel and 50% fibre composite material. Spade has stepping board for ease & ability to add force. Big open 'push & pull' handle allowing for good (non-slip) grip and absorbing shock.
Ergonomic™ Garden Spade & Fork – size L: Length 125cm. Weight spade: 1.98kg, fork: 2.09kg. Boron steel for added strength, with plastic coating for extra grip. Spade has stepping board for ease & ability to add force. Big D-shaped handle allowing for good (non-slip) grip and absorbing shock. Relatively heavier than the Xact™ range, which if I tend to grab most often.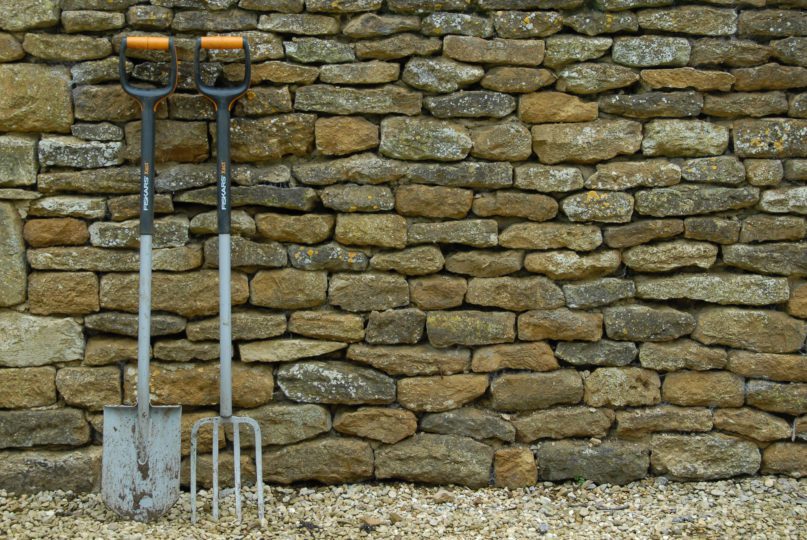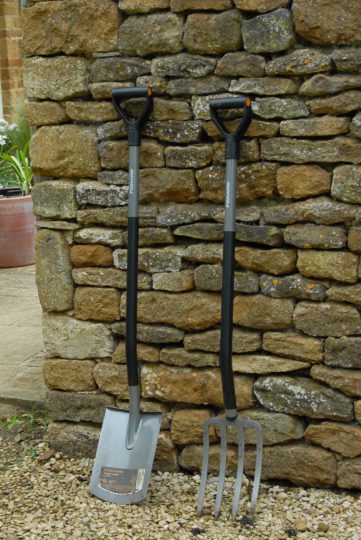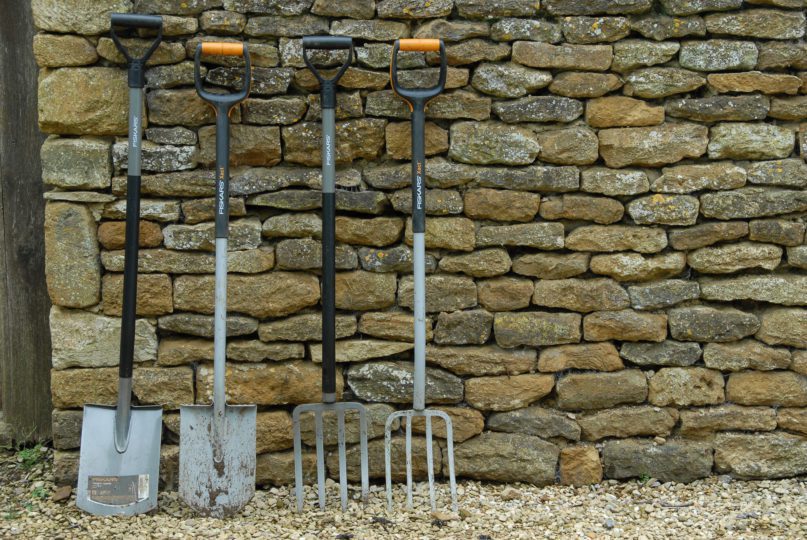 Sneeboer Dutch and Push hoe
Weight is not such an issue with a hoe, it's all about length for reach and leverage. With a length of 171cm (handle plus hoe head) the Sneeboer hoes provide outstanding reach and allows for great leverage to work the soil with ease. Both their Dutch as well as Push hoe are great pieces of kit. If pushed for a choice, I'd go Dutch, as personally it allows for more control.
Dutch hoe: Length of handle 155cm, total length 171cm. Width of head 14cm. Total weight 1,25 kg. Handle is made from sustainable sources of Ash.
Push hoe: Length of handle 155cm, total length 171cm. Width of head available from 10 – 30cm , we have the 14cm. Total weight will depend on head width, ours comes in at 1,25 kg. Handle is made from sustainable sources of Ash.
Niwaki leaf rake
Known for all things sharp and nice, Niwaki products are much favoured chez nous and thus have wide array of secateurs and shears. Admittedly, despite its alluring carat-age, I haven't fallen for their golden Sukoppu spade on account of its relatively short length at 0.97m.
They do however, have a fabulous (leaf) rake which I highly recommend. Granted, rakes don't often present length deficiency issues, but the Niwaki Leaf rake is one of the lightest I have ever come across – weighing in at just 0.89kg. The tines are cleverly curled inwards and width-adjustable ensuring you can pick up the smallest topiary clipped morsels, in the tiniest of crevasses. Great value price-wise, and a proud member of my daily tool kit.
Niwaki rake: Length of handle 144 cm, total length 164 cm (tines fully extended). FSC Ash handle. Total weight 0.89kg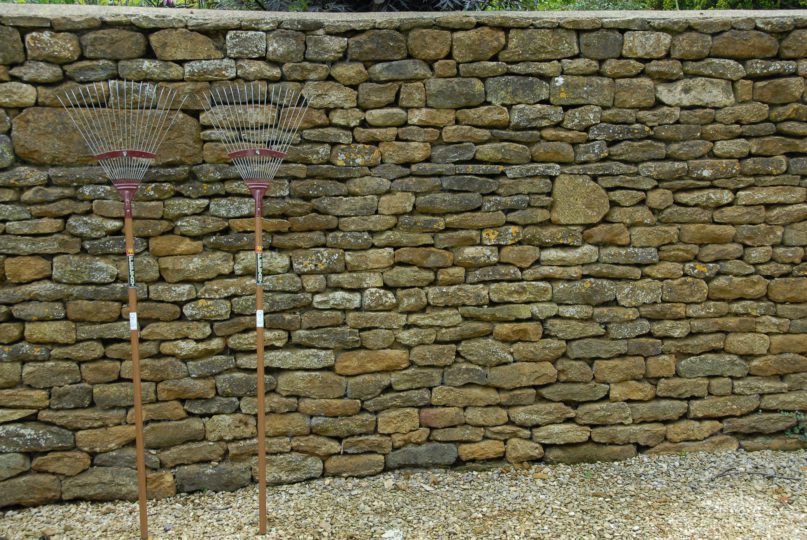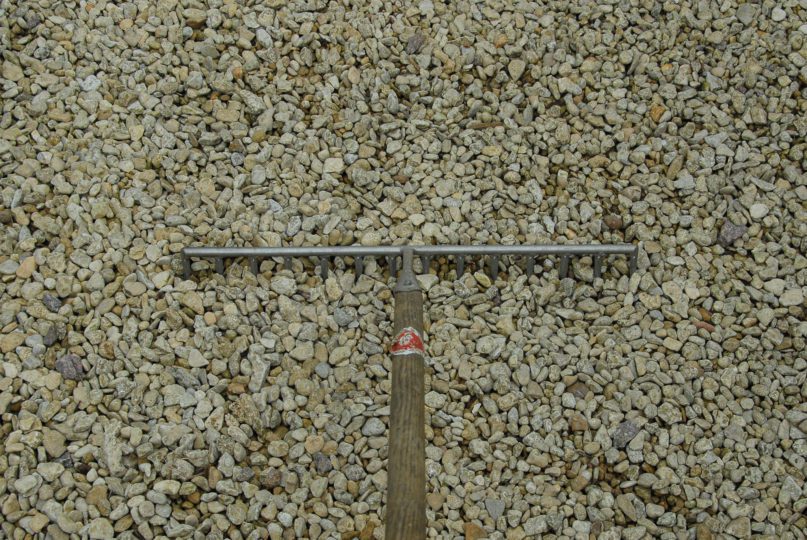 Sneeboer gravel rake
The Niwaki leaf rake is very apt at raking ravel paths, but some credit is due to my now ancient Sneeboer gravel rake. Equipped with a massive 55cm (14 short spiked) head, this was our go-to tool to deal with long expanses gravel paths and driveway. One can certainly do so with a regular sized raked, but the added head width saves time and does the job so much better. The more efficient you can be in your gardening, the less strain on your body. The Niwaki rake has to some degree surpassed the Sneeboer gravel rake now on account of its efficiency and all round featheriness, but for heavy duty gravel work, I wouldn't hesitate to pull this bad boy from the shed.
Gravel rake: Length of handle 155cm, total length 168cm. Width of head 55cm. Total weight 1,6 kg. Handle is made from sustainable sources of Ash.
Spear & Jackson knee pads & kneelers
Where most have legs, I have tree trunks. Now to be fair, kneelers don't really present a 'height' problem but I do need them to be ample enough to accommodate tree trunks. My trusty old Burgon & Ball Kneelo's are great, but Spear & Jackson have recently brought out a slightly larger, more rectangular shaped kneeler which I really like. At 52-54mm thick, it's a tad more generous in plush-ness too, than the kneelo.
The good folk at Spear & Jackson have also brought out a set of knee pad kneelers which are very good indeed. I wasn't a fan of kneepad kneelers, as my first pair swiftly cut off my circulation due to their stingy strap sizes, so I never ventured there again. The Spear & Jackson set however are very generous, making for comfortable working & kneeling. You should see me now, I can kneel wherever required and can double up as a hockey goalie if needed…
Kneeler: Memory foam (5 layer) with Neoprene water resistant lining. Length 480mm. Width at widest point 290mm. Width at narrowest point 250mm
Knee pad kneelers: Memory foam (3 layer) EVA (memory foam) with Neoprene water resistant lining. Pad thickness 40-42mm. Pad size 215mm x 115mm. 600mm Velcro strap fasteners
Farmer-florist tool belt
Possibly more 'kit' than tools, but this belt allows for true 'hands-free' gardening. A tad John Wayne-esque I know, but this not only accommodates a range of sharp tools, but more importantly saves me from the incessant bending up & down down to to pick up my secateurs. Gardening efficiency is key.
A thoughtful gift from my husband many years ago, the farmer-florist tool belt from Erin Benzakein of Floret Farm, designed by Wheeler Munroe Leather Co. (USA), has become my staunch staple. I've had a few tool belts over the years, but belt lengths always proved too stingy for the high-rise gardener. This one is marvellous and fits most people – even with added winter layers. On her website, Erin does say that you can trim them to the desired length if needed, but I wouldn't dream of it. Admittedly, they're not cheap, but worth saving up for. I have spotted a few imitations on Etsy, but can only vouch for the real McCoy.
Tool belt: Length140cm (measured from the far edge of the buckle to the tip of the belt), handmade in leather. Available in various colours and right/left handed versions.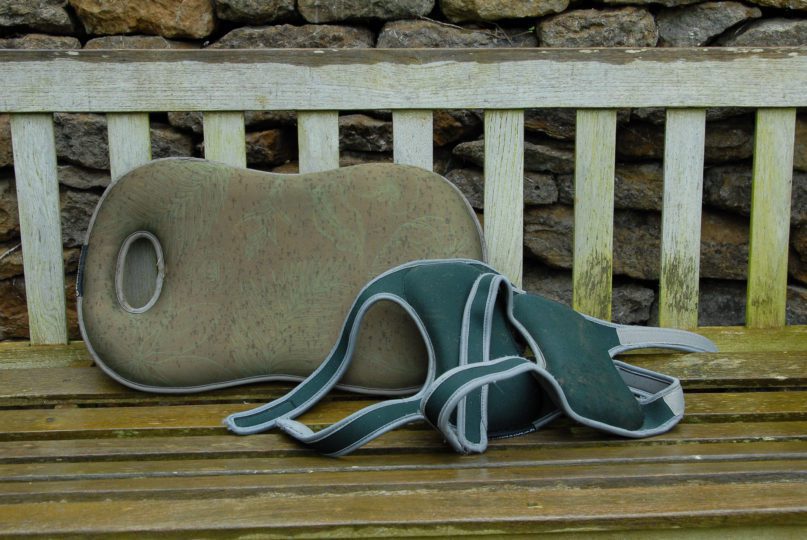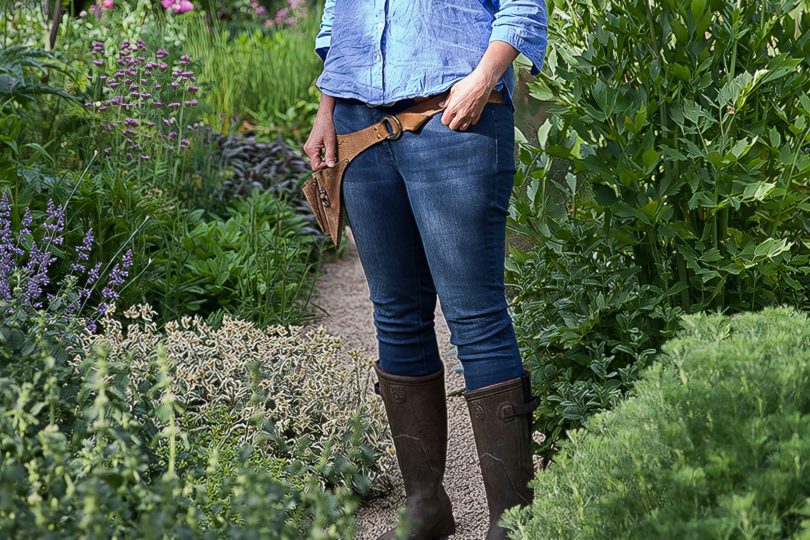 Footnotes
Though, I may receive samples for trial, I don't earn commission from retailers, my selections are based on real, every day usage (testing) and expert advice. Only those that make it into my tool kit are shown here. The mud on there proves it….
Honorary mention required here. If there is a particularly solid rocky substrate that needs getting through, I do sometimes reach for my old Bulldog fork. Though much shorter, Bulldog forks have incredibly thick and strong tines that are no match for petrified ground. Having said that, 99% of fork & spade work is done with my Fiskars, without which I would be lost.
Header photo taken by Rebecca Bernstein.