A confession is in order. To celebrate the momentous RHS Chelsea Flower Show Centenary, I attempted to collect 100 best show memories from garden designers, plantsmen, visitors, organisers – all whom participate, attend or simply love the show. Despite feverish zeal, enthusiasm and exceptionally alluring telephone manner, this exercise did prove rather too ambitious, as I managed to collate just over half the intended memories in time for the show. Thwarted, wistful and crestfallen, the post was abandoned and doomed to collect dust in the 'eternal draft' archive.
However, a recent blog spring clean unmasked these enchanting show memories, which despite not making it to the big one hundred, are just too good to fade into the ether. So with just a few weeks until the 2015 RHS Chelsea Flower Show – here they all are. I thank all those who participated, (some who participated twice) and my sincerest apologies that it took over a year for your words of wisdom to be aired.
Jekka McVicar
"Astounded that I was not staying in more lavish accommodation rather than a camper van in Battersea Park, Jaime Oliver kindly offered to take me out for dinner. He did so and brought me back on his scooter. All rather exciting and cool. Scooting through the gates at the Royal Hospital, the guards at the gate were stunned to silence. After a long pause, one of them pointed at me and asked; 'Jaime, is that your mother??'."
James Alexander-Sinclair
Founder intoGardens, writer, garden designer; gent on the telly who used to wear THE hat.
"In 1985 I went to Chelsea for the first time. I did not have a ticket and was a bit unsure of how things worked. I turned up on the Friday afternoon just after the show had closed and the great sell off had begun. I wandered in the gate and mooched around watching the gardens being dismantled and the pavilion being emptied of plants. Happy looking people were wandering off to the tube station clutching eight foot Delphiniums and unwieldy standard fuchsias.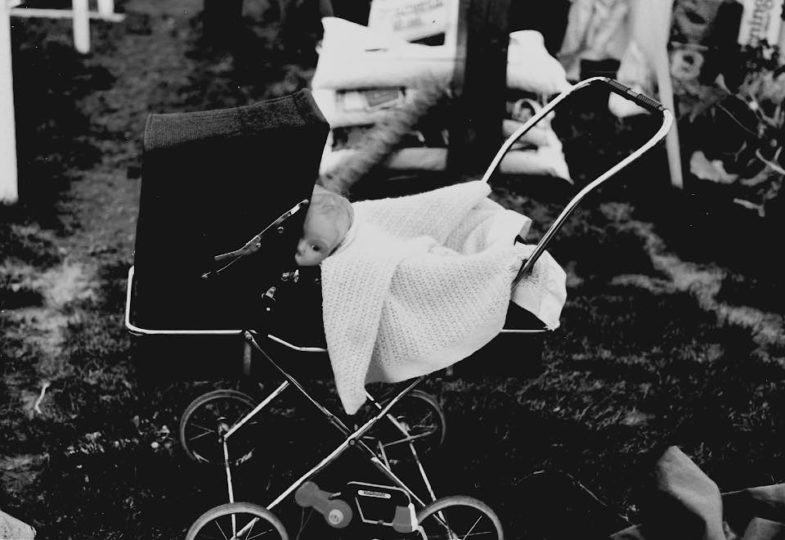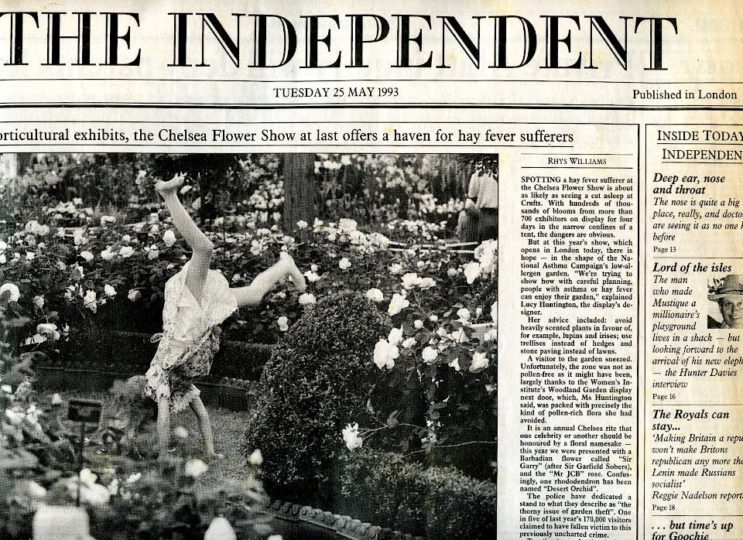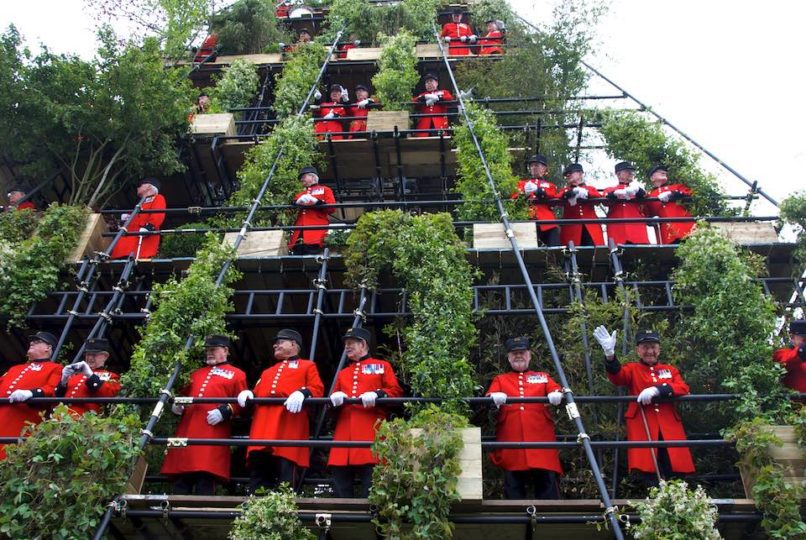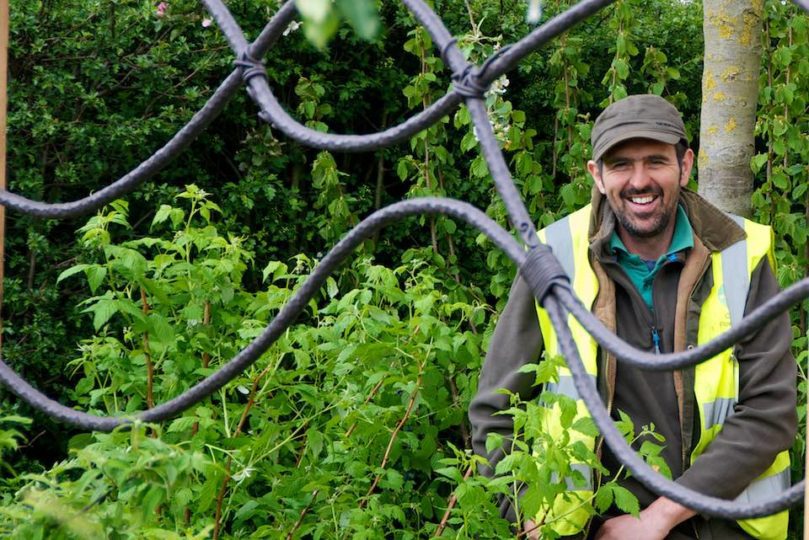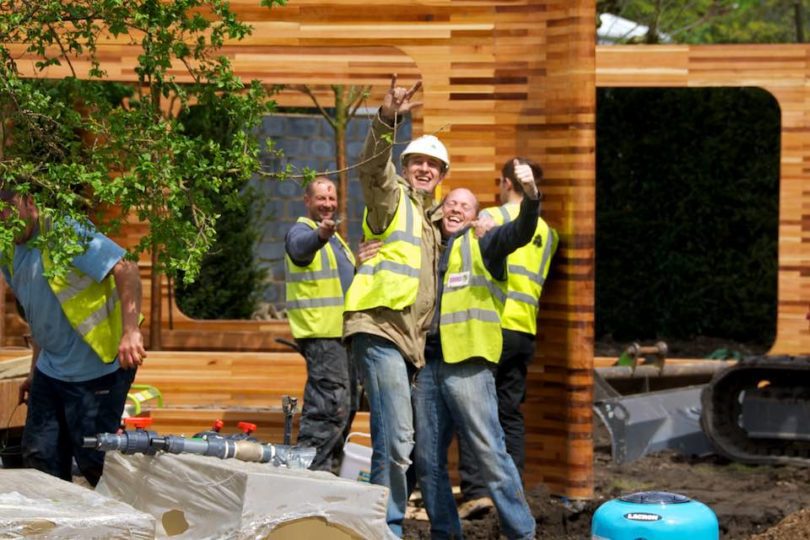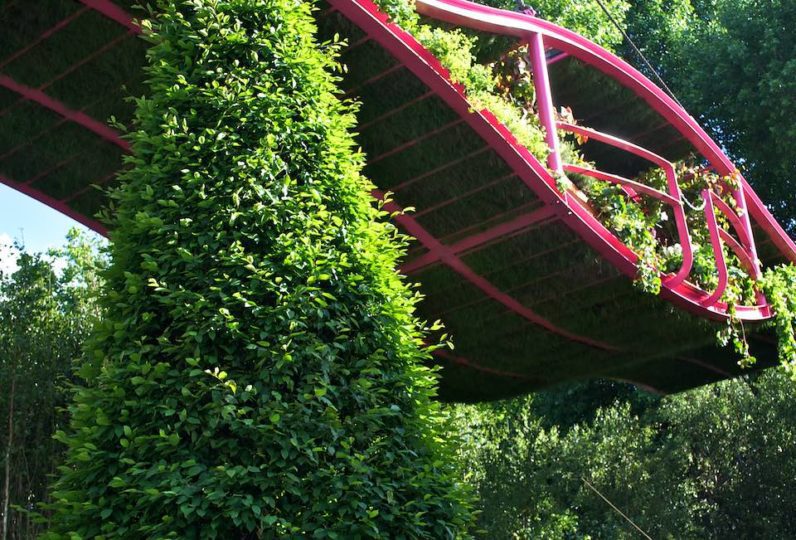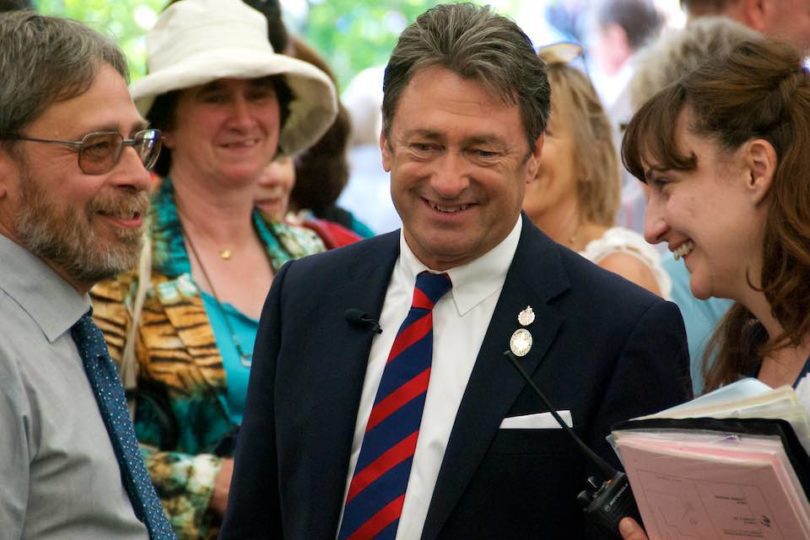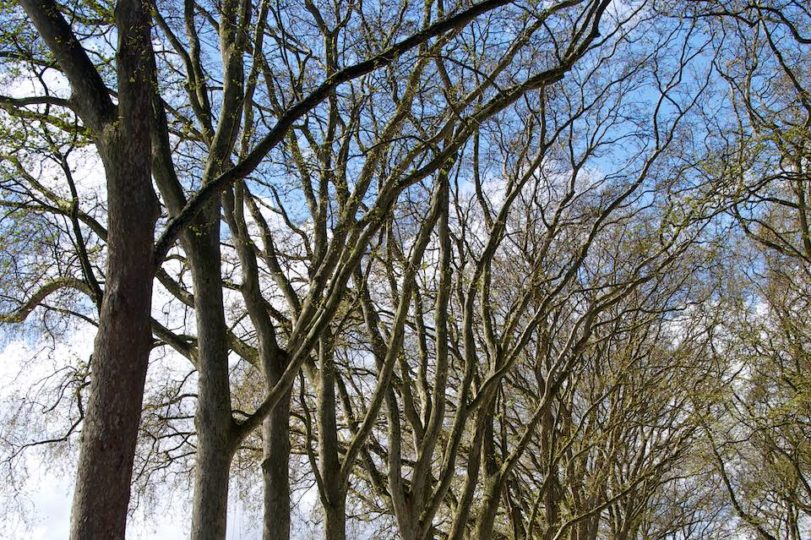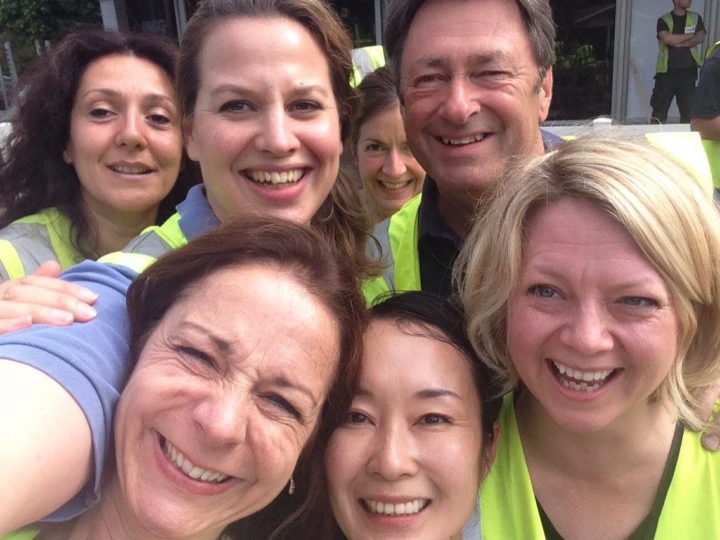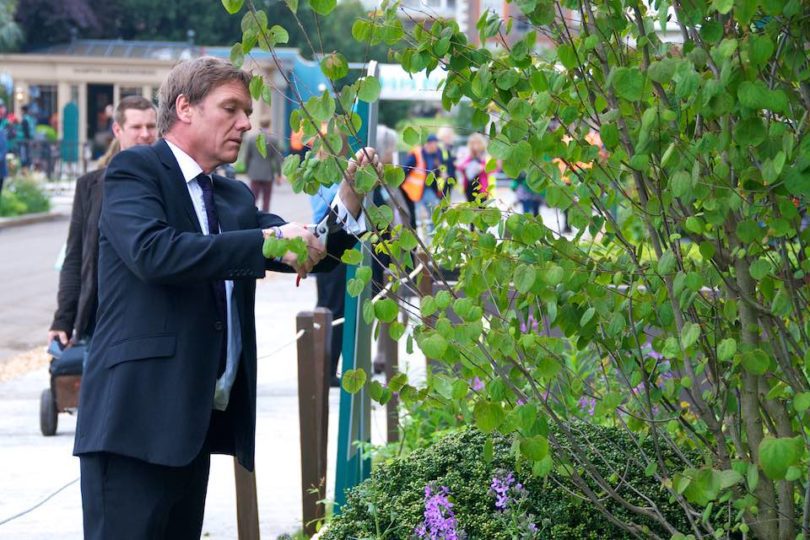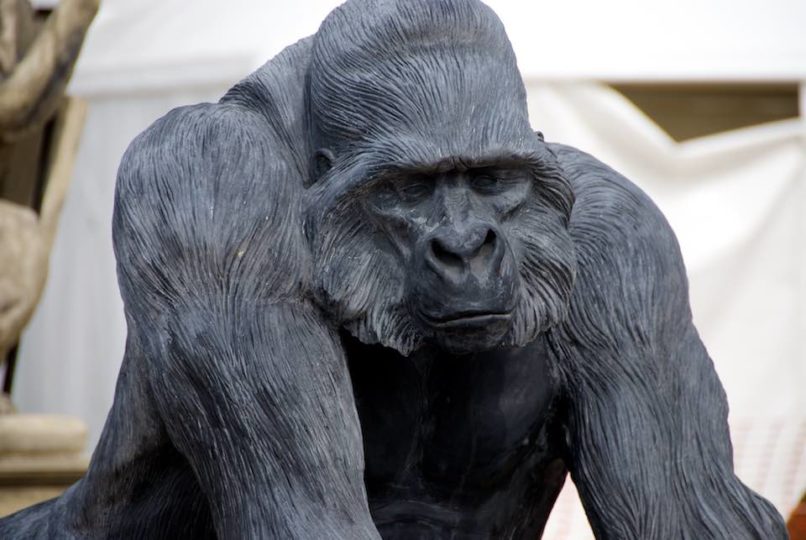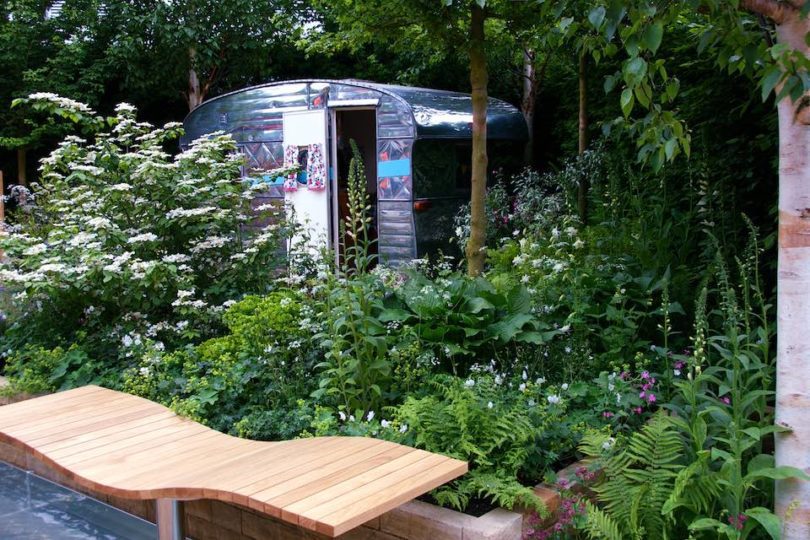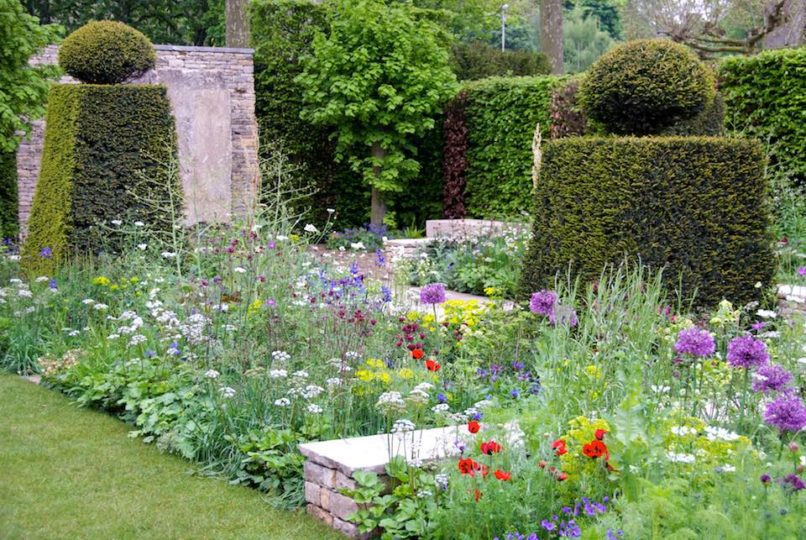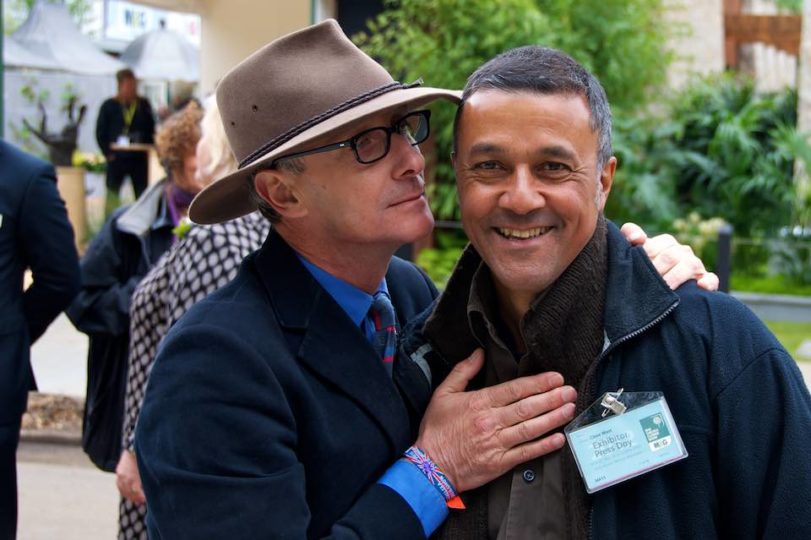 It all seemed like a big bunfight but the prices were good and the atmosphere was intoxicating. The next year I went back with three guys and some wheelbarrows. The following year I actually bought a ticket."
Adam Frost
Supremo garden designer; night-vision goggles model
"My first solo Chelsea build for the 'Realistic retreat garden'. Having built the national rose garden the year before, I decided to invest the entire hard earned retention into a Chelsea garden. Didn't go down that well at home. Anyway, I got my own way, went to Chelsea and built the garden. Funny thing is, when she turned up on the Sunday or Press day, walked round the corner and said "Oh my god, I didn't think it was going to look that good!!!".
I remind her of that every year…."
Arabella Sock
Queen of wit, Twitterer (@ArabellaSock), blogger, 1/3 lady who launches
"Press Day 2012. I was stood outside Chris Beardshaw's Gold Award winning Furzey Garden trying to get a 'long lens' photo of him talking to someone inside the thatched 'hut' (or Lantern Building as I believe he referred to it). An interested 'hack' seeing the lens out rushed up to me and said "Ooh – is there anyone interesting in there?". "Yes, Chris Beardshaw" I replied. The hack said "oh is that all" and wandered off to join the throng, clamouring outside of Diarmuid's preposterous pyramid.
I laughed to myself for quite a while."
David JC Austin
That's David Austin, son of David Austin of David Austin Roses
"Looking back over 25 years of exhibiting at Chelsea, of course there have been mishaps and disasters narrowly averted, but these don't really tell the story. After all, disasters can be averted anywhere, but a Chelsea disaster is a completely different thing – just imagine adding a magnifier of ten or twenty times to the importance in any other context. So if I say 'someone once fell into the fountain', it hardly conveys a fraction of what that entails when you're there with your team, working with living roses, out of season, to deadlines, for the greatest gardening show on earth.
We have exhibited at many garden events – including the major shows in Russia, Japan, Australia, Europe and America – but nothing comes close to Chelsea. Gardening is all about enjoying the natural seasons. For us, Chelsea is the start of each new gardening season, as we show our new roses there for the first time. There no better way to start off the year than with a Chelsea gold medal!"
Christine Walkden
"2009 was a bad year. I went through a cancer scare, had major surgery, my father passed away and I lost a dear friend, all in the first three months of the year. This was the first time I had been asked to broadcast from the show and I was not sure if was able to do my broadcasts not knowing if I would be well enough. I did get there in the end, and I remember so clearly standing on the embankment at the end of my last day at the show, being approached by a small lady in grey. She said, 'You don't know me, but I love your work'. It turned out that I did know her, it was Beth Chatto. Beth Chatto loved my work! I travelled all the way home on a complete high. She made my year.
Chelsea is an emotional journey for all, and that was mine."
Jim Hillier
Mr nursery and plant guru – Hillier
"My overriding memory, and this is before Chelsea as it is now, we always used to go up as a family when I was five years old, or, no, younger probably, and we used to picnic on the bank now where they have the gala night stuff going on, but that was just a grass bank. And Dad used to just drive up there and it was my brother's birth always on Chelsea weekend, during the build upon the Sunday before opening. My granddad, my father and our, sort of, little family there with all the workers who were building the exhibit, singing happy birthday, so… on the grass bank".
Mark Diacono
Mr Taste-the-Unexpected and prolifically award winning wordsmith – Otter Farm
"*Apart* from meeting you at Chelsea, it all pales into insignificance…. my most shaming is my tendency to say hello to famous people in the millisecond when my brain thinks 'I know you'…but before it gets to 'from the telly', Chelsea or whatever. My tactic is now to carry on talking rather than apologise, assuming they will think we must've met at some point. I had Barry Norman asking how the wife was a couple of years ago."
Sarah Raven
Super gardener & purveyor of all things of good taste – Sarah Raven
"One of the things memorable at Chelsea is the appalling itchy eyes and throats everyone gets from the London plane tree pollen, but I love their giant permanent presence peering down at the toing and froing below. My favourite gardens ever were Dan Pearsons, maybe ten, eleven, twelve years ago full of rich colour and plants like Anchusa Loddon Royalist and Dicentra Baccanale – which are almost commonplace now but had never been seen before".
Claire Austin
Queen of Irises, Peonies and Perennials – Claire Austin Plants
"For me, Chelsea has always been a family affair. David Austin Roses first exhibited in 1982, my first visit was a year later. The year after that I included dwarf bearded irises to my father's stand, which is now amazing because with warmer springs almost all dwarf irises have finished flowering by late May. I also have some lovely memories of the senior members of the family. My mother was so amused by the banning of gnomes from Chelsea that she sprayed one gold and hid it on the DA stand – they were awarded gold both times. In 1990 Ambridge Rose was named for BBC radio 4's Archers programme, and my father made his recording debut (if brief) for one episode."
Jake Hobson
Purveyor of all things sharp and shiny chez Niwaki
"Fond memories of being placed next to the lavs, and selling a lot of gear to gents perusing our stuff while waiting for other halves."
Elizabeth Banks
Former RHS President
"Wildlife at the Chelsea Flower Show can be hazard. About four years ago an exhibitor in the Pavilion had a surprising experience whilst building their stand. On Saturday night a fox decided to sleep under the staging, which is not designed to provide sleeping accommodation for an energetic animal.
During the following morning, after some unexplained noises from under the stand the exhibitor realised that there was something in the midst of their stand and to their horror saw the tail of a fox. First they tried to entice it out with delicacies from their lunch pack, sandwiches and cakes. Their food disappeared but the vixen stayed. Next they decided to leave the stand for about two hours hoping that the fox would remove itself. Returning it was still there. The exhibitors were getting desperate; the time needed to finish was running out. The exhibit had to be ready for judging.
Force was the next option so RHS staff plus a hosepipe was called and water was sprayed onto it. Still nothing happened. Eventually, having had enough of the discomforts, the fox exploded out breaking a portion of the fragile supports to the consternation of the exhibitor. With a sigh of relief, the exhibitor continued to build the stand. Later the evening when the exhibit was almost finished to their horror, the fox reappeared and pushed its way under it. Finally the exhibitor gave up and had to leave a small hole so that the fox could to take up residence under the stand for remainder of the show".
Clare Foster
Grande garden editor House & Garden magazine – @Allotmentletter
"Chelsea weather: have you noticed that the weather at Chelsea is either blisteringly hot or freezing cold with gale force winds? There never seems to be a halfway house and it's always difficult to gauge how to dress. Here's hoping for a warm, but not scorching Chelsea this year!".
Jo Thompson
Designer of gardens of loveliness & 2015 M&G RHS Chelsea Garden designer – Jo Thompson
"Having the most vivid dream that Andy Sturgeon had decided to construct a life size galleon out of Playmobil right up against our boundary. And, watching the beautiful precious Prunus serrula dangling from the end of a forklift, and realising watching this process wasn't the best thing in the world to be doing. Actually, also Doris (the caravan) bravely entering the show ground, eliciting coos and ahs from the big burly traffic guys…"
Ursula Cholmeley
"Watching people slide down the laundry tube in Diarmid Gavin's erection (as it quickly became known) was a highlight. I chose to watch decorously while braver people than me came screaming and swearing down it. Most girls ended up with their skirts around their ears…"
Nina Baxter
"Everyone gets twitchy when the Judging Assessors come round on the Sunday and 2012 was no exception. We were anxiously watching the Judges as they looked and pointed at the roof of Jo Thompson's caravan, Doris. What could it be? What had they spotted? We decided it had to be the dirty roof so with no ladder to hand we formed a wobbly human pyramid to get to the roof of the van to clean it off. When the judges gave feedback we had to know… what had they been pointing to on the roof of the van?
Oh, they replied, we loved the way the rivets matched the ones in the rill. Doh."
Charles Hawes
Super photographer and the industry's crummiest celeb spotter – @charlesbchawes
For me, the real highlight of Chelsea is the celebrity spotting. Nothing competes with the buzz of standing next to Peter O' Toole (or was it John Hurt) whilst the paparazzi snap away. Mind you, I was a bit upset on Anne's behalf when Ringo Starr refused a chat with her without even stopping as he strode down the main avenue (at least, I'm pretty sure it was Ringo Starr).
Paul Barney
Purveyor of unusual edibles, Edulis Nursery
"The sleepless nights. The Queen. The Merchant Bankers. The food…"
Nigel Dunnett
Olymic meadows professor, super plantsman and garden designer
"There is nothing else like it for a designer in the world of horticulture and gardens, because you lay yourself completely bare to very public critical appraisal, not just by the media commentators, but also by the show visitors. However, on the other hand, there is nothing else that enables you to explore your ideas to the full and to try out and experiment with design ideas that you would not otherwise have the chance to do. To me, there is no point in making something safe or familiar or traditional at Chelsea – that would be to miss a huge opportunity to play with ideas".
Borage
"It took years of lobbying, but it has all paid off. We are heading to Chelsea en masse, there is no better memory in the making. Go Gnome power. Go gnome rights!"*
*2013 was the year gnomes were allowed to tread the hallowed ground. Must have been a decision made by the RHS committee after a very jolly and wet lunch….
Jekka McVicar
"On press day, before judging I saw a woman pick at a plant from the stand, taste it, and subsequently chucked it on the floor. She came over and told me that the stand was beautiful. I said 'Madam. (1) You never touch a Chelsea exhibit, especially before judging. (2) You never pick anything off a Chelsea stand. That plant there, I have been growing for years to get to that stage and (3) I suggest you promptly make your way over to A&E, as you have just ingested Buxus sempervirens which is poisonous."
Serena Fremantle
Cheesy chips, jaffa cakes, Stipa tenuissima cleaning…. Having to drink coffee made from water straight out of the Thames.
All the above makes way for the end product of award winning beautiful gardens and to have been part of the process, is an emotional high.
Peter Chapman
"I have not been involved with many Chelsea gardens, but the local HTA team effort in 1998 to produce a garden in memory of Dick Allen, a stalwart of our local group, garden centre owner and himself a Gold medal Winner at Chelsea the previous year, also the then HTA president who died suddenly. The garden was titled 'Gone for a Break' with some of Dicks gardening tools and jacket left as if he had just popped indoors. The effort put in by everyone, the team spirit and ultimately a Silver Medal epitomised the camaraderie within the horticultural industry and I felt proud to have had a small part in it".
Phillipa Burrough
La grande tulip of Ulting Wick Garden – @UltingWick
"Highlights for me; being shown around by Andy Sturgeon in his 2009 Gold medal garden, and meeting so many lovely exhibitors who are so helpful. Jekka telling me the correct way to get Perilla Purple Shisho to germinate (it worked!). Last year it was a very kind gentleman at Bloms bulbs who gave me about 2 hours of his time discussing the various merits of tulips and even went as far as inviting me (not taken up) to see the tulips in store for the show. They are apparently cut in early March, put into cold store and then have their stems cut every now and then to peak in mid May. Not sure that is going to be necessary this year. I usually go there with a dedicated shopping list or to do list. One year I spent three hours comparing all weather rattan furniture for the little seating area at the back of the house and I think I got it right in terms of quality and colour".
Annette Pursey
Super (not at all strict as long as homework done) Head Horticultural Tutor Waterperry Gardens – @AnnettePursey
"It is so interesting each year discussing with fellow enthusiasts which of the Chelsea show gardens we either like, loathe or would be happy with in our plots. You learn so much about people by discovering what they find attractive, or not, about different design styles and concepts".
Harriet Rycroft
Pot gardening genius, gardener, blogger & twitteress @HarrietRycroft
"I went to press day a few times and one year I spotted Christopher Lloyd making notes by Raymond Evison's stand. Now I knew he had a reputation for being a bit fierce with time wasters but I had just read and loved his "Garden Flowers", so I plucked up the courage to tell him so. He was charming and funny and we had a little chat, then I let him get on with his notes. I was so glad I did that because I never got another chance to meet him. Of course now I bother all sorts of people!"
Rosy and Rob Hardy
"Our very first Chelsea Flower Show in 1992, Rob's sister and friend came down from Derbyshire to help us, bringing with them some plants. They came by train with three very heavy bags of Hosta Thomas Hogg as it was then named. Unfortunately while crossing London in the tube, one bag fell on a gentleman's toe he was not amused!
This Hosta has been on every Chelsea flower show since then".
Hugh Bonneville
a.k.a Robert Crawley, The Earl of Grantham chez Downton Abbey
"Have never been. Would love to but am now def filming that day, alas.*
*That was last year. Fingers crossed his Royal Earlship is not filming on press day and will be able to make it to our humble show….
Caroline Owen
Scotsdales Garden Centre, President of the HTA
"Through its history the RHS Chelsea Flower Show has played a key role in helping to inspire gardeners across the UK. The equivalent of London Fashion Week for gardening the show really brings together the best of garden design, landscaping and plant production. The extensive TV coverage brings gardening into the living rooms of many inspiring people to visit their local garden centre to put their ideas into reality in their own gardens".
Dr. Catherine Horwood
Super author and storyteller – Gardening women
"Now that I'm working with Beth Chatto on her archives, I find it astounding to realise how influential she was at changing the way that plants are displayed in the marquee. If you look back at old photographs, you will see that when she first arrived in the mid-1970s, plants were staged in pots with no attempt at referencing where they should be grown. It was Beth's use of dividing her stand into 'dry', 'damp', etc, areas that started other nurseries looking at the way they showed plants. She had just gone into her garden and dug up some hellebores and then displayed them looking as they grew. We take it all so for granted these days but it was Beth who started it!"
Andy McIndoe
Hillier front man and floral shirt model – Hillier
"Best moment with the Queen – discussing urban foxes with Her Majesty and how the creatures have a habit of coming into the Pavilion at night and causing damage. She was really interested to know that the night before one of them had stolen my green spacehopper, an accessory in the Coping with Kids area of my exhibit; Gardening for the Time of your Life. By the time we had finished chatting the press had gathered and wanted to know what Her Majesty had shown interest in. I told the exactly but no-one believed me".
Ryan Lewis
Blogger and Hugh Jackman's biggest fan – @RyansGarden
"My most memorable moment of RHS Chelsea 2012, aside from meeting great people and discussing the gardens, planting schemes and various other topics, would be the scale and quality of the gardens and marquee stands. There were similarities in planting schemes among some gardens, which for me lessened their appeal, but there were a few gems and individuality for me is key. Jihae Hwang's: 'Quiet Time: Korean DMZ Forbidden Garden' was a favourite as it had such depth of feeling and its presentation was perfect. A true highlight!"
James Edgedale
"It takes me ten minutes to see the wonderful gardens, a few more to sample the Champagne. My wife then drags me to greenhouse and BBQ salesmen, which cost a fortune, to be saved in the M&G tent, a true mirage at the show".
Sarah Edgedale
Super gardener, Chelsea regular, wife to the above
"Thank you M&G for inviting us to the show all these years, finally after 19 years, I have my dream greenhouse".
Sue Wynn-Jones
"To win a Gold Medal at Chelsea on my first exhibit was thrilling enough but to then receive the ultimate accolade of the Presidents award was beyond my wildest dreams……. The camaraderie between all the exhibitors during the build of the show was something I had not been expecting. A truly wonderful experience".
Fergus Garrett
Superb horticultural free spirit & Head Gardener Great Dixter
"I remember taking a 10 foot inflorescence to a committee meeting at Chelsea and tried to get from the gate to the meeting as quickly as possible but kept on being stopped because the thing looked so extraordinary. It was like having a new born baby with you"
Andy McIndoe
Hillier front man and floral shirt model – Hillier
"When we won our 60th consecutive Gold Medal we sent Ricky Dorlay in first on the Tuesday morning to find our award certificate. Expecting good news Carol Klein and BBC were there waiting to record the moment. Ricky has been preparing the plant material for the show for 45+ years; a little chap with huge personality and energy. Rick was so overcome with emotion he sobbed directly into Jenny Bond's cleavage.
It took the rest of the week to get the smile off his face".
Anita Foy
Acting Head of Shows Development at RHS
"My biggest highlight was at my first RHS Chelsea when I went into the Great Pavilion and was overwhelmed by the smell and sight of exhibits from the best nurseries, all of whom aim to reach the peak of perfection at Chelsea – quite a thought!"
Elizabeth Banks
Former RHS President
"Each year the President announces that this year is 'the best flower show ever' and each year it is true. – "Memories of the last show are always outshone by the current one. How the exhibitors manage to produce such extraordinary displays in spite of all kinds of difficulties, such as appalling weather, contractors not finishing on time and plants not flowering. On the Monday however all is perfection; judging takes place and the show is ready. What a triumph it is. Come and see it this year to find out whether this one will be the 'best flower show ever".
Joseph Page
Purveyor of dishy gardening gloves – Joe's Gloves
"Sad to say that looking back, most of my Chelsea memories seem to have almost always been spent consuming wine in the shade. Networking as I like to call it…"
George Plumptre
Chief Executive
 National Gardens Scheme and wordsmith – NGS
"As Chelsea celebrates its centenary and we look ahead to the next one hundred years, my main concern in that the specialist nurseries whose unrivalled presentation of plants is one of the most distinctive qualities and joys of the show do not become steadily rarer as they battle with the inexorable costs of being involved. The problem will be illustrated this year when one of the real gems of recent years, Broadleigh Plants, will not be present for the first time for decades".
Luke Hoyer Millar
Website designer extraordinaire at StreamHM, husband to yours truly and all round good egg
"Tom Stuart Smith's 2008 show garden. 2010 wasn't half bad either."
Emma Bond
Custodian of Ned the Dachsund, Bath Garden Design – @EmmmaB
"Ryan Lewis and I had our noses pressed to the window of some summer house, just to catch a glimpse of Bruce Forsythe".
Mark Fane
Senior Gent at Crocus
"Chelsea is so deep within my DNA that I don't know what I would do without it – it's been part of my life for 20 years. It's quite an emotional moment when you see a year's work finally come to fruition. Then in a flash of an eye, it's all gone. You pause for breath and then, after a few minutes' rest, you start worrying about the next year. It never stops".
Peter Clay
Fellow senior Gent at Crocus
"Chelsea is not for the fainthearted. It is a real test of resolve, resourcefulness and skill. Every year is different. You know things will go wrong, the challenge is to keep the problems to the minimum – always have a Plan B, and to try and buy time. You can never have enough".
Tom Hartfleet
Show Manager RHS Chelsea Flower Show 2015, Harfleet & Hartfleet
"I remember going to Chelsea from the age of 14 and much to the annoyance of my mother it was always a race to see Diairmuid Gavin's garden, ignoring all others on the way. Diairmuid paved the way for us at Chelsea".
Caroline Jones
Inchbald collegian, landscape architecture student, budding garden designer
"Chelsea is the best of the best, glorious design, sophisticated planning, crazy imaginings, summer dresses, champagne, sunshine, rain and of course, above and beyond everything a passions of plants and planting".
David Harber
"A personal triumph for me was when our stand at Chelsea first got onto Main Avenue at the show ground. It took about 10 years – we progressed from a little box in our first year to slightly better sites each year until we finally made it onto Main Avenue. It was like moving from Old Kent Road to Mayfair. It felt like a testament to all the work we had put into our pieces and how we present them at Chelsea. I felt very proud".
Petra Hoyer Millar
Yours truly, the Oxonian Gardener
Chelsea is magic. The pinnacle of all things gardening. The best plants, inspiring design, and that big Gorilla thing…. RHS Chelsea is the only place I know, where during the show build, you see big burly builders passionately hoovering and dusting, lawns, garden paths, and sculptures, without the slightest hint of a blush or embarrassment. Above all though, it's the amazing people who dedicate so much time, effort, blood, sweat and tears to make those extraordinary gardens come to life. Contracting teams, planters, nurseries, designers, show organisers, purveyors of tea & biscuits,…. everyone. Long may it go on!
And what is your best RHS Chelsea Flower Show memory? Who knows, I may reach that 100 after all……