Where 2022 felt oddly muted, it's quite evident that the familiar RHS Chelsea buzz and energy is back. There's no doubt it's a different show, which may divide the punters. Polished Chelsea opulence has given way to a rewilded Main Avenue, deeply ensconced in naturalistic and altruistic principles. And yes, without wanting to add the somewhat tedious 'oh my gawd, there are weeds on Main Avenue' hype,…there are indeed weeds. You can't miss the juicy dandelions in Cleve West's ingenious Centrepoint garden. Nothing new though, as there have always been 'weeds' on Main Avenue. Cow parsley and red campion are notable examples but they may be less 'weedy' and hence more acceptable…
There is a refreshing looser and lightness in the planting at the show this year, which is novel to Chelsea. Traditionally, show gardens are planted in 'pot to pot' proximity and to a density of 30 per square metre – as opposed to 3 per m2 in a regular garden. Sarah Price's 'The Nurture Landscapes Garden' is a masterclass in 'less is more'. Utterly ravishing and completely took my breath away. The delicate and intricate planting is incredibly clever. Even though there is much visible (and celebrated) bare earth on show, the garden is still full of interest and detail. The whole effect is mesmerising and tantamount to the awe and intrigue of a Cedric Morris painting.
Sarah's, is a difficult one to emulate in a garden. Not only would one have to ween oneself off the concept of generous, bulging borders (to which I am ever so addicted) but it'd also take quite the effort to keep the roses on my walls as skinny as Sarah's Rosa chinensis mutabilis. The use of a shrub rose is clever as they don't have the vigour of a climber, let alone a rambler. I am intrigued though and keen to attempt Sarah's bravery to allow plants to stand proudly on their own, without the need for supplemented companions.
In my book, Sarah's is one of the best RHS Chelsea show gardens I have ever seen. Designed yet loose, bare yet full, muted but bold in colour, impeccably executed and yet feels unscripted. Personally, this is the kind of garden that I associate with RHS Chelsea. Surprising, breath taking and truly thought provoking. I mean who knew, apart from Cedric Morris himself, that beige is a good colour for the garden??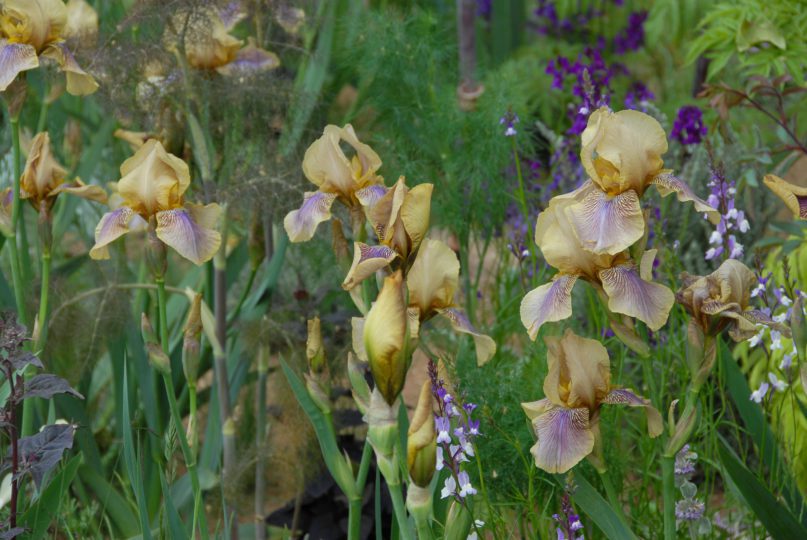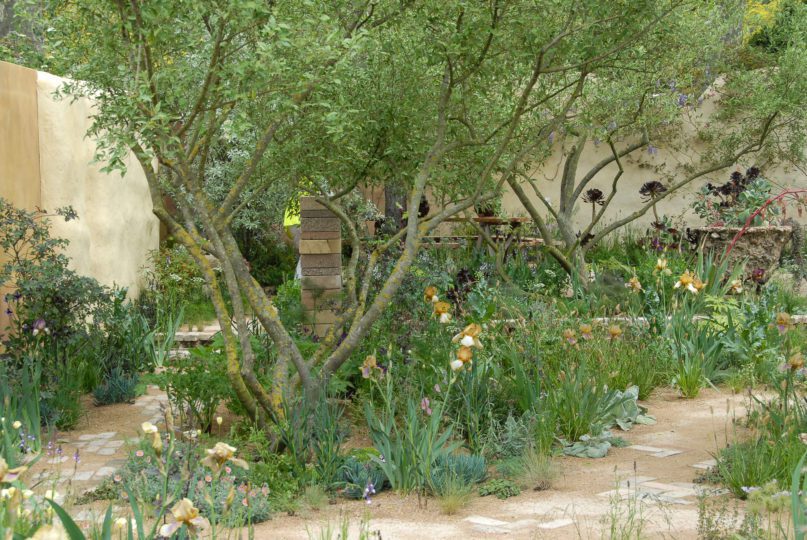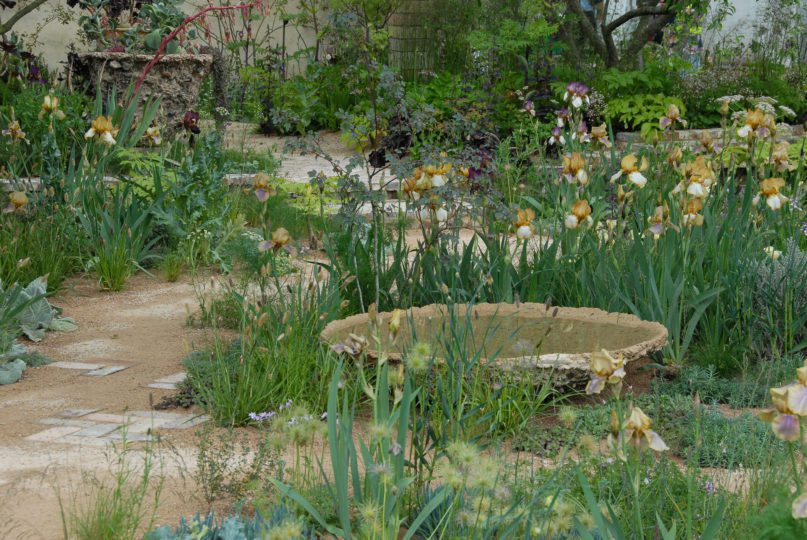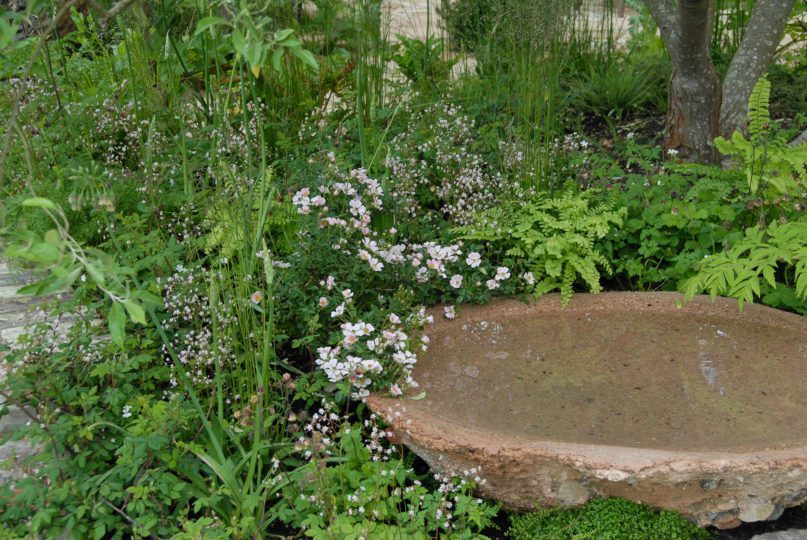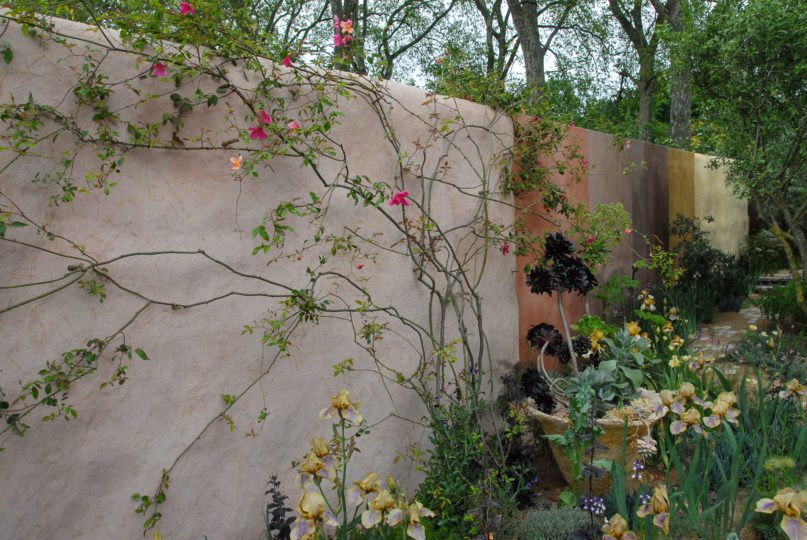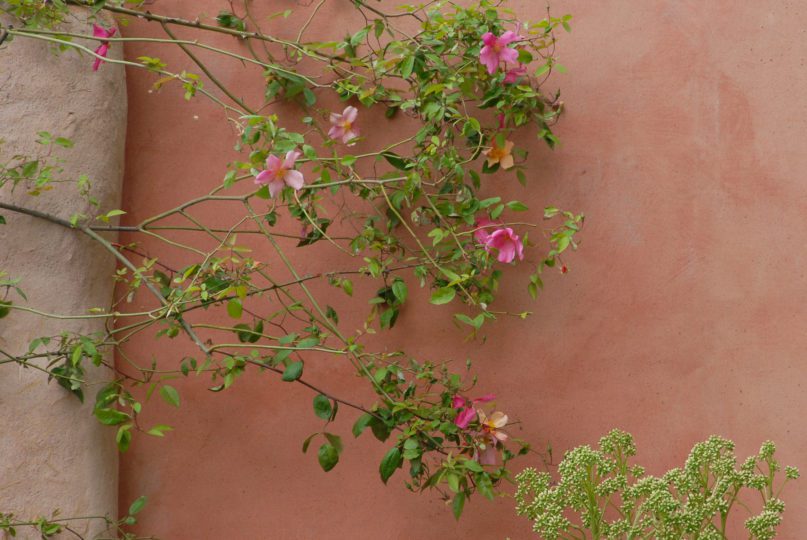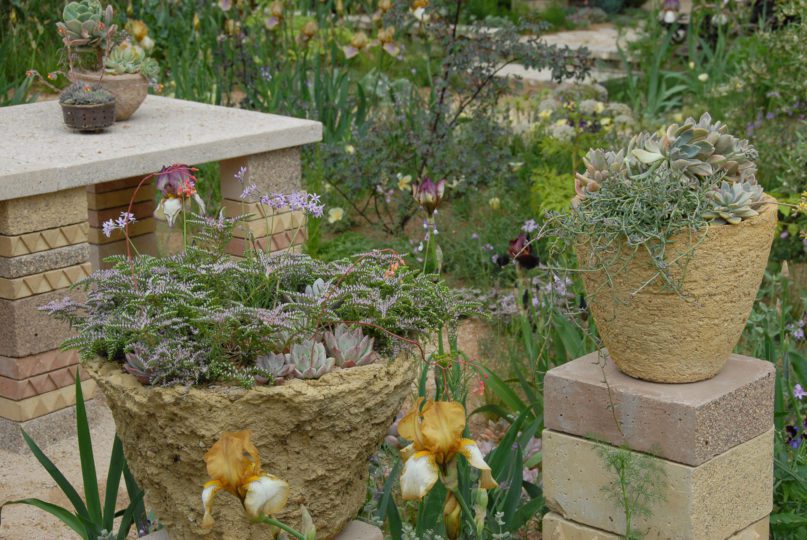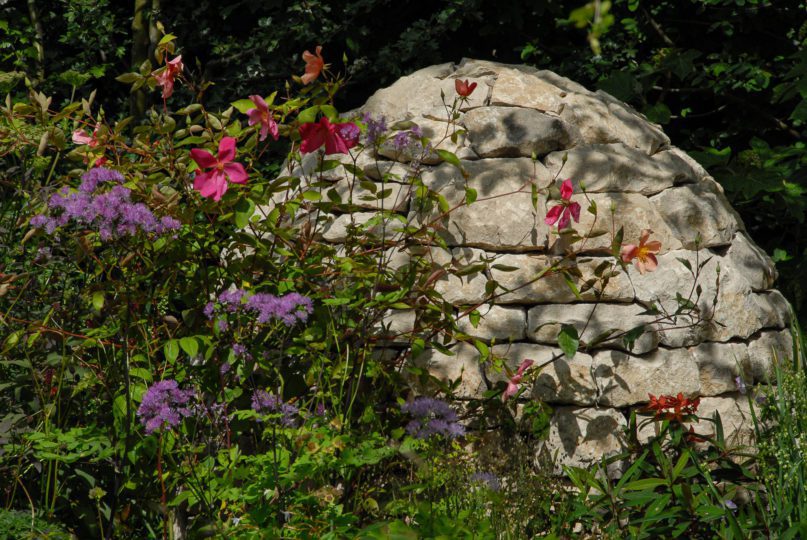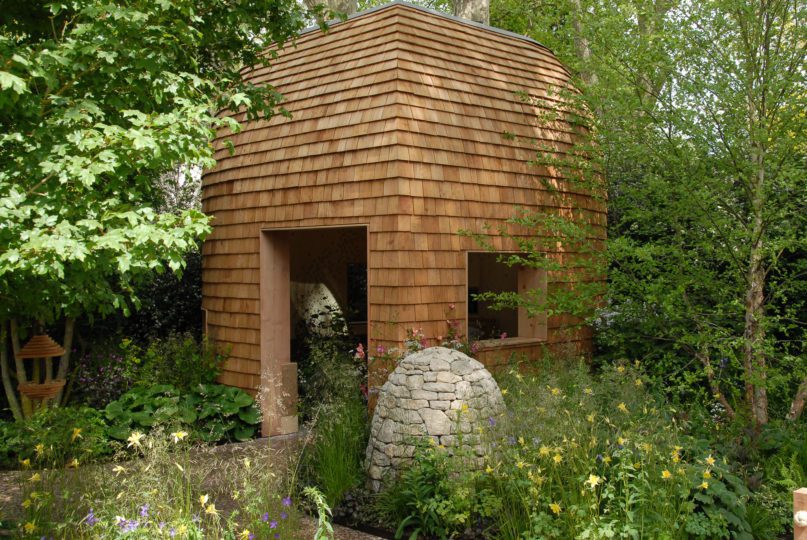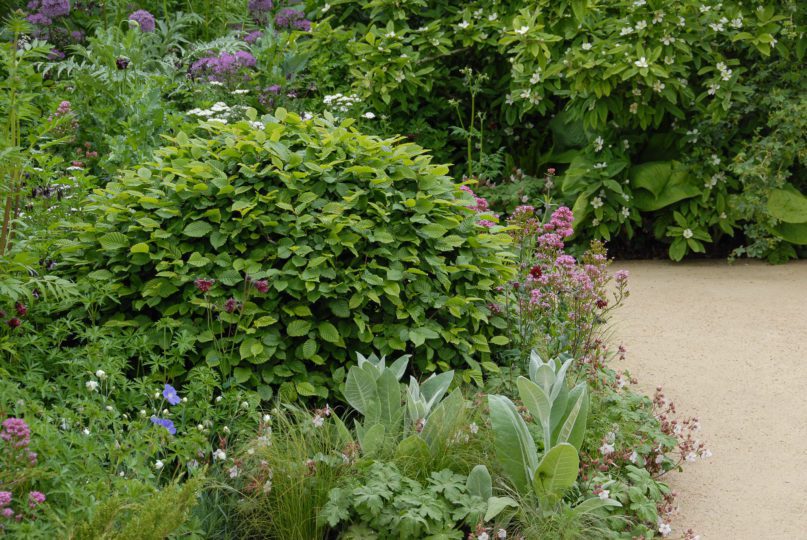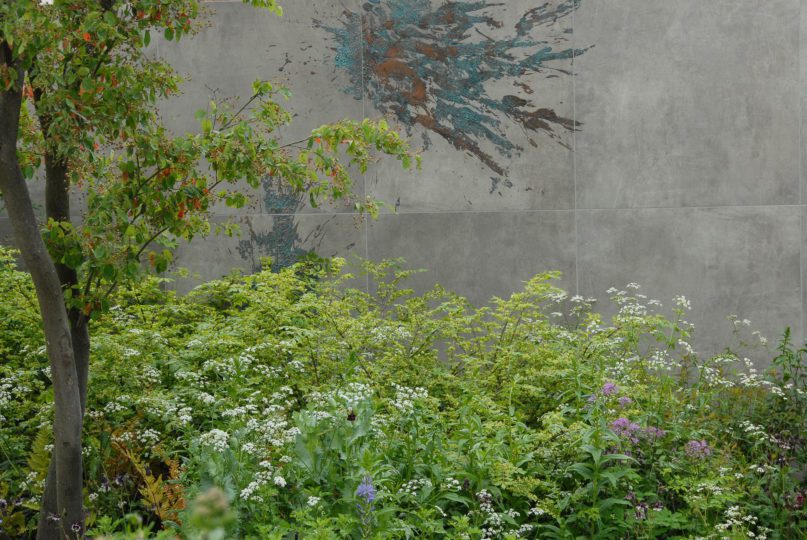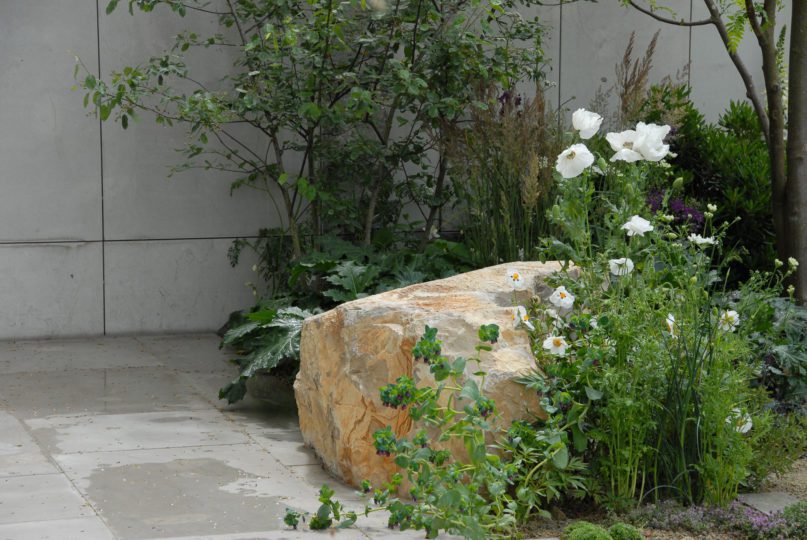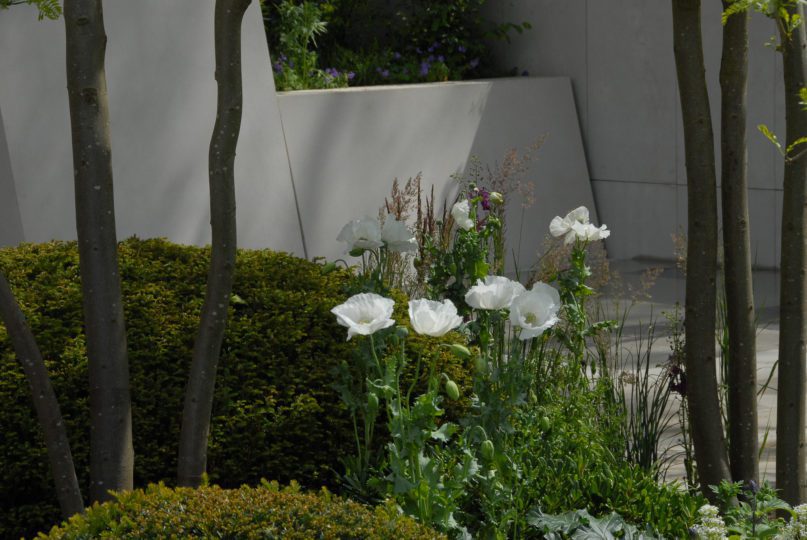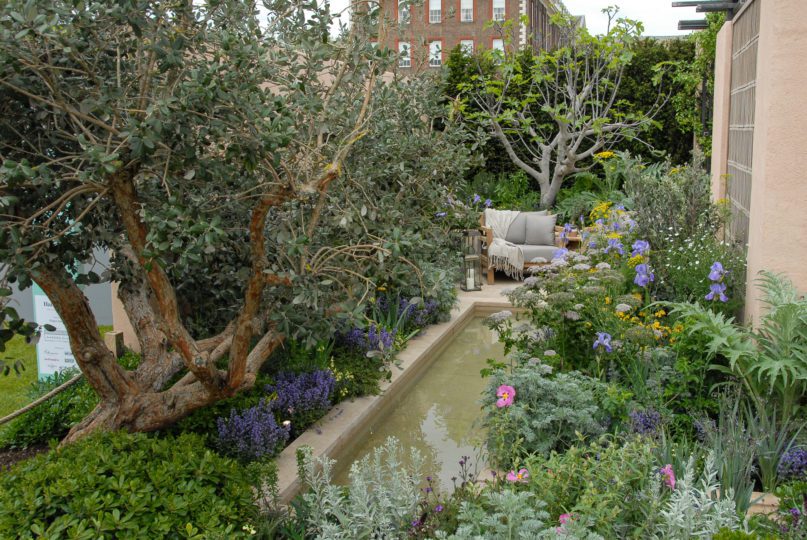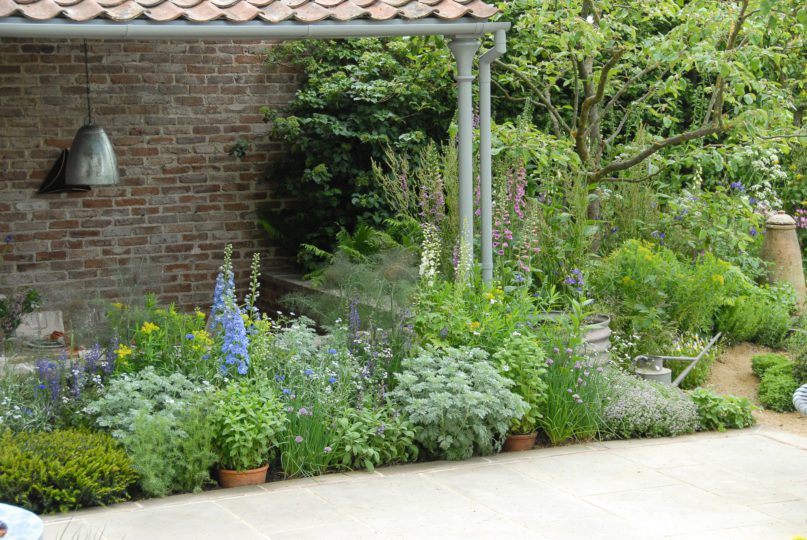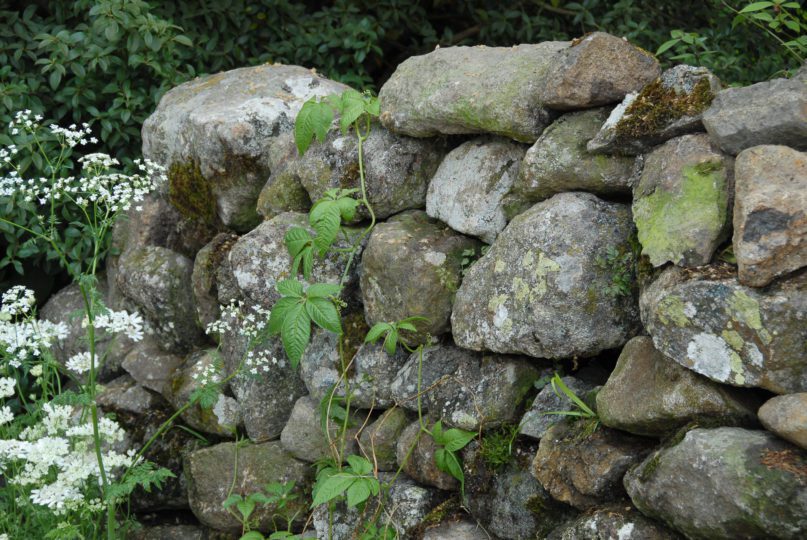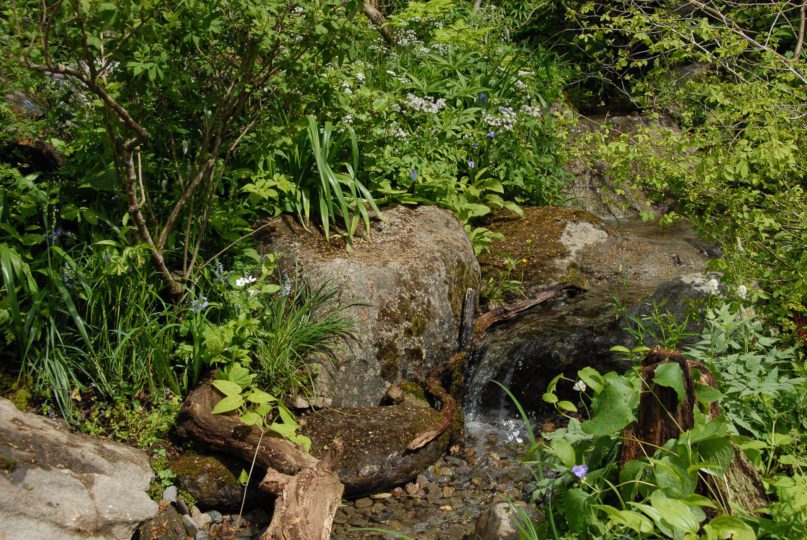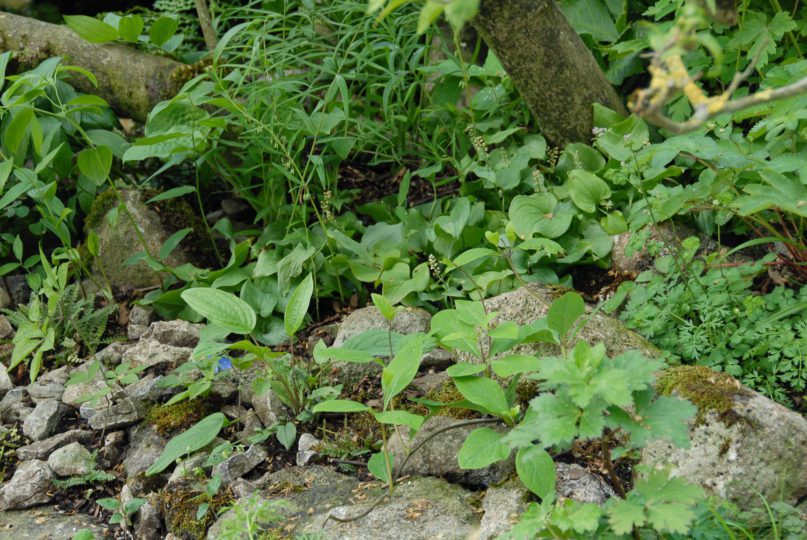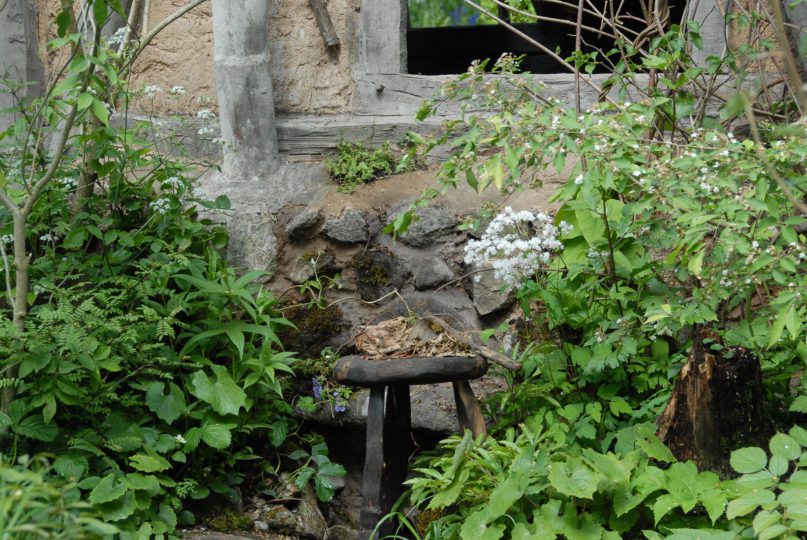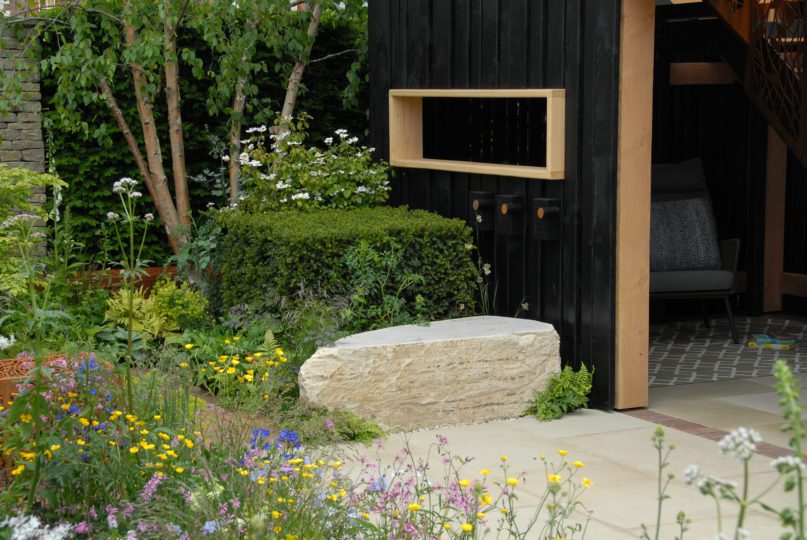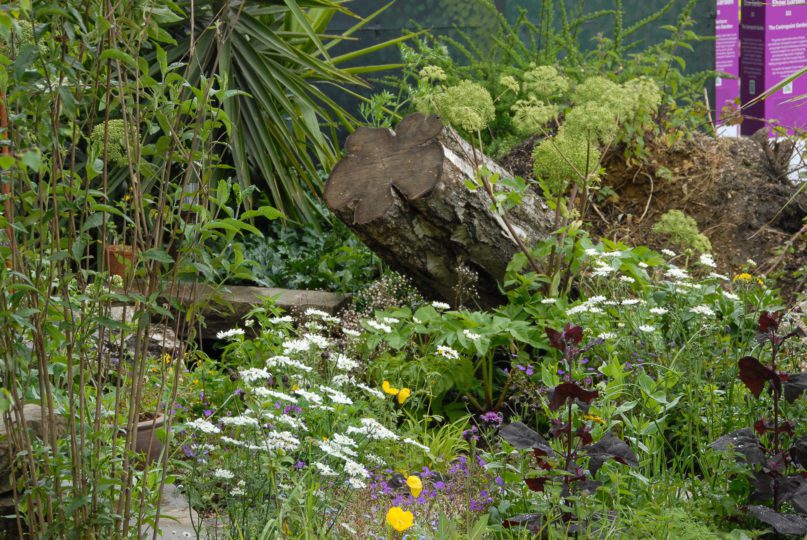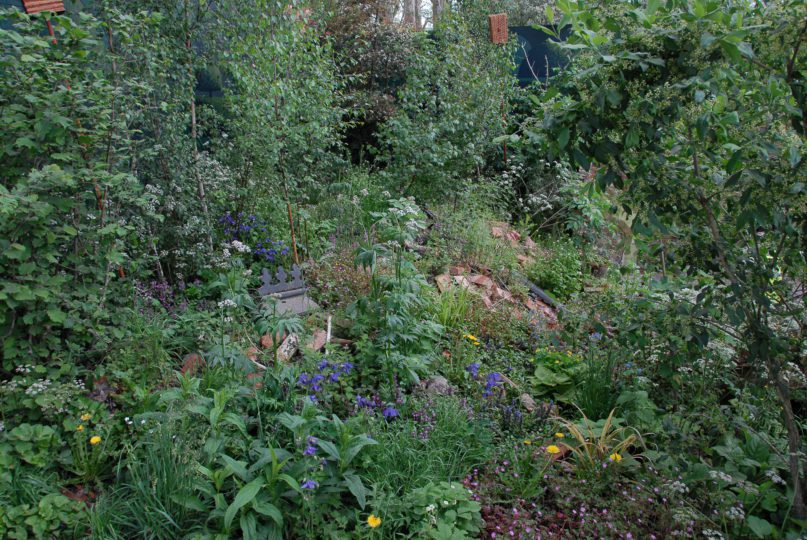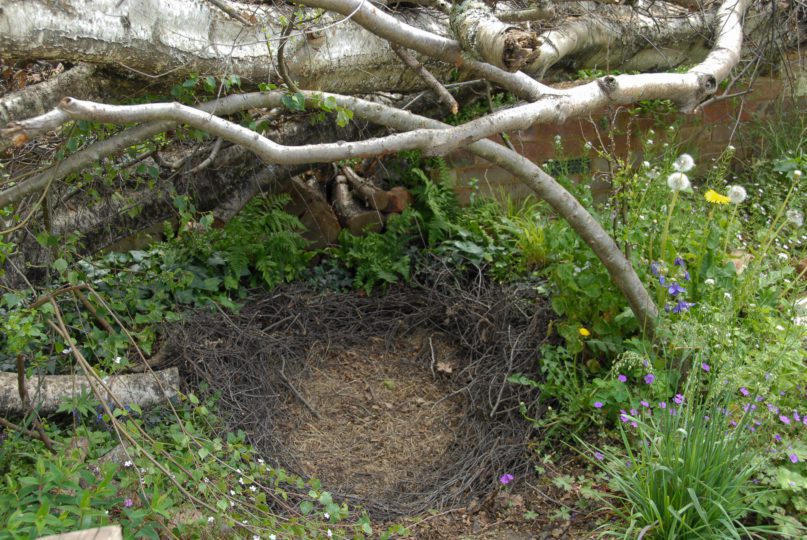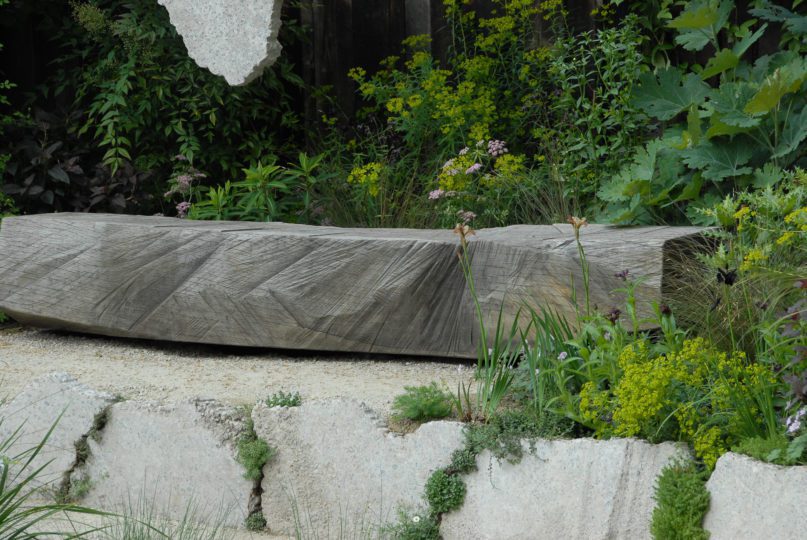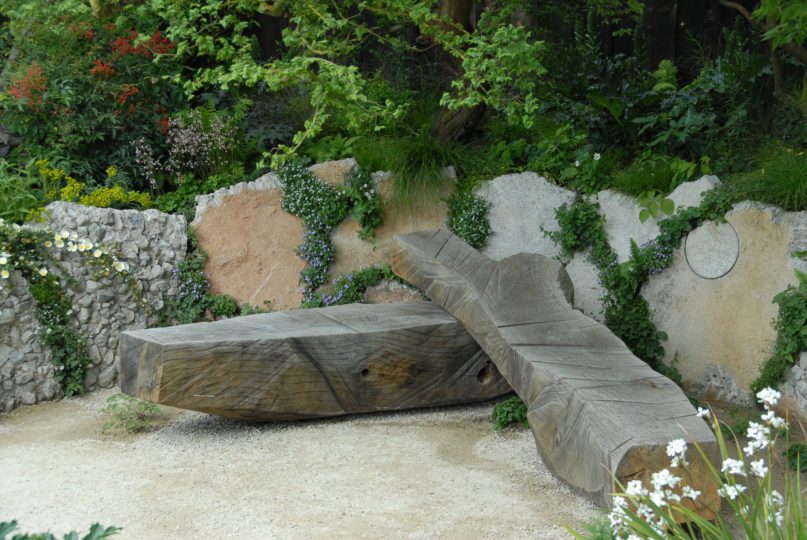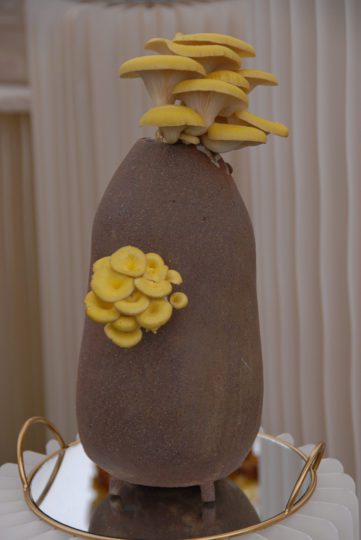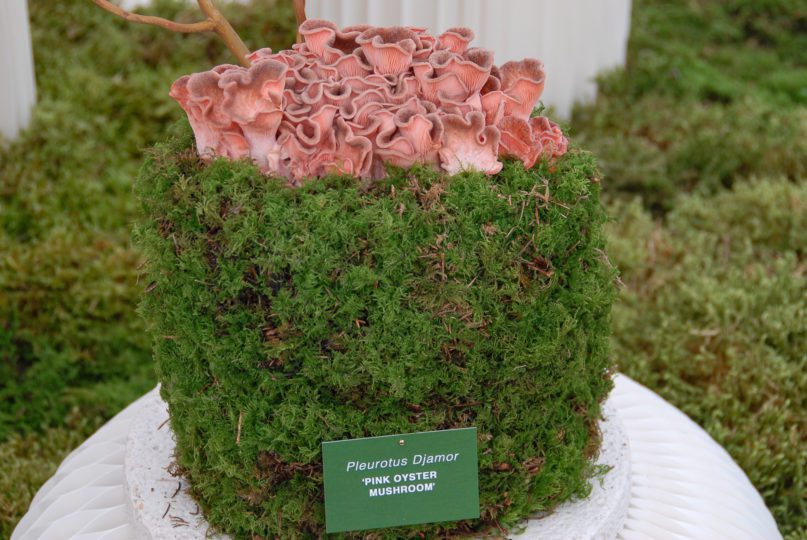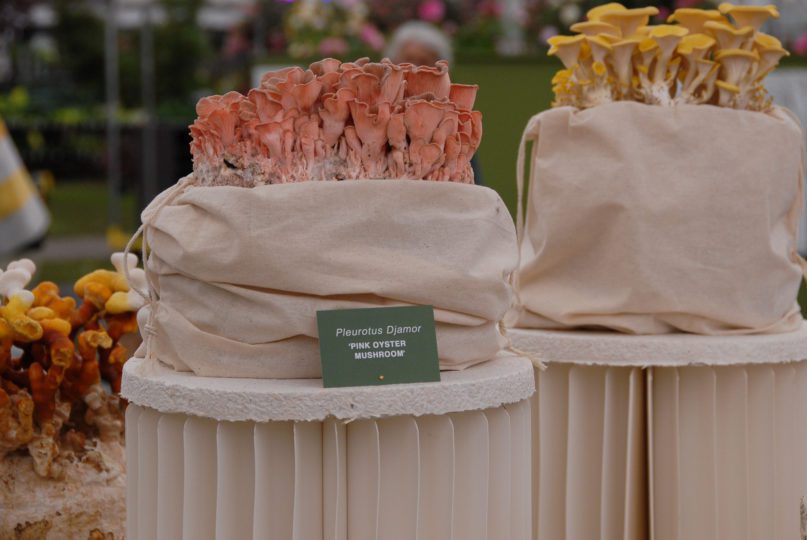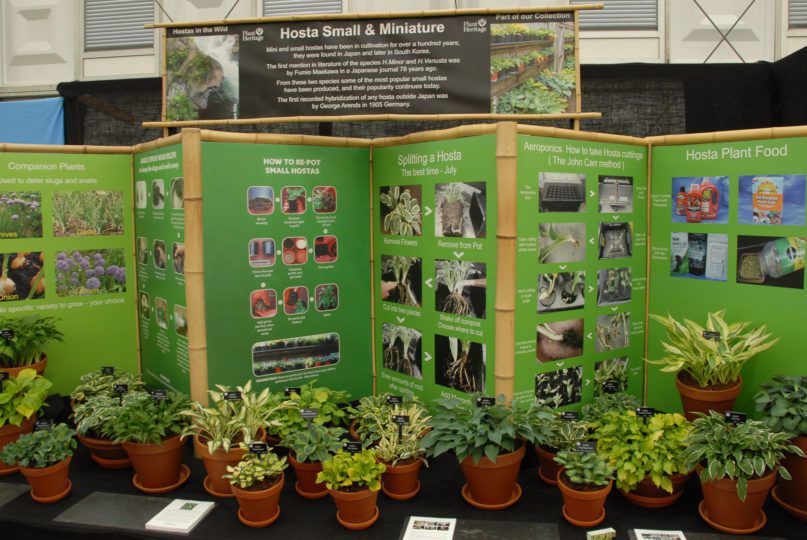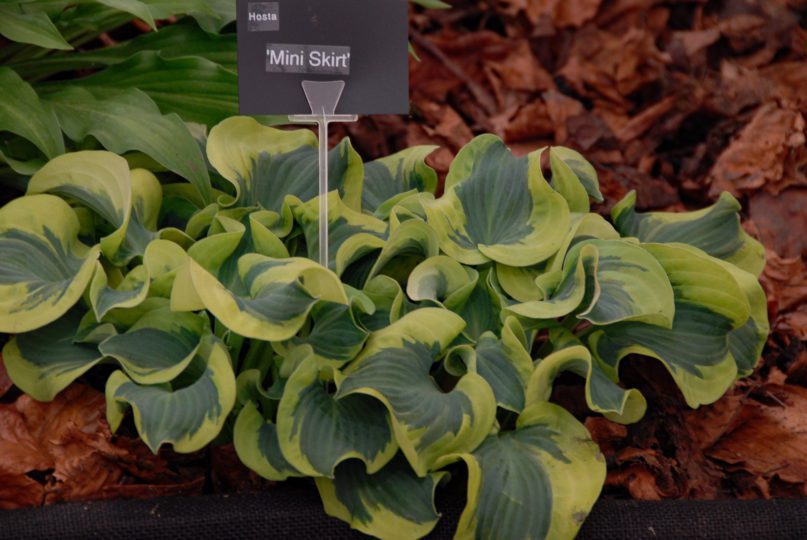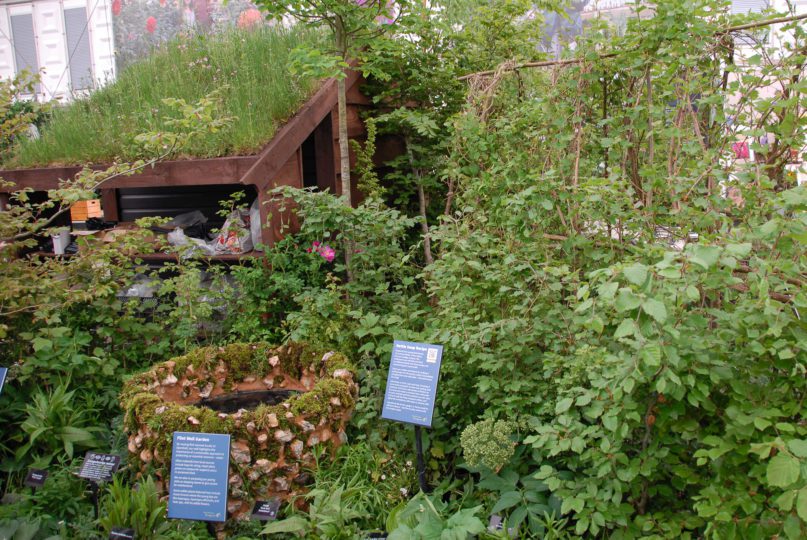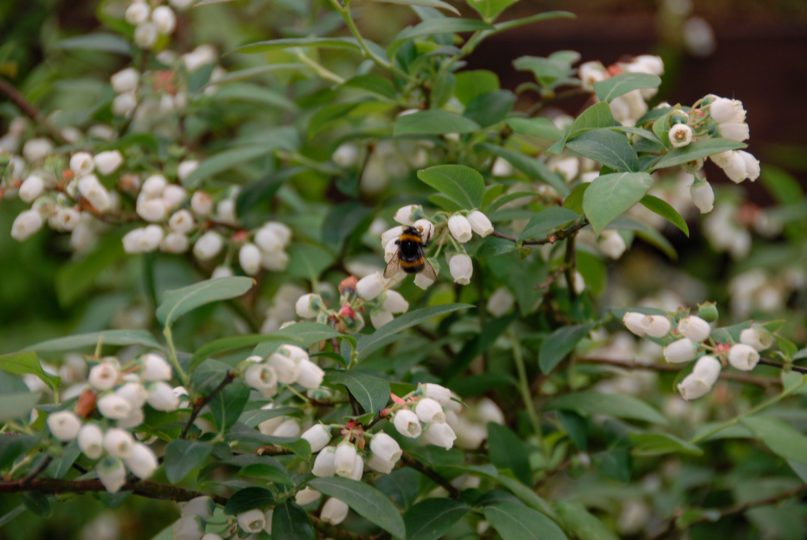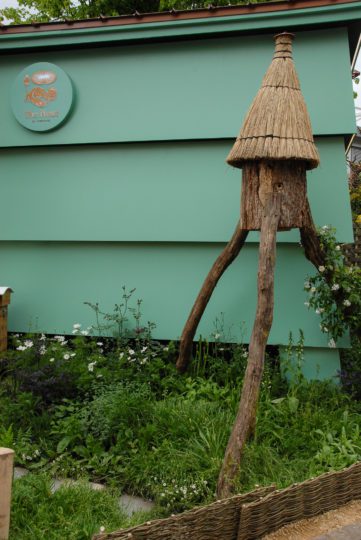 The bulging-border enthusiast needn't worry, as there are generously filled gardens to admire throughout the show. The utterly delightful Horatio's garden designed by Charlotte Harris and Hugo Bugg is bountiful, providing all year round interest, from ground level right up to delicate foliage in the trees above. A vital detail, to ensure all the patients can enjoy the garden from their beds or wheelchairs. Tactile stone cairns, by Lydia and Bert Noble of Noble Stonework feature throughout the garden adding additional structure and interest. This particular Horatio garden is heading to Sheffield which is the UK's second biggest spinal injuries centre. If you are unfamiliar with this charity, the Horatio's Garden charity provide much needed garden respite for patients (and their families) affected by traumatic spinal injuries.
Visitors looking to RHS Chelsea for all things slick and sumptuous, the Memoria & Greenacres Transcendence Garden designed by Gavin McWilliam and Andrew Wilson is a marvel. Calm and reflective, this garden was designed to provide a spiritual space reflecting the emotions associated with the death of a loved one. Elegantly muted planting in whites, soft yellows dotted with purples, planted underneath a canopy of trees, with enviably beautiful yew domes throughout. Admittedly not a fan of 'themed' gardens as such, but one can only but admire the super slick design and polished RHS Chelsea finish. Having said that, Cleve West's compassionate Centrepoint garden challenges the notion as to what a garden can be and the value of green space, even if it's an abandoned site of derelict house. A garden that is for sure to stir debate and thereby hopefully raise vital awareness of the valuable work provided by the youth homelessness charity, Centrepoint.
The attention to detail in the 'A Letter from a Million Years Past' designed by Jihae Hwang is second to none. The garden, a depiction of the Jiri Mountains in Korea, with gentle stream running through a beautifully designed rocky ravine is fascinating. Wandering through the garden, the plants look as if they have been growing there for years, obviously the result of much time and scrupulous detailing by Jihae Hwang. Interesting plant choices from the wonderfully unique Crug Farm Plants in Wales.
The Hamptons Mediterranean garden by Filippo Dester is a clever design for a tighter space. The pool area in particular I found to be an intriguingly cunning use of space. Dester managed to squeeze in a pool, trees, herbaceous border and generous seating area in a very awkwardly narrow space. One to see for certain and perhaps provides previously unthought possibilities for a neglected space in the garden…
The Pavilion was in build stage (Sunday pre-show) when I wondered through, but at first glance the stands won't disappoint. The incredible scents from David Austin and Peter Beales hit you immediately and kudos to both growers for producing such incredible roses, every year, for the show. Great to see Claire Austin back in the pavilion with her stunning peonies and the most beautiful varieties of iris. Having never really admired them for their beauty, the mushrooms on the Caley Brothers stand are a must see. Named after their grandfather (and his brother's) greengrocer business, the sisters grow the most incredibly beautiful (and I gather tasty) mushrooms. Artistically displayed, like delicate pieces of sculpture, I adored this stand and certainly encouraged one to look beyond the usual boring button mushrooms in their sad supermarket packaging…
The incredible plantsmanship, imagination and thought-provoking designs at RHS Chelsea 2023 has made this one of the more remarkable and memorable shows. Sarah Price's garden for one has sown a seed for change. How that will manifest is uncertain, but it's on my mind…