I like them firm and fruity1. That's the standard. By means of this impressively cultivated titbit of scientific criteria, we have finally managed to select our apple and pear trees for the new orchard. A thoroughly enjoyable process, but almost labyrinthine due to the vast choice of cultivars available. Whittling down an estimated 7500 apple and 3000 pear cultivars, to just 6 and 3 respectively, is tricky to say the least. Furthermore, as you won't actually be able to sample the fruits of your labours for at least 3 years, the decision at purchase is one that will be with you for decades. Unless you lop it down and start again of course, but that sounds horrendous. Fingers crossed our carefully chosen fruity path isn't strewn with cowpats, rather succulent fruit matching all our sticky expectations….
Fruity Machu Picchu
The trees are all heading to a cozy south westerly corner of the garden, which local wisdom has revealed to have once been an orchard. The then orchard extended farther, but unfortunately 20+ years ago much of the land was sadly sold off. With the sale, we presume the trees came to their demise as there was no sign of an orchard when we took the on house three years ago.
Despite the demurer scale, we were determined to return the plot back to its original fruity premise. The site cleared, we ventured into the realms of garden design and did the odd bit of landscaping – with a digger. Oh yes. Matthew Wilson is not the only one who knows how to use one. In truth, I have no idea how to operate it, but I'm rather excellent at pointing at one. The long and short of it is, a fine terraced orchard. The Incas would be proud. Apart from being pleasing on the eye with its four undulating grassy levels, sunlight is optimised for each tier of trees.
Bounteous blossom
The aim is to ensure a supply of fresh, seasonal fruit throughout the year, but also create a beautiful place. An important part of that is spring blossom. From bud, to bud break, to blossom and eventually nature's confetti, it's all a joy. To maximise this magical time, three crab apple trees and three plums will join our fruity team.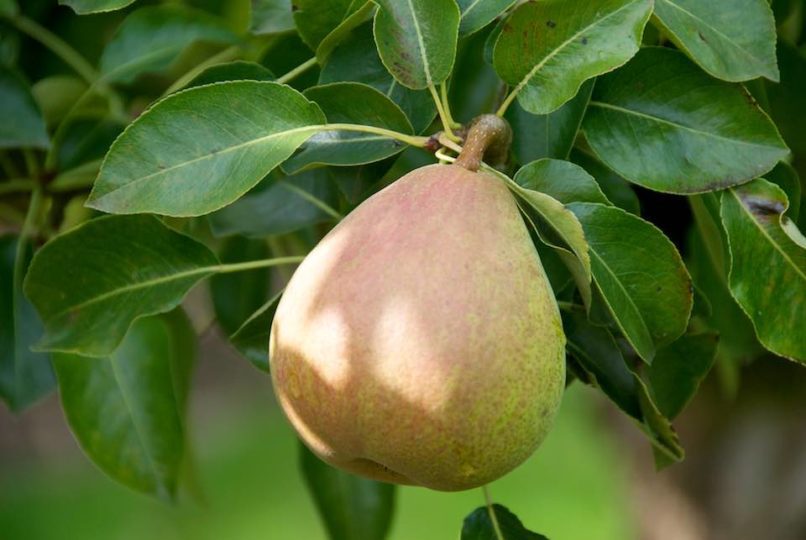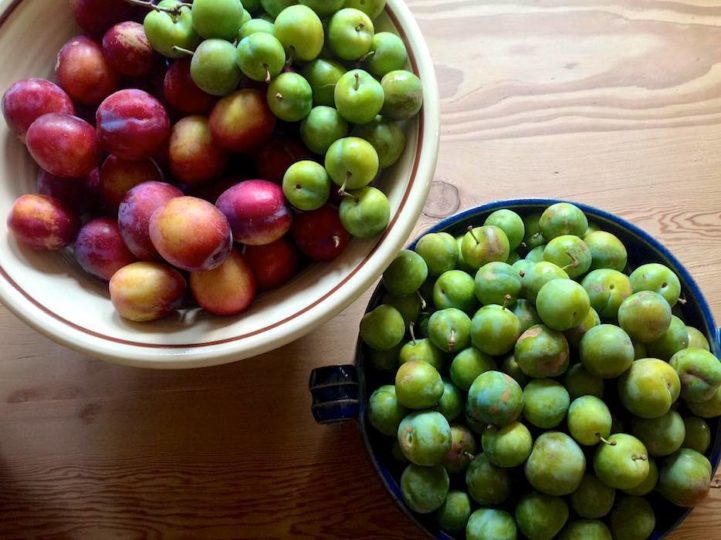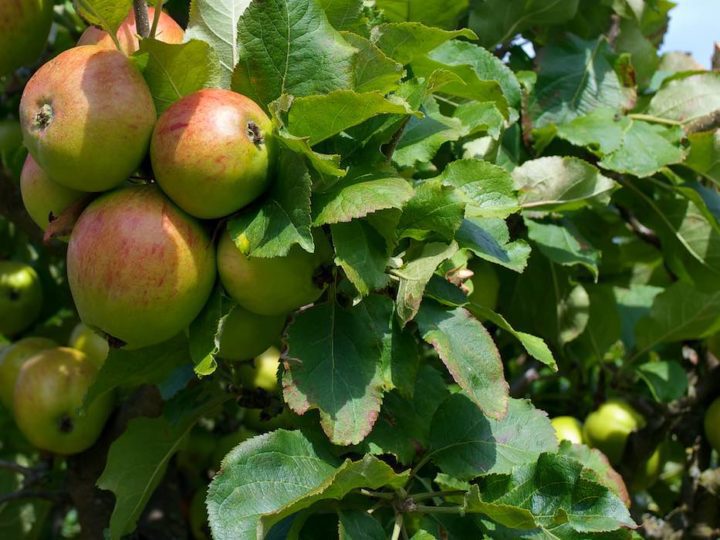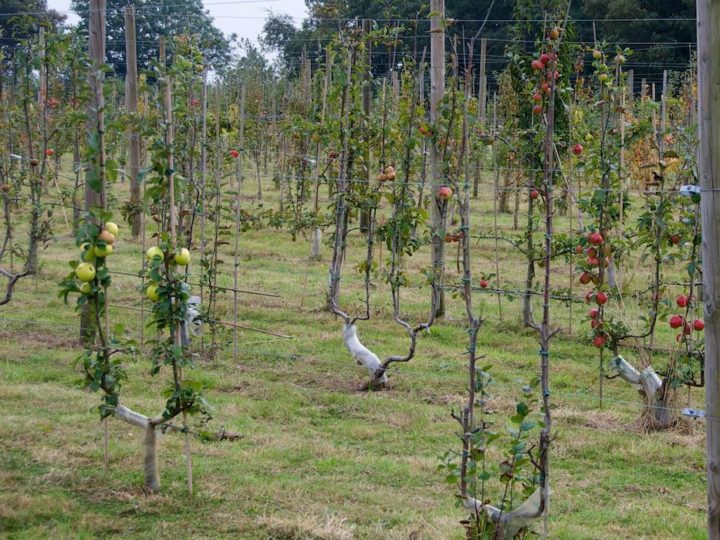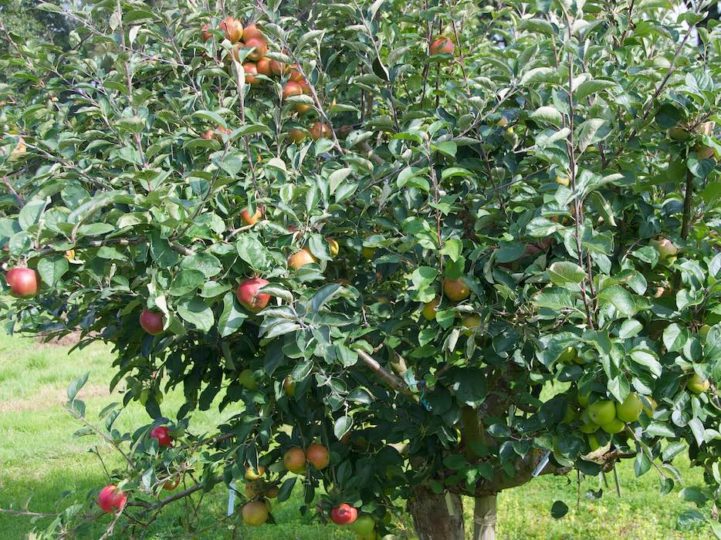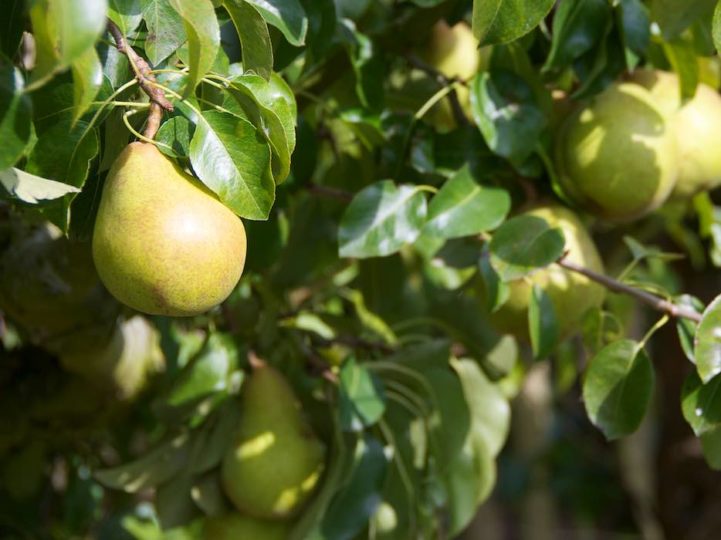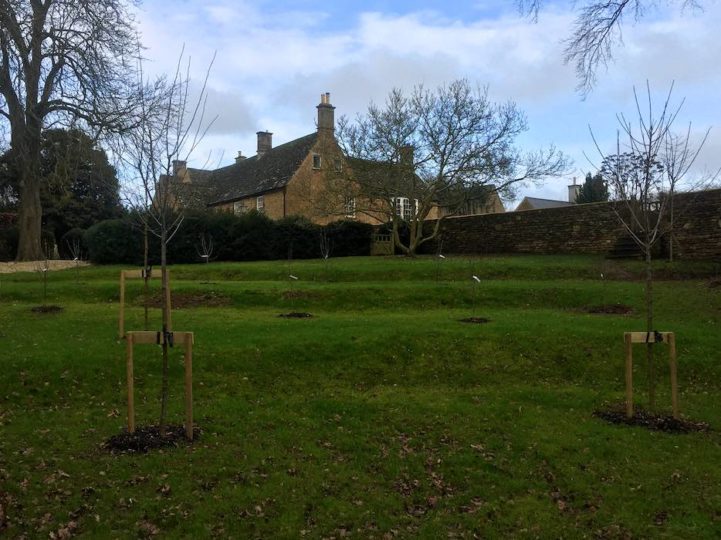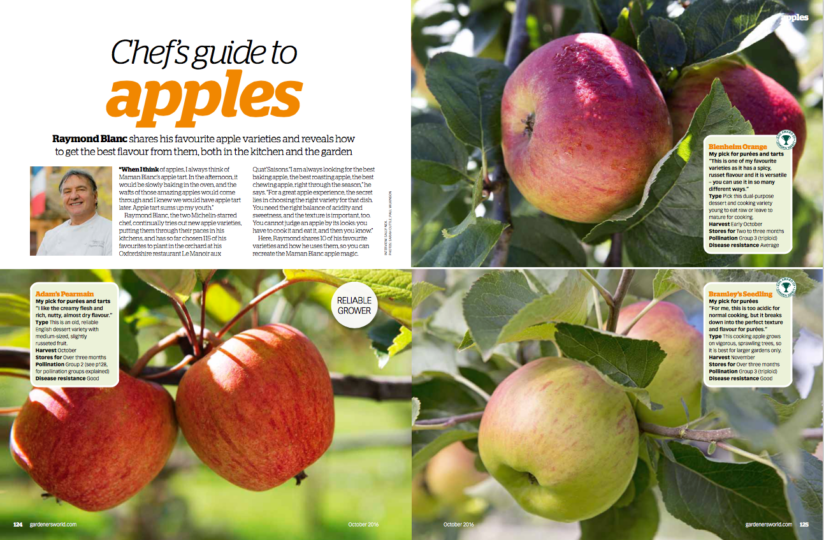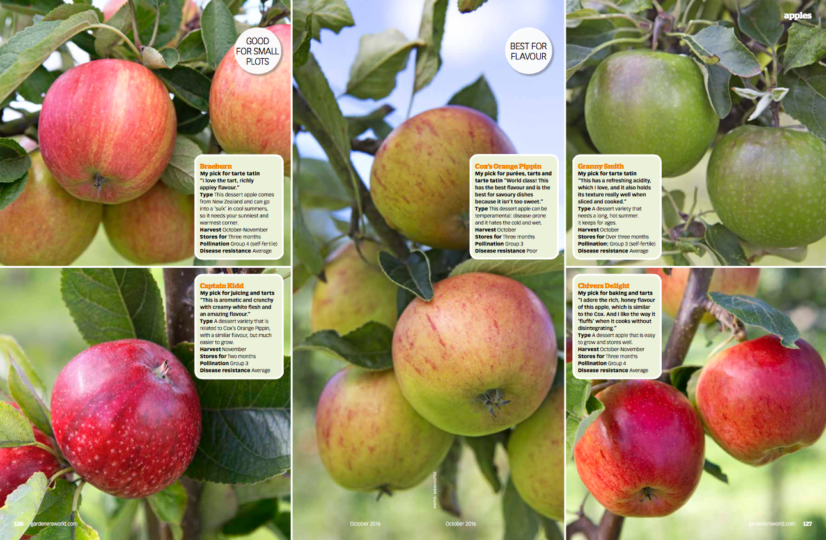 Crab apples are not just viable (cross) pollination partners for the apples, but are also lovely trees in their own right. They produce beautiful blossom, attractive edible fruit and good autumn colour. Our chosen cultivars; Malus Evereste (a pair) and Malus Rudolph. Evereste has delicate white, pink tinged blossom and produces miniature 'Gala- like' apples, which will happily remain on the tree late into winter. To counter all that white delicate blossom, Malus Rudolph will provide a crimson pink blossom injection which eventually gives way to shiny dark red fruit.
Brexiteers may wish to look away now. Two of the three plum cultivars, originate from [whispers]… the Continent. First off, from France; Prunus dom. Rein-Claude d'Ouillins, which produces large beautiful green gages. This French delight was selected for its exceptionally sweet, tender and succulent fruit. The original tree was discovered by chance during the 1850's in Coligny, near Lyons, so there is no parentage record. The story goes that it was a Monsieur Massot, who started selling it commercially and named it after his home town of Oullins. Not quite sure where the Reine bit comes in, but one can only presume he thought of it as the queen of gages. Secondly, from the land of her Merkel-ship; Prunus dom. Hauszetche. A damson, which due to its high sugar content is both useful in the kitchen, but can also be eaten straight off the tree. Hauszetche is excellent for all things patisserie, as it's a 'drier' plum which will prevent soggy pastry bottoms. I have no doubt that Mary Berry has an entire orchard growing of just these Merkel beauties.
Making up for all that though and waving the Union Jack high, it's none other than; Prunus dom. Victoria. Don't groan. Yes I know Victoria plums aren't too difficult to find chez upstanding supermarchés near vous, but despite previous more experimental choices, we always seem to revert back to this stalwart variety. They just taste good, look beautiful and I love them. So there.
Cultivar whittling
The parameters for apple and tree selection were pretty straightforward. (1) Crunchy juicy fruit; (2) Dessert varieties; (3) Rootstock suitability – Apples: MM106 (bush). Pears: Quince A; (4) Cropping throughout the season; (5) Compatible pollination groups; (5) Good for the kitchen, and; (6) Beautiful blossom and attractive fruit.
Heritage is a bonus but not a prerequisite – taste is first and foremost. Storage capabilities are not important. Having tried for many years to disastrous effect, we're not planning on squirrelling away fruit over winter. Attaining and controlling optimum temperatures domestically is near enough impossible, and so too is keeping the rot and mice off them. We will eat what we can, store what the fridge can hold, juice, cook and/or dehydrate fruit, and give away any surplus. Cultivars that naturally help 'store' apples by keeping them on the tree late into the winter are high on our list.
In terms of cookery, we have also opted not to grow a cooker. Cookers are by far my favourites when it comes to tree appeal. Big, bulbous almost Baobab like in their form. Unfortunately, we don't have the room for one. In truth, I also prefer to cook and bake with dessert apples. Preference is given to apples that keep their shape in baking and sadly cookers don't. Furthermore cookers, despite delicious, produce a lot of juice which isn't ideal for pastry and due to their acidic nature, require a lot of sugar added. That's not to say that we won't eat them, but I plan to swap or take up on the ample cooker offerings from neighbours and fellow allotmenteers.
The A-Team
Admiring our fruity team, the Brexiteering fraternity may again wish to have referendum. Four of the nine fruit trees are non-UK varieties but in my defence, two are from the Commonwealth which should account for some brownie points. Especially so, considering the current frantic search for new markets and dictator hand-holding…
The line up is as follows;
Apples
Chiver's Delight; Sharp, crisp English apple reminiscent of Cox's Orange Pippin. Similar in texture to Braeburn, but better flavour. Harvest Oct-Nov. Pollination group 4. Good eater, but also great for baking and tarts. According to Mr Tarte Tartin himself, Raymond Blanc; "I adore the rich, honey flavour of this apple, which is similar to the Cox. And I like the way it 'fluffs' when it cooks without disintegrating."2
Falstaff: Attractive apple with textbook red flush. Crunchy and very juicy apple. Good balance sweet/acidity balance.The original Falstaff apple was bred from Golden Delicious and James Grieve in 1960 by Dr Frank Alston in Kent. If not picked, can stay on the tree until late in the season. Harvest Oct-Nov. Pollination group 3.
Discovery: Good early apple. Harvest late August. Attractive red colour. Lovely balance of sweetness/acidity. The texture is hard and crisp with lots of juice. Great juicing apple, produces lovely pale pink juice. Discovery is a seedling of Worcester Pearmain, found in Essex in 1949. Pollination group 3.
Greensleeves: A light, crispy, full-of-flavour English apple, lovely and crunchy straight off the tree. This is the improved 'Golden Delicious', with good flavour and beautiful pale yellow flesh. Mid season cropper. Great for baking as the apples hold their shape and juice levels are low to ensure crispy pastry. Produces attractive blossom. Pollination group 2.
Kidd's Orange Red: A rival in flavour to Cox's Orange Pippin. Regarded as a typical 'English' tasting apple, but was actually raised in New Zealand by Cox's Orange Pippin fanatic; J.H. Kidd. Delicious sweet, old fashioned apple flavour and very juicy. The tree grows attractively, and produces stunning crimson pink blossom. Harvest Oct-Nov. Pollination group 3.
Spartan: A beautiful apple. Nothing comes close to rich deep plum red colour, with white, contrasting flesh. Good eater, very juicy fruit. Will stay late on the tree. Spartan was developed in Summerland, British Columbia in the 1920s.
Pears
Beth: Early pear, crops September. Admittedly, Beth was a compromise. Beurre Superfin was the original choice. However, Beurre Superfin reportedly struggles to grow well in many areas of the UK. Beth which is a cross between Beurre Superfin and Williams Bon Chretien, seems a good compromise. Developed in Kent by Henry Tydeman in 1930, Beth has fine flavour with melt in the mouth flesh and is sweet, yet without being sickly sugary. Pollination group 3.
Doyenne de Comice: No doubt, the doyenne of pears and a must to grow. Originally from France, Doyenne de Comice is an incredibly flavoursome pear, top of the list in terms of 'melting' flesh. The flavour is everything you could want from a pear. Pollination group 3. Harvest October.
Winter Nelis: My tiny Belgian pear contingent. I love everything about this little pear. Arguably not the prettiest of pears, somewhat small and dumpy but packs a flavour punch. Bred in Mechelen, Belgium in the early 1800s. Harvest late October. An excellent winter pear with pretty blossom that has frost tolerance. The tree also has lovely autumn colour which is another bonus. Pollination group 3.
Useful reference material
We have nibbled through buckets of fruit in search of our chosen cultivars. In truth, not unlike a wine tasting, after a while tastebuds do numb and you forget which one you liked best and why. Still it's fun and worth the effort. There are so many great tasting events every year which are worth looking into. Really useful too is visiting orchards throughout the year to see trees. Growth habit, size, shape are varied. If space is at a premium, it's good to know how the trees will 'behave'.
Visiting good nurseries, especially when buying a set of trees was invaluable. There are some superb specialists out there, too often overlooked for a more 'convenient' purchase. Most have open and tasting days, which are highly recommended. Nurseries such as Walcot Organic Nursery and Keepers Nursery have wonderful selections. Reputable mail order companies such as Orangepippintrees not only have good UK grown trees, but a website filled with valuable information.
In terms of desk research, before delving into my gardening reference books, I tend to grab the 'gardening chefs/cooks' such as Sarah Raven, Nigel Slater, Mark Diacono, Raymond Blanc and so forth. It's interesting to see which cultivar they like, use in cooking and why. All very useful information to help steer through the myriad of cultivars. Some of my favourites are listed below;
Sarah Raven, Sarah Raven's Garden Cookbook, Bloomsbury Publishing, 2007. Great go-to-book. A cookbook, but relevant here are the introductory chapters per fruit & vegetable where Sarah outlines her cultivar choices.
Mark Diacono, The New Kitchen Garden, Salt Yard Books, 2015. Mr D will probably roll his eyes at some of our choices as they're not the most unusual. However, he's all about flavour and on that note we have followed his advice to go with our tastebuds. This is the ideal gardening-slash-cookbook out there, with great advice as to interesting produce and cultivars to grow. A truly inspiring read.
Joan Morgan & Alison Richards, The New Book of Apples, Ebury Press, 1993. An extraordinary reference guide to over 2000 apple varieties. Beautifully illustrated water color paintings by Elisabeth Dowle. The directory is invaluable, old to new varieties of apple, with full historical, geographical and botanical details as well as tasting notes on each type of apple. My tattered copy is laced with post it notes…
Joan Morgan, The Book of Pears, Ebury Press 2015. Another remarkable book by Joan Morgan with similar illustrations by Elisabeth Dowle. Just as in the apple book, the pear directory, which makes up the second half of the book is impressive, referencing ancient to modern varieties in great detail.
Christopher Bricknell & David Joyce, Pruning & Training, DK, 1996. Probably the most referenced book in our household. This is one we could not do without, and the advice on rootstocks, fruit tree maintenance & pruning is invaluable.
Monty Don, The Complete Gardener, DK, 2003. There's no doubt, the Don knows his stuff. The chapters on the orchard, planning an orchard and fruit selections has been most useful. All written with passion, but still with good practical advice.
Nigel Slater, Tender: A Cook's Guide to the Fruit Garden, Fourth Estate, 2001. Not just about cooking, Slater's book is chock-full with cultivar references, which as his nature, are really detailed from fruit flavour, colour to tree growing habits. As a bonus, the recipes will come in useful for how to deal with our ample orchard crops of the near-future…
Naomi Slade, An Orchard Odyssey, Green Books, 2017. Thorough narrative of orchards, past, present and future. This book is full of fruity information and I particularly enjoyed reading about how wild apples and pears became our best loved fruits.
With just their copper label adornments to hammer out, the work is done. The trees are in. We can now only wait. Fingers sternly crossed….
Footnotes
Borrowed words of wisdom from the genius that was; Lord Flasheart…
Gardeners' World Magazine, Oct 16 issue. 'Raymond Blanc's, Chef's Guide to apples'.