With infectious enthusiasm and gusto tantamount to Lord Flashheart, Mark Diacono has again put quill to parchment, and produced yet another brilliant oeuvre. The New Kitchen Garden is a marvel, where with humorous charm, experience and generosity, Diacono wades through horticultural convention, questioning the compulsion for prosaic planting, in order to, as the good man writes; 'uncurl your fingers from accepted approaches and familiar choices'.
Very often, the manner in which we garden is conditioned by what we've read, seen on telly, or absorbed through watching parents, friends or colleagues in their gardens. Even though there is nothing wrong in our doing so, sometimes it's healthy to question why we do so. The same goes for the plants we choose for our kitchen gardens. According to Diacono, the kitchen garden, should be a 'place of pleasure' and 'eye-opening' flavours, where limitations are only down to 'attitude and perceived ideals'. You can grow anything, what ever the space. And above all, let your tastebuds decide – 'If you don't make the walk from your garden to kitchen with salivating anticipation then something is amiss'.
With a superbly weeded, brand spanking new allotment to populate, my first textbook thought (tutor would be proud) was to plant potatoes to 'clean' the soil. Technically admirable, as through planting, growing, tending and harvesting the soil will be worked beautifully in readiness for the next vegetative incumbent. But is that the only way? Or are there other approaches? Could Salsify, Oca or Yacon do the same? Does the soil really need this exercise at all to be more productive?
Question Time
Diacono's book gently coaxes one to think beyond convention, beyond the expected. Prepare yourself, as the man asks a lot of questions, but he's right to do so. He's not advocating what you should or shouldn't do, but just to think about the choices you make for your kitchen garden. If it's potatoes, then by all means plant them but just do so decisively, with the knowledge that your valuable space, be it on an allotment, back garden or pot on a patio, presents a vast array of opportunities, experiences and flavours. 'If you allow your imagination to influence how you design and fill your garden, you are liable to have a far more rewarding time than if you feel compelled to fill the available space with commonplace plants because that is the norm', writes Diacono.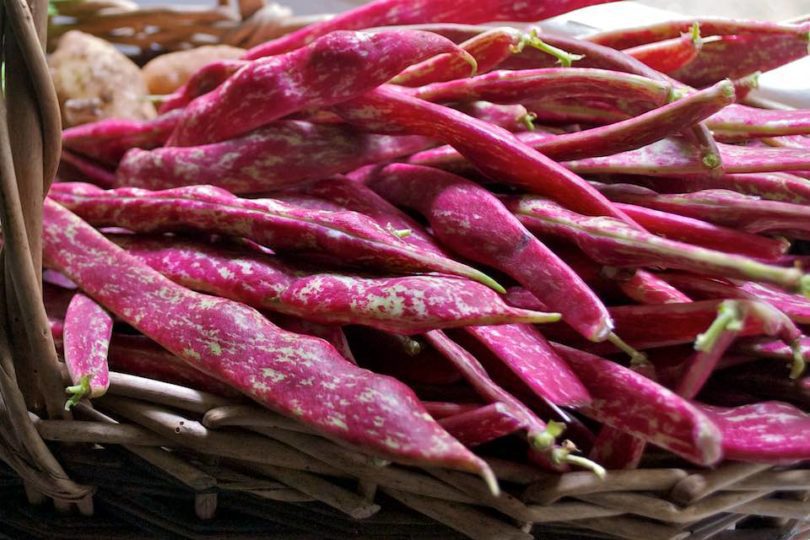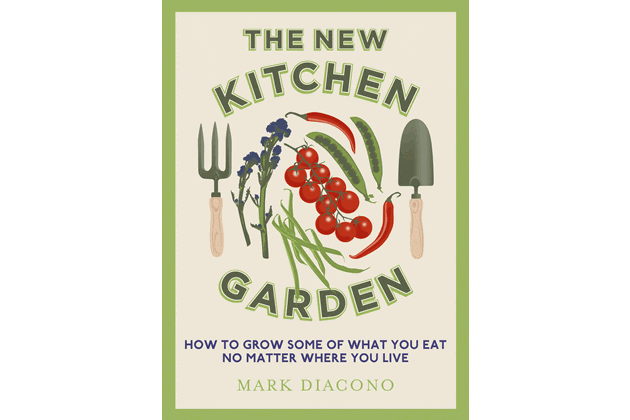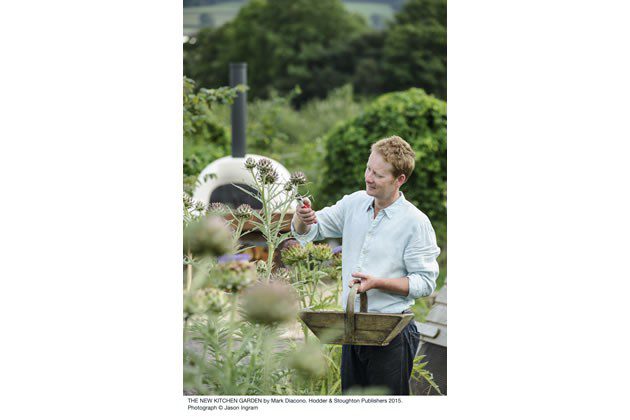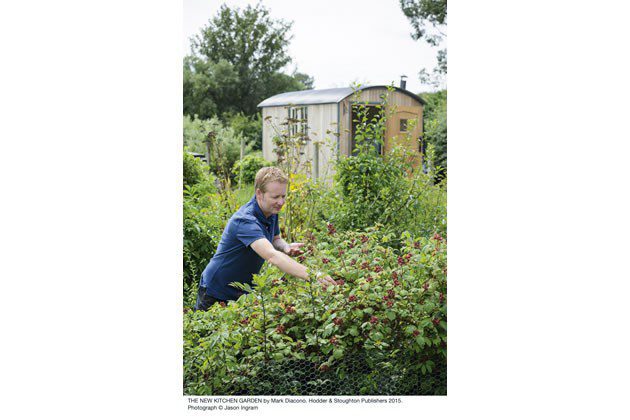 Think beyond the actual yield, as that may not necessarily be the primary source of pleasure, rather the experience of growing something, even if just a pot of herbs, or something challenging. Even if the culmination of all the effort is just one ripe peach, that peach could be the best you have ever tasted.
Textbook stuff
Beautifully designed by Saltyard Books, The New Kitchen Garden is wonderfully practical and has all the attributes to be promptly promoted to coveted 'go-to' book status.
The first chapter of the book, reminiscent of a session on a shrink's couch, is the cognitive refresher, where Diacono asks his multitude of questions, shares his vision and slowly but surely 'uncurls your fingers' from convention. Consequently refreshed and intrigued, in the next section of book, the good author generously provides his much learned advice on where to start and choosing what to grow. Here, Diacono provides a menu of approaches depending on what's important to you. No order, no ranking as that's a personal choice, but consider the growing of; favourite edibles, taste transformers, multi-harvesting crops, crops that present secondary pleasures such as flowers or simply being a pleasure on the eye, staples, faders, unbuyables, productive crops that require little cosseting, good companions, newcomers, challengers, and so forth. Really useful information, and for me the true heart of this book.
By now, just as I was, readers will be itching to get planting, just for which Diacono has provided an impressively detailed rundown, or 'invitations' as he calls them, of over 200 vegetables, fruit, nuts, herbs and spices one can grow. These range from the familiar asparagus, tomatoes and potatoes, to the lesser-known agretti, chocolate vine, callaloo, and mashua. Crucially, all include, precious variety recommendations, planting advice, potential problems and harvest details. Invaluable information for anyone keen to grow them. He doesn't stop there, as there are meticulous chapters dedicated to the creation of a kitchen garden, and ongoing care. Merci monsieur…
To round it off, The New Kitchen Garden provides wonderful insights into the experiences of some brilliant gardeners to show what is possible, whatever the space. The gardeners in question include, Charles Dowding who shares his no-dig approach, Raymond Blanc and his heritage garden, the urban food forest designed by Paul Barney of Edulis, a kitchen garden managed by the phases of the moon, community gardening, and none other than the author's very own daughter and star pupil, the delightful Nell Diacono's container garden.
Man of his word
Diacono comes fully equipped with experience of successes and 'frequent failures' of growing an intriguing array of edibles, on his small-holding Otter Farm in Devon, as a gardener, and as the former head gardener at Hugh Fearnley-Whittingstall's River Cottage. All this knowledge, he shares generously in this book. The New Kitchen Garden is a testament to all his hard work, growing, cooking, trialling and 'being inquisitive', and the result is very impressive indeed.
Laced with humour, refreshing candour and written in Diacono's personable style – comfortingly reminiscent of an episode of Jackanory with Mr D himself, reading his book to you. You'd be hard pressed to find a more charming and informative book on this subject.
Back to school
At Otter Farm, the Diacono is looking to build a kitchen garden school to enthuse and enable as many people as possible through; courses, events, festivals, feasts, open days, school visits, apprenticeships, community events and so forth. As a start in that direction the New Kitchen Garden is being offered at variable prices to make it available to as many people as possible, whatever their circumstances. For all those details, I refer you to the good man's own website.
The New Kitchen Garden is a wonderful book that does exactly as the author wished. This masterful book, 'enthuses, enables and inspires'. Or in the wise words of that other splendid gardener, Monty Don; 'Rush out and buy it. It is really very good.'1.
Footnotes
@TheMontyDon, Twitter, 6.45am, 7 Mar 2015