Are you at all like me? With the end of the month nearing, the eagerly awaited garden glossies come through the letterbox, just too much excitement for any normal person to fathom. I usually start by flicking through in a mad rage to scan and take in as much as possible, prioritising areas of interest. The small print does eventually come to light, although admittedly at a gentler pace over the course of the month. Any acquired knowledge thereof, will hopefully make me a better gardener.
The bold yellow print on the cover of the March 2011 edition of the BBC Gardens Illustrated certainly sounded very interesting indeed; 'Planning your perfect veg plot'.
Our veggie patch project still in its infancy, but ensued with much enthusiastic, be it amateur, endeavour. The designated patch is located within the walled garden, which includes a stunning peony border (currently somewhat worse for wear in our battle to kill the happily established ground elder), Rambler- and Gallica packed rose walk, historic apple espaliers, perennial borders, mature fruit cage and enough lavender to give the South of France a run for its money. The veg patch was rescued last year from excitable overgrowth and assigned to be the area to produce delectable vegetables. As part and parcel of the walled garden, it has to match the rest of the walled garden, in all its beauty and interest. The challenge therefore is to create a stunning little vegetable haven, with continued interest throughout the seasons, fitting to its surroundings, whilst providing the eager household with fresh veggie satisfaction.
One can therefore understand my excitement as to the prospect of a detailed article entitled 'How to plan your perfect kitchen garden', penned by the DIY veg queen herself, Alys Fowler. In all her wisdom, Alys is much respected in our household, though admittedly, for us, the true veg and all round plant guru, can only be her majestic self, Carol Klein, affectionately dubbed as 'me-veg'.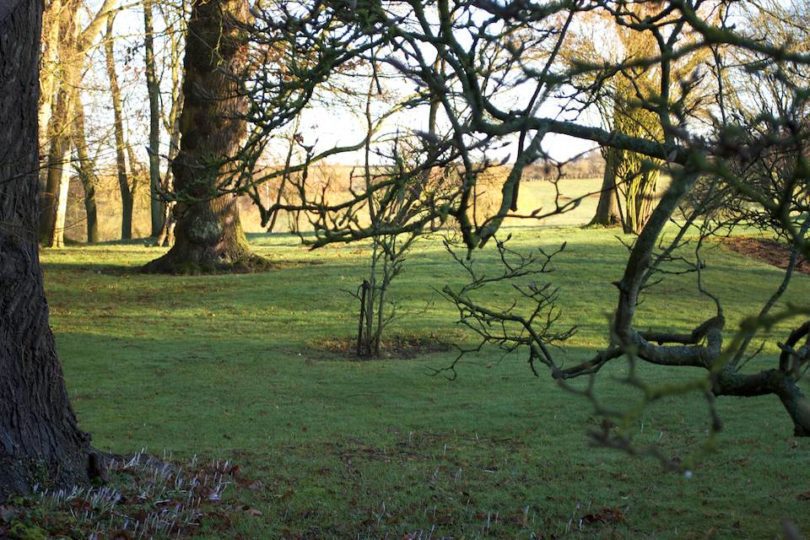 Despite lovely photography, the article failed to cut the mustard. Unfortunately, more often editorial on this topic never seem to go beyond the obvious. "Preparing the site, shady spots only to be used for water butts, compost bins and/or sheds, bed sizes to be sized so one can actually reach in to work them, pathways required to get one from A to B, cook ones produce alfresco, plant supports are practical…" Bit of a bummer really….
The worst though, is the decking-esque obsession with raised beds. The dreaded raised bed issue and the purchase thereof, despite their being rather unsightly, is in my view a waste of valuable vegetable space, money, and drying hazards as these beds require more frequent watering. We have 'natural beds', created every year, depending on the design, by just being spaces dedicated for growing vegetables and not spaces to walk on. We therefore have annual narrow pathways, covered with any kind of bark/wood chippings, leading around the 'beds'. With some careful and cosmetic shoveling one can even, if so desired, create them to be somewhat raised. Cheaper, more pleasing on the eye and with the annual digging over of the site, the wood/bark chippings help to loosen our very heavy clay soil.
In terms of veg patch editorial, one is looking for advice as to;
Which vegetables look good as well as taste good? What conditions do they require to look and taste their best? Which pests to look out for? And how long do they look good? For example, this year three types of asparagus will be planted into the patch. One of the chosen varieties is Purple Passion. I read somewhere, that in addition to being very tasty, when the asparagus fern at the end of their season, the fern is purple-ish. If correct, that is interesting information when designing the plot layout.
There seem to be more and more veg design programmes available on the internet. Are they at all decent? What do the experts think?
Any ideas as to vegetable partner planting? This year I am partnering elephant garlic and artichokes as both produce stunning stately plants, that not only look good, but taste good. If one lets the garlic flower though, does that inhibit the taste/quality of the cloves?
There are so many suppliers of vegetable seeds, plants etc., but what should one look out for when ordering? Who's the best?
Tips from established and experienced veg patchers, for example as those working in the stunning Productive Gardens at Heligan in Cornwall
On the subject of plant supports, which ones are the best? Should be growing our own supply of hazels or is one best to purchase bamboo's or longer lasting metal frames?
Lessons learned by eager gardeners from last year's pottering; what to do better this year? For example, last year my proud celeriac harvest included a set of vegetables not larger than marbles. Delicious they were, but that failed to disband my disappointment. What do celeriacs really crave in terms of conditions? Should I have left them longer? Do they actually continue to grow during the winter or would they just have become a nice snack for eager slugs?
Agreed much of this information is probably available in the various books available on the subject, by Carol, Alys, Monty the RHS etc, but as a magazine is a monthly medium, we look to it for more current ideas, comment, advice. This article sadly failed on that front. Oh well, there's always next month's…!
In the meantime though, any advice, comments or better yet answers, are welcome!