'Do you know how good milk is with bay?', queries the herb guru, Jekka McVicar. The sad truth is, no. Having known McVicar for quite a few years, read her books, heard her speak, seen her on television and visited her herb farm, she must be disappointed in my herb deficient cuisine. The garden is brimming with perennial herbs, but never has the Anise Hyssop been made into a sorbet, the Borage into soup, the Bergamot into jelly, or the Sweet Cicely into ice cream. Only the usual suspects; parsley, oregano, thyme, basil, bay, rosemary, chives, coriander and the odd bit of sage, actually make it into the kitchen. Not forgetting though, the superbly audacious addition of Mint and Borage to Pimms. Curiously however, the lack of culinary herbage, is not exclusive chez maison Oxonian. Regardless of current insatiable gastronomic fever, the consumption of herbs rarely ventures beyond the staples. Ask yourself, have you ever seen Nigella, or any other chef for that matter, fawn over Angelica, Myrtle berry or Salad Burnet?
'Herbs are of such merit, yet so undervalued and underused', explains McVicar. 'I'm in my 80's you know, so it's time I pass on my knowledge', giggles McVicar. She is of course fibbing about her years, but through the laughter there is sadness in that herbs, once so fundamental to our (culinary) history, seem to have been resigned to the backwaters. 'Everyone is always fascinated by herbs. They'll read a book, but then lose their nerve. We have been indoctrinated, 'don't put that in your mouth, don't do this, that's toxic'. We have become over cautious and paranoid, to the point where unless someone stands there in a laboratory coat, people won't try it', confirms McVicar.
Rock 'n Roll
Jekka McVicar is an institution. Highly respected in the horticultural trade, food industry, amongst gardeners and even by the Queen1. In the 25 years since McVicar, and her charming spacecraft engineer husband Mac, set up Jekka's Herb Farm, she has won an incredible sixty two RHS gold medals2, the RHS Lawrence Medal and two Tudor Rose awards. 'I have this little stash, and occassionally when I'm feeling low, I sit and flick through them', laughs McVicar.
In addition to running the Herb Farm, McVicar is a member of the RHS Council, RHS Fruit, Vegetable and Herb Committee, and has recently been crowned President of the Herb Society. Her very stern duties aside, McVicar is wickedly funny, exuberant and above all charmingly besotted with her subject matter, much evident in her presentations and talks around the country. Few know however, that the stern 'people think I'm bossy' Head RHS Show judge McVicar, was once known as Jessica Stanley Clarke, lead singer and flute playing member of the progressive rock band, Marsupilami. A rendition was not on the cards during the interview, but then there is always youtube…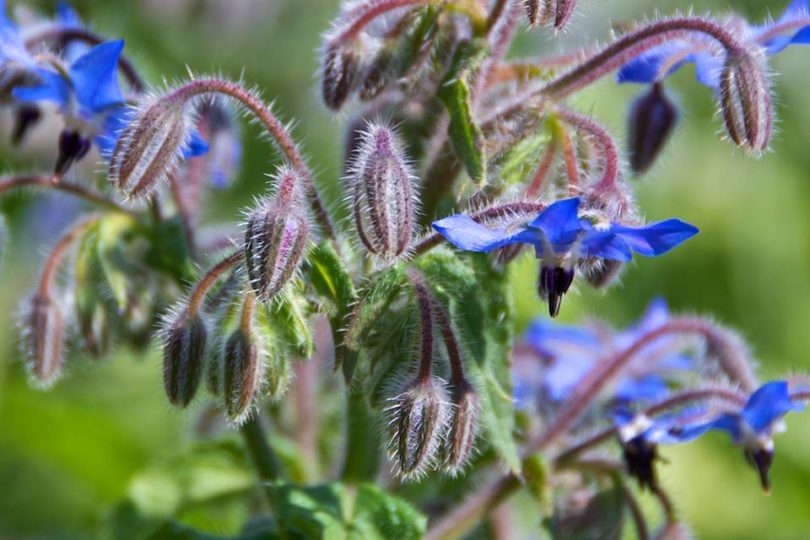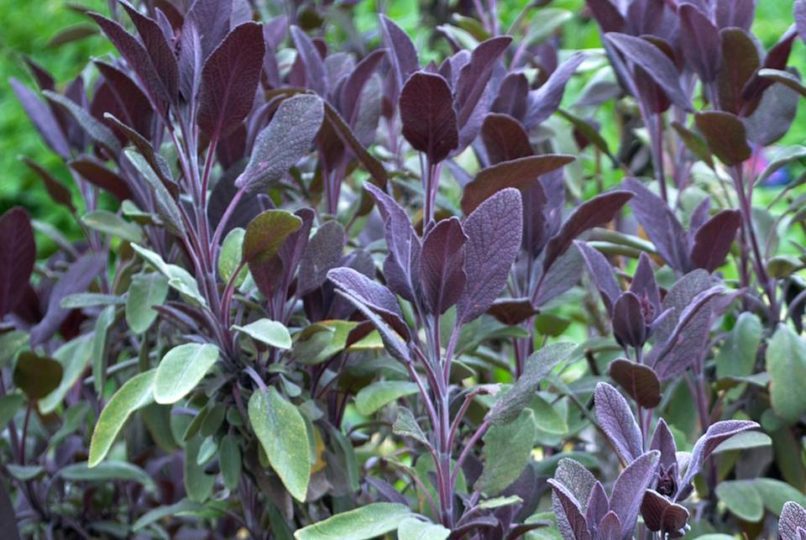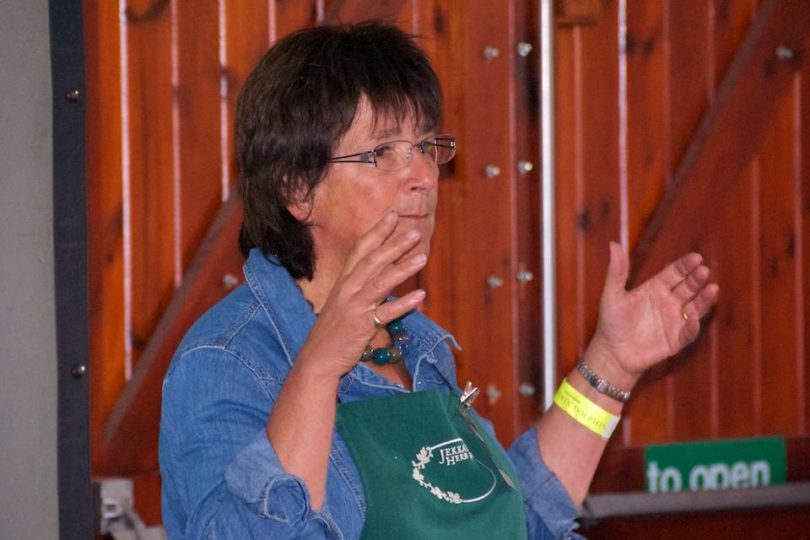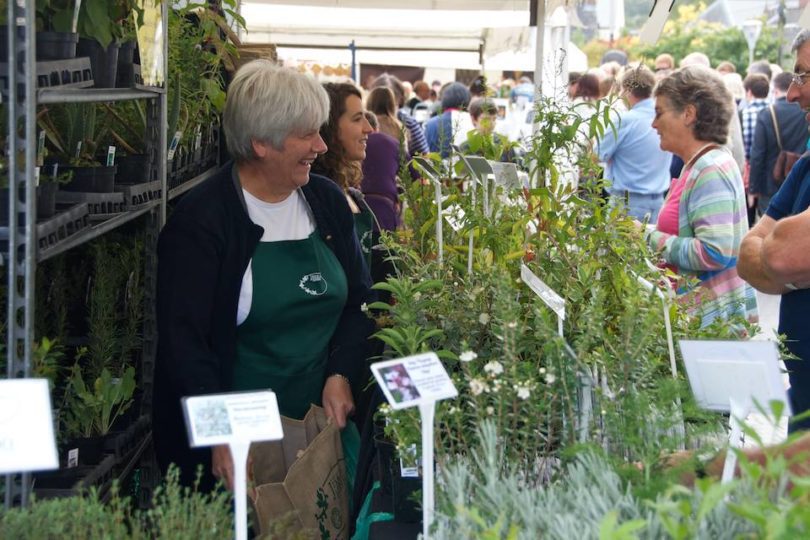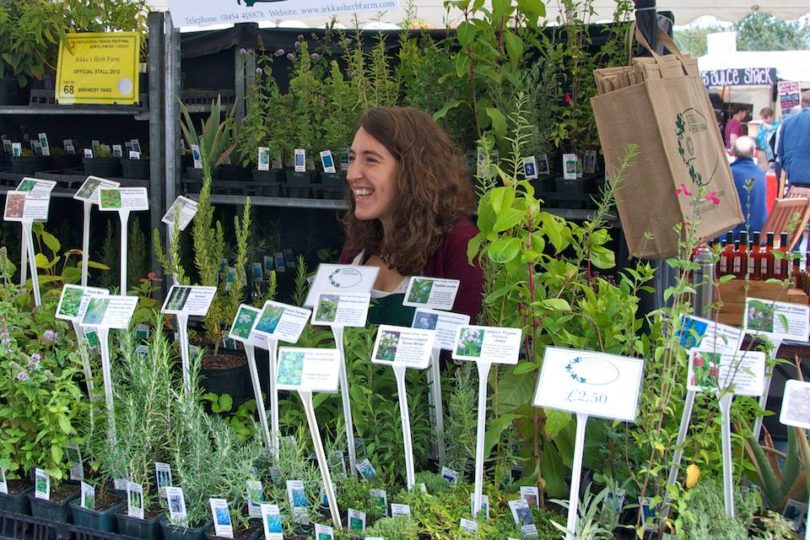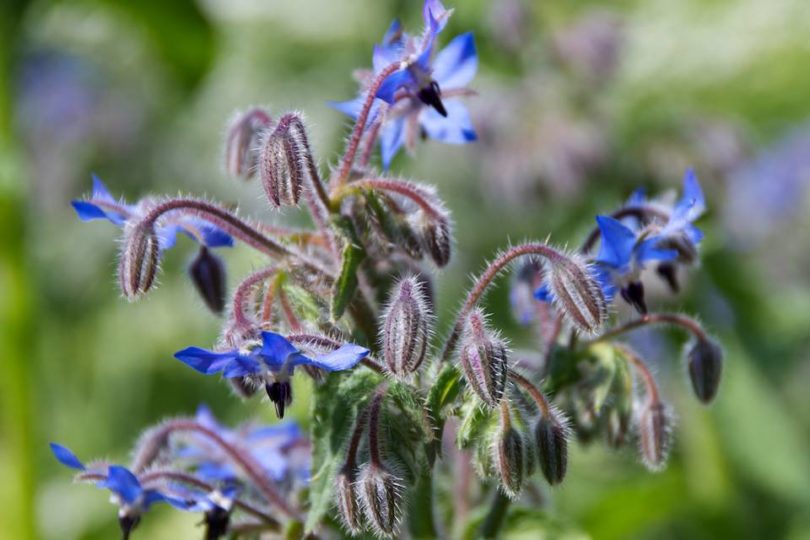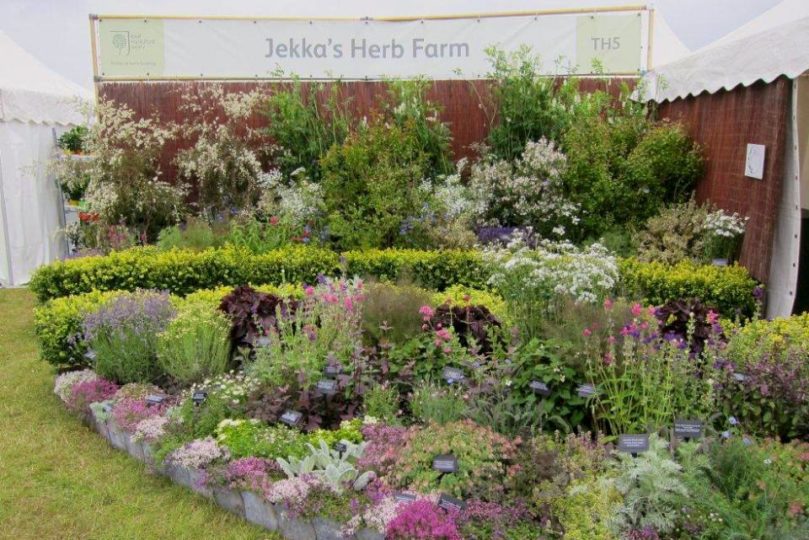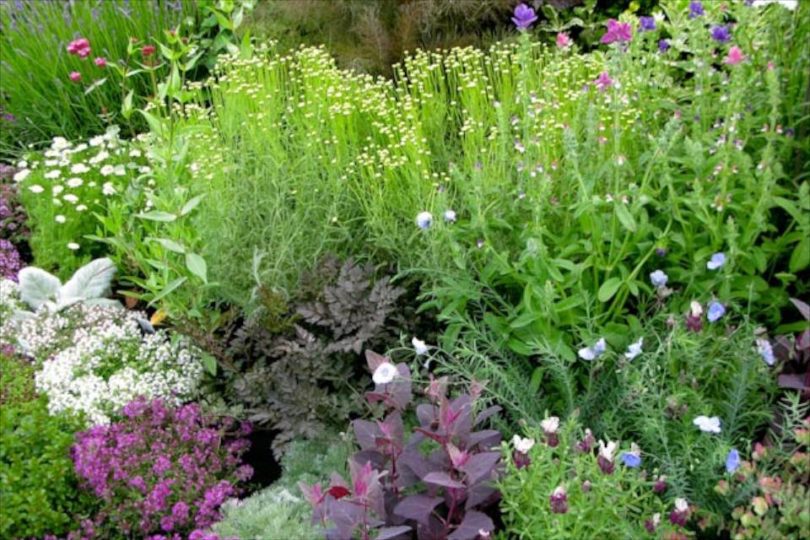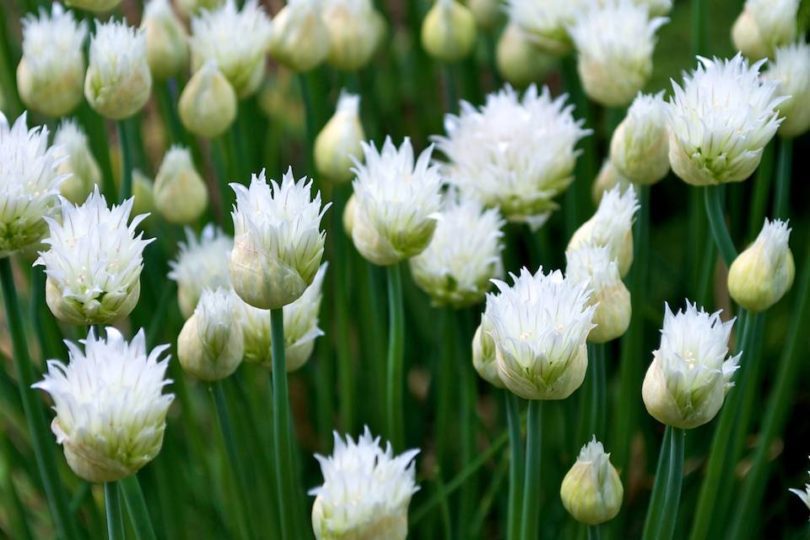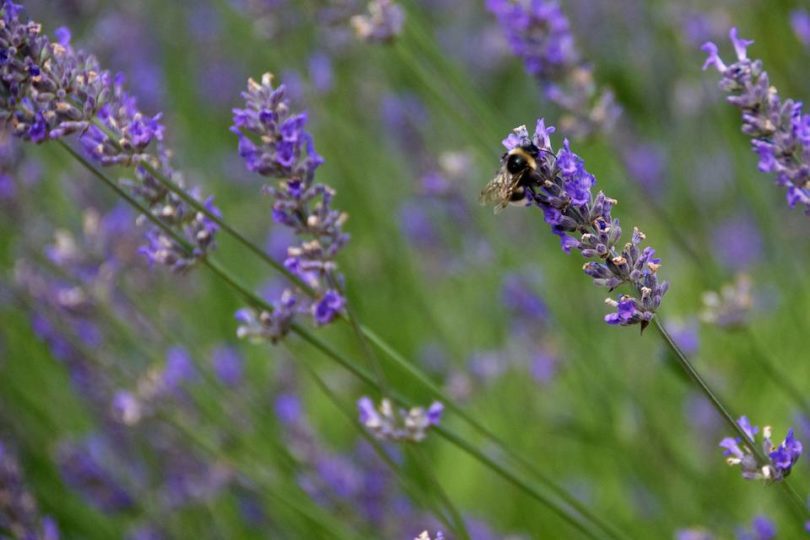 Full circle
'Unfortunately, when it comes to herbs we've dismissed our past', explains McVicar. According to McVicar, where herbs were once revered for their healing properties, with the arrival of antibiotics in the 20th century, they were perceived to have lost their usefulness. However, with the knowledge of antibiotics not being the cure for all, herbs are ostensibly undergoing a renaissance for their medicinal qualities.
'2000 B.C. – Here, eat this root. 1000 B.C. – That root is heathen, say this prayer. 1850 A.D. – That prayer is superstition, drink this potion. 1940 A.D. – That potion is snake oil, swallow this pill. 1985 A.D. – That pill is ineffective, take this antibiotic. 2000 A.D. – That antibiotic is artificial. Here, eat this root2.'
'I love this quote as it really sums me up. This is what it's all about', explains McVicar. 'A herb that is greatly valued in cooking may also be of value for its medicinal properties. Lovage for example, delicious in soup, is a remedy for digestive difficulties and gastric catarrh', she added.
Herbetum is the new black
Determined to bring herbs (back) on the (culinary) agenda, Jekka's Herb Farm is undergoing change. 'The nursery was just laid out for watering, which meant that no one could actually focus on what the nursery was really offering. With the plants all in pots on the floor, you really needed to know what you were looking at to begin with, and therefore rarely saw the plant grown to its full potential, in its natural environment', says McVicar. So what's the plan?
'A herbetum', explains McVicar. 'A means to really show my herb collections, where one can truly experience herbs; get close to them, see them growing, smell, touch and taste them', she added. McVicar is planning to use her herbetum to teach the public about plant families, herb propagation and care, and above all, their usage for both the kitchen as well as in the home. 'It's a natural progression of my work over the last 30 years, but focusing on what I love to do most, which is to impart knowledge', says McVicar.
The Herb Farm is currently home to an extraordinary 650 herb varieties, though not all will feature in the new Herbetum. 'I am focusing on culinary herbs, in particular the Lamiaceae family, though I'm throwing in a few favourites because I can't resist', explains McVicar. Annual herbs will also be on show too, particularly valuable where growing space may be an issue.
Though known for her award winning herb garden designs, for the Herbetum, McVicar is envisioning a simple functional design, raised for easy access, with varieties planted in groups, all clearly labelled to make it all as accessible as possible. 'There will be eight beds of Thyme, eight beds of Rosemary, eight of Lavender and so forth. That way one can actually see them for the first time growing side by side, to experience the diversity and outstanding beauty of herbs', explains an excited McVicar.
Back to school Gordon
Lectures and courses will be held at the Herb Farm, where McVicar (and team) will be providing guidance as to herbs, propagation, care, and crucially culinary uses. Currently, already training celebrated chefs on expanding the range of herbs used in their recipes, the Herb Farm will include a training kitchen. 'The Herbetum will give gardeners, chefs, cooks, food stylists, and recipe creators a chance to sample an extensive range of herbs, for example 36 different varieties of Mint or 26 of Rosemary. It's all about increasing herb knowledge, which is terribly exciting', explains McVicar.
Work on the Herbetum and school has already started in earnest, where the planning suggests opening to the public in late spring 2013.
Farm Metamorphosis
Already stretched to optimum capacity, McVicar has decided that the nursery part of the business will be scaled down. Plants will still be available for purchase, though not on the same scale. The Herbetum and McVicar's herb collections will generate the seeds that will continue to be available for purchase throughout the year.
In an ideal world, McVicar would have liked to have kept the nursery going, alongside the Herbetum and school. However, as is sadly so often reported by fellow nurseries, the economic reality of heightened competition, current downturn and the fact that quality staff are hard to come by, leaves little choice for owners. 'This way the business will become more manageable for our small team, and hence allow me the flexibility to do what I love to do best', explains McVicar.
Footnotes
The Queen gave Kate Middleton a copy of Jekka's herb cookbook. Source; Emma Townsend, The Independent, 22 July 2012.
Sixty two gold medals, of which 14 were RHS Chelsea Gold Medals
Entitled ' A short history of medicine', author unknown.