Intentions to restoring native wildflowers in our field & garden originated from Sarah Raven's report on Gardener's World back in 2008. Years, and many gardening projects later, plans for the field are still on the back burner. However, talk of Raven's new book on wildflowers rejuvenated plans. She kindly agreed to an interview, where she shared her passion, enthusiasm and vast knowledge on the subject. This is the first of three subsequent posts, with (2) Fruit & Nut Wildflower Case – An interview with Sarah Raven, and (3) Restoring a wildflower meadow. Peter Clay, Crocus co-founder (creator stunning wildflower meadow), Richard Hopkins plant manager Applegarth nurseries, Peter Chapman owner Perryhill nurseries and Paul Barney, owner Edulis (designer Garlic Farm 2011 Hampton Court Flower Show display), have also kindly shared their passionate views on this subject. Hopefully, the findings will be of interest, as they certainly were to me. Though, if the topic of wildflowers is not for you, look away now…
Amongst our burgeoning bookshelves, is a much loved, tattered little green book, entitled 'The Observer's Book of Wild Flowers'. This tiny oeuvre, published in 1960s, describes its life purpose as to '.. awaken and intensify the interest sufficiently for all those seekers after the beauties of nature to take on this absorbing subject..' The study of plants, is absorbing to any gardener, yet surprisingly the appreciation of wild flowers in their natural habitat, seems to have become obsolete.
Pride or Prejudice?
The pursuit of 'botanising' is seemingly reserved for the tweed adorned, gentry or simply terminology that only the eloquent Stephen Fry dare utter in an episode of QI. Yet, one can't help but wonder why, the appreciation of wild plants & flowers seems to be associated with such (academic) pomposity, whilst attending horticultural shows to admire cultivated flower varieties, is perfectly a-la-mode? Granted, the term botanising, does conjure up romantic images of Elizabeth Bennett strolling around in cumbersome, grass-stained regency dresses; but as Sarah Raven points out; 'There's nothing stuck-up about the great English wildflower. Don't think that to botanise you suddenly have to become all trainspottery, moral and proper. These English beauties are available to everyone. They are our common inheritance'.
Britain's mild climate and varied geology has led to an envious range of natural wildflowers, listing at least 1500 native species. Many are familiar; Foxgloves, Wild Garlic, Fritillaries, Bluebells, Comfrey, Forget-me-nots, Snowdrops, but there are so many other glorious flowers, such as Pulsatillas, Great burnet, Silverweed, Purple Cranesbill, Tufted Vetch, Wild Carrot, Butterfly Orchid, Wild Liquorice, all just waiting to be discovered and identified. 'I think that we need to rekindle, or for people who haven't ever been in love with our wildflowers then, to fall in love with our wildflowers, because we have the most incredible and beautiful range of them in the most incredible and beautiful places,' says a passionate Raven, 'Few people realise they're there, and it's certainly one of the things that's enriched my life almost more than anything.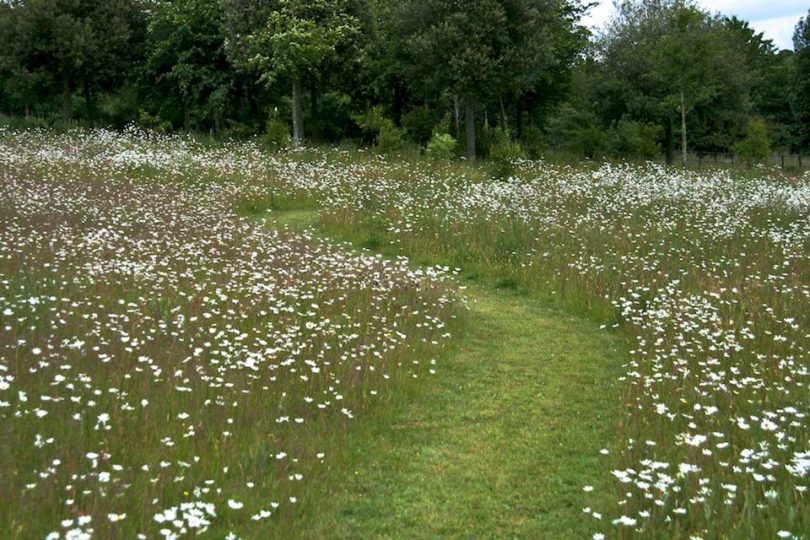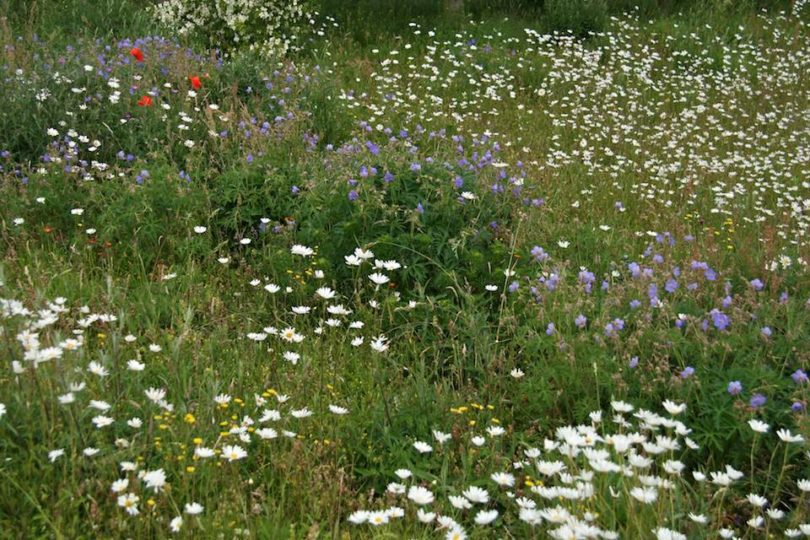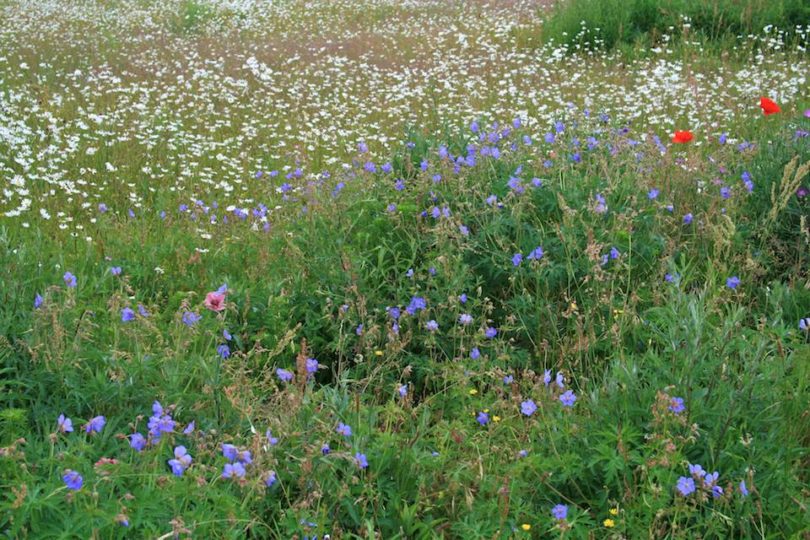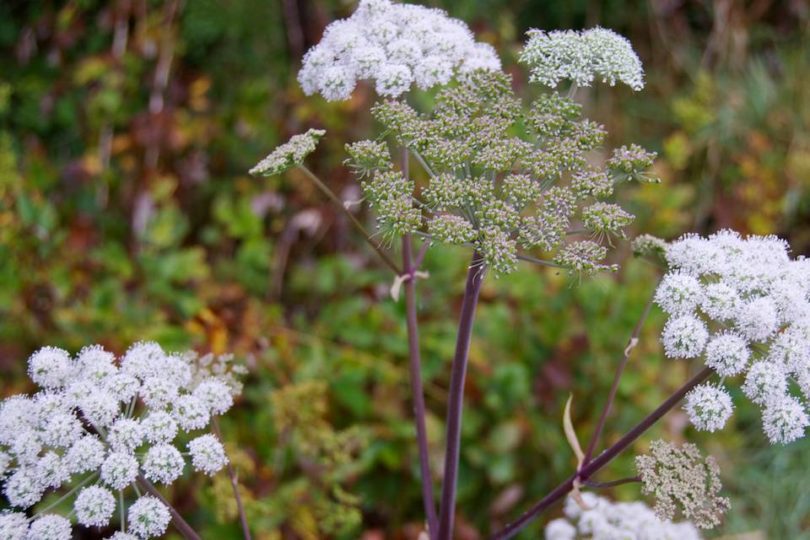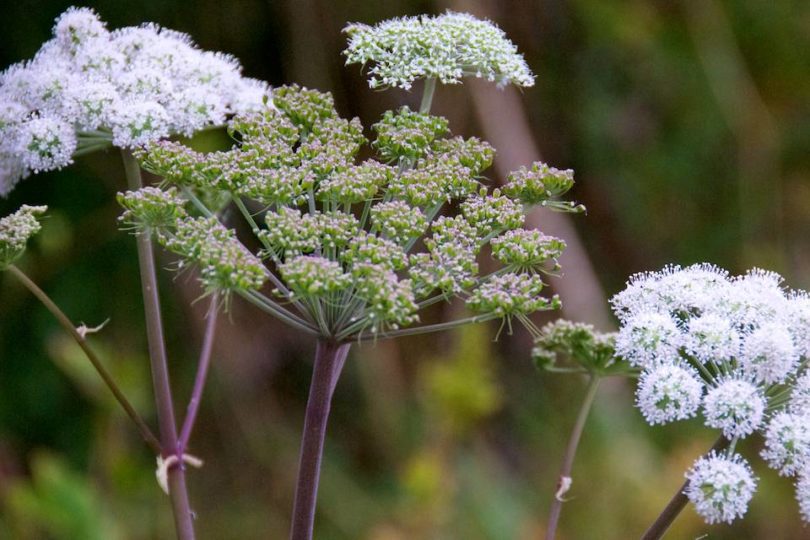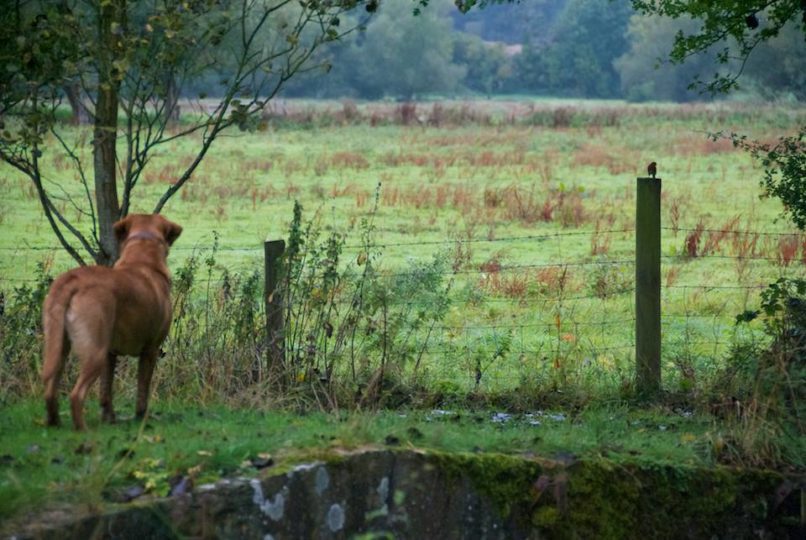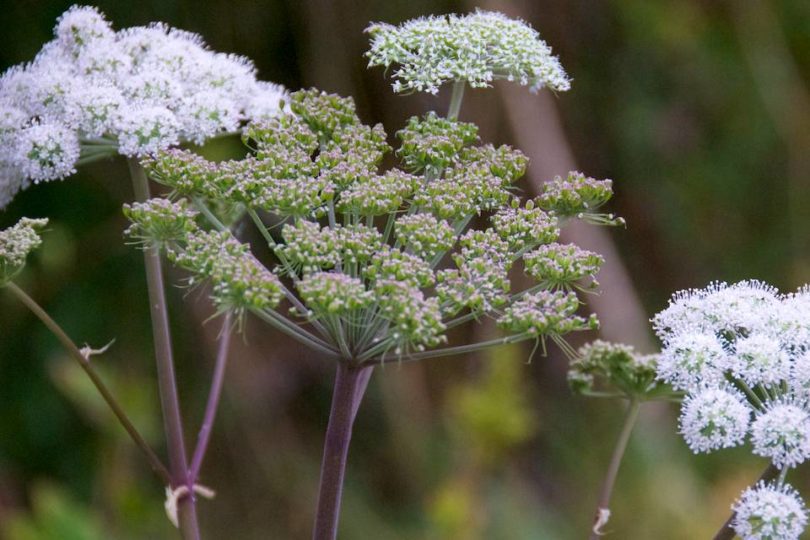 Learning to identify the varieties and building one's mental repertoire of wild flowers, is enormously gratifying. Even if just to recognise them for their wonderful names; 'Bastard Toadflax', 'Chickweed', Bird's Foot Trefoil', 'Bird-in-a-bush', 'Cock's Foot', 'Bloody Cranes-bill', 'Cudweed', 'Common Fiddleneck'. It would be interesting to know the origins of their eloquent names, but I suspect that may be a challenging task, even for the cleverest of University Challenge panels.
Real threat of extinction
Unfortunately, wildflowers are fast becoming increasingly scarce. The gradual demise of our wildflower meadows, is a complicated and protracted process, expertly (but painfully) documented in Charles Flower's, 'Where have all the flowers gone?'. Though as generally known, factors such as; urban sprawl, decline of green space, urban tarmacing, ploughing, fertisiling, spraying, of ancient meadows and grasslands has unwittingly led to the destruction of countryside variation and habitat. According to Plantlife, an organisation dedicated to the preservation of wild plants and their habitats, worst affected counties lose on average one native flower every year.1 In the past century, at least 21 native species have completely disappeared, which is probably underestimated.2 The Bumblebee Conservation Trust (BBCT) say that at least, 98% of Britain's flower-rich grasslands, such as hay meadows and chalk downlands, have been lost in the last 60 years.3 Consequently, the delicate ecosystem that once was, is no more, much evident in the reduced stocks of native flora and fauna. Bees, bumblebees, butterflies and many other invertebrates are declining fast. There is simply not enough stock, nor diversity of wild flowers left, to sustain our native wildlife. Gardeners do their bit, but there is no true replacement for wild flowers. As Raven explains, 'It is true that nectar is a generic product. Nectar from a dahlia is actually the same compound as the nectar from a wildflower, but the trouble is that our insects have evolved to feed from our wildflowers. So, as much as the dahlia is a fantastic thing from Mexico, and I absolutely love them, not all our insects have the right mouthparts to feed on them.'
Horticultural haute couture
Encouragingly, within the gardening trade wildflowers seem to be undergoing a renaissance. Wildflowers, particularly the umbelliferae family, are increasingly popular in the show gardens at Chelsea, Hampton Court etc. Cow Parsley, Wild Angelica, Ammi Visnaga, Ammi Majus, Fennel, Sweet Cicely, increasingly take pride of place in the finest of show gardens. Other varieties too, such as Filipendula Ulmaria, Lythrum Sallicaria, Borage, Betony, Wild Majoram, Foxglove, are also becoming more popular in designer planting schemes to achieve that soft, natural look. It is not just the show gardens that have taken to wildflowers, inside the Pavilions too, wild flowers are increasingly appearing in the displays. The much praised and documented, gold medal Garlic Farm display at Hampton Court Flower Show, designed by Paul Barney, owner Edulis, is a good example. Though not all native (Cenolophium Denudatum), many others such as the Ammi's featured to create Barney's soft three-dimensional masterpiece. According to Peter Clay, Crocus, co-founder (and owner of stunning wild flower meadow), our current desire to incorporate wild flowers in herbaceous borders all started with the naturalistic planting movement and its revered prophet; Piet Oudolf. Natural gardens, such as those designed by Tom Stuart Smith and Dan Pearson, look like the countryside did in the days before pesticides and weedkillers. This, and current recession, has led to as Clay describes, a 'make do and mend' attitude and consequent increased nostalgia for all things countryside. 'Gardeners have always been conscious of man's influence on the countryside. Consequently they are looking for simpler plant forms, grasses, and particularly those plants that are good for bees', he explained. All this nostalgia may explain my somewhat tawdry interest in the recent Great British Bake Off series, and the fact that I now even own the associated recipe book. Despite the now legendary squirrel….
Trade to the rescue?
The desire to mend the countryside, is good news for our native wildflowers. Annoyingly, we always seem to need to be alerted by designers, tv, magazines etc,. to notice and/or appreciate the endangered. In this case, even when available to all in the countryside and road side verges. Nonetheless, one can't help but be delighted to see the public rediscovering wildflowers, with garden centres experiencing increased demand for wildflower varieties. Peter Clay explained that Crocus have been providing native wildflower seeds, as well as plug plants, since 2002. Popular demand has seen the range extended, and sales thereof steadily grown. A trend, which Clay expects will continue in the coming years. Local nurseries are seeing a similar trend, Richard Hopkins (no relation to Anthony), plant manager at Applegarth nurseries in Chipping Norton, said that there is greater interest in wildflowers amongst their clients, due to the appeal of wildflower meadows, both on small and large scale. 'We are conscious of the importance of native plants and their wildlife value and so we stock named varieties whenever possible as part of our range. They perform well and sit well in the area that we supply', said an enthusiastic Hopkins. Hopkins added though, that despite heightened interest customers are often turned off buying potted wildflowers, as they simply 'don't look good' compared to their cultivated cousins. When it comes to wildflowers, one must disregard the plant buying advice from the Monty's, Carols and Alans. As Raven explains,'We are very impatient now and want plants to perform within a year. In their first year, for many of the perennial wildflowers, the base of the plant will actually be no bigger than a ten pence piece, because they are growing their roots. It is in their second year that they really put on a show, so they are just on a slightly slower timescale, than the herbaceous perennials we are used to.' Slower they may be, but as the enthused Hopkins added 'the difference between wildflowers and modern cultivars is that the former have evolved to flower and set seed successfully in their habitat so that performance, constitution and hardiness are assured. Modern cultivars have been selected primarily to flower precociously and be compact so as to make an attractive pot plant. Hence, due to commercial pressure their garden performance, constitution and hardiness may be secondary'. Peter Chapman, owner of Perryhill Nurseries, explained that they too stock wild flower perennials, even though they don't distinguish them from other varieties. 'In general our customers are quite often looking for a natural effect but are not necessarily looking to use British natives.' He added that even though customers may choose them, they often do so without realising that they are natives. Perhaps, introducing some union jack clad 'British native' labels, mimicking the 'British food' labeling of the supermarket trade, could be an option to further encourage the public in their plant purchases?
Despite increased popularity, our native wildflowers continue to be in a precarious situation, affecting not just the countryside, but the pollinators that depend on them. We are fortunate to have organisations such as Plantlife, BBCT, and others, working to restore this balance. Through their work, they demonstrate that action can be taken, with subsequent recovery of native wild flowers and insects. Supporting organisations such as these is crucial. Now, I don't know if anything that we do in our garden will make a difference, but we will certainly try. Apart from respecting and appreciating them more in the countryside, wild flowers will become more integral in our garden. The herbaceous borders will certainly grace beautiful umbellifrae next year. Dozens of which are already brewing in expectant seed trays. The orchard ground is laden with Fritillaries and native snow drops, and the field will undergo intensive wild flower rehabilitation. On the latter mammoth project, to quote Kirsty Wark, 'More on that story later'.
The future looks wild…!
Footnotes
(1) Plantlife, Species Decline, (2) Plantlife, Species Decline, (3) Bumblebee Conservation Trust, Wildflowers for Bumblebees. Interviews with Sarah Raven (23 Sep 2011), Peter Clay (29 Sep 2011), Richard Hopkins (13 Oct 2011), Paul Barney (03 Oct 2011), and Peter Chapman (02/10/2011) conducted by Petra Hoyer Millar.