Plucky or preposterous, but I find myself incredulously in disagreement with the infinitely eminent Piet Oudolf. According to my garden guru, colour in the garden is only an added extra1. Quite remarkable, as his designs with their distinctively striking streams of colour are legendary. According to Oudolf, colour sets the mood in the garden, but remains a secondary dimension where good planting should be able to look interesting in a black-and-white photograph. I'm in full agreement, for planting to incorporate strong shape, structure, proportioning and so forth, but in my book, colour deserves more credit than simply playing second fiddle.
It has taken some years, but the pastel shackles have definitely loosened, where crimsons, carmines, deeper pinks, (red) purples and magentas are increasingly prevalent in the garden. The difference is quite staggering, and the results have only encouraged further adventurous inclusions of colour. Mind, graduation to complete colour freedom is not quite on the cards, probably still held back by years of indoctrination by the 'good' taste brigade, but excitingly the garden is on a more colourful track.
Floristry Mind-Set
Once a poor cutter of garden flowers, preferring to see their splendour in the garden rather than in a vase, it never occurred to me that learning to arrange flowers, which to some may sound triflingly WI'ish, could be such an incredibly useful exercise to learning to work with garden colour. As if making a model, or creating a mini garden, when arranging flowers one is combining colours, varying shapes and textures with pleasingly immediate results. No need to wait for years to evaluate the effect. The small scale, short lifespan and relatively simple assembly is rather liberating, and provides brilliant insights into vibrant colour combinations.
Devil Wears Prada
Kindly invited by the charming, colour whirlwind Flower farmer that is, Georgie Newbery, I attended her 'Posy Tying' course, at the delightful Common Farm in Somerset. Initially acquainted through the magic that is Twitter, then in person at the RHS Chelsea Flower Show, Newbery is colour personified, both in her art as well as personality.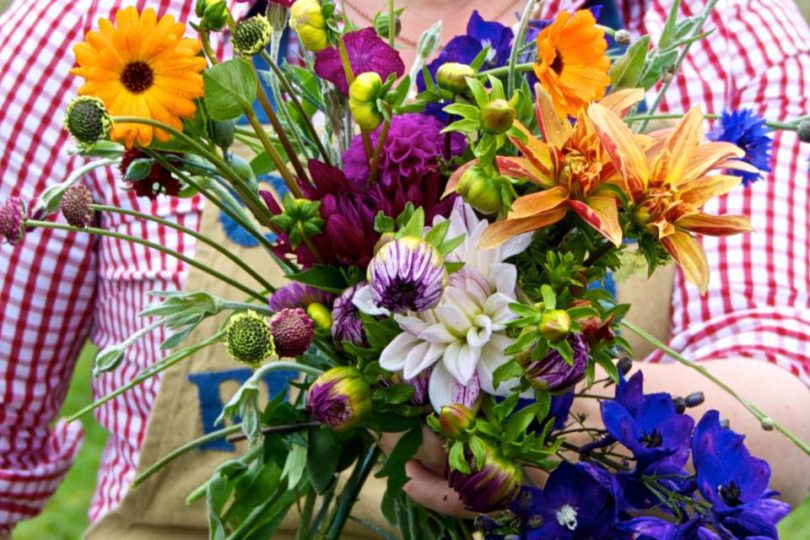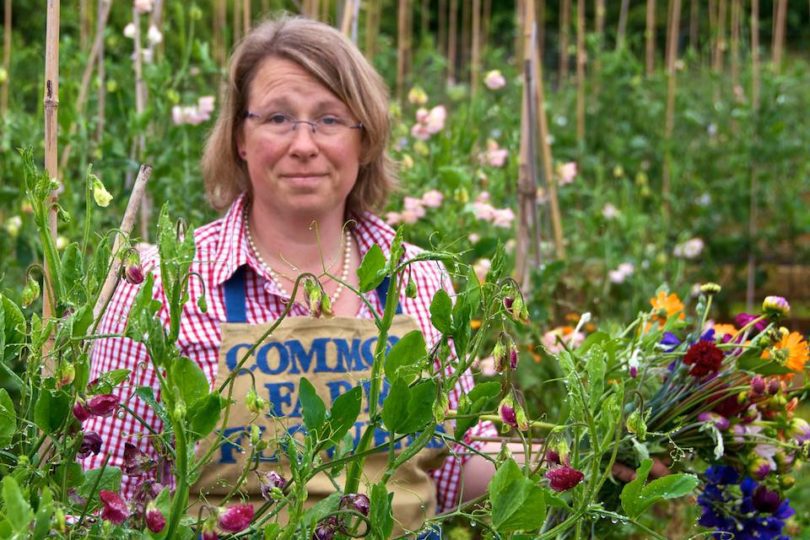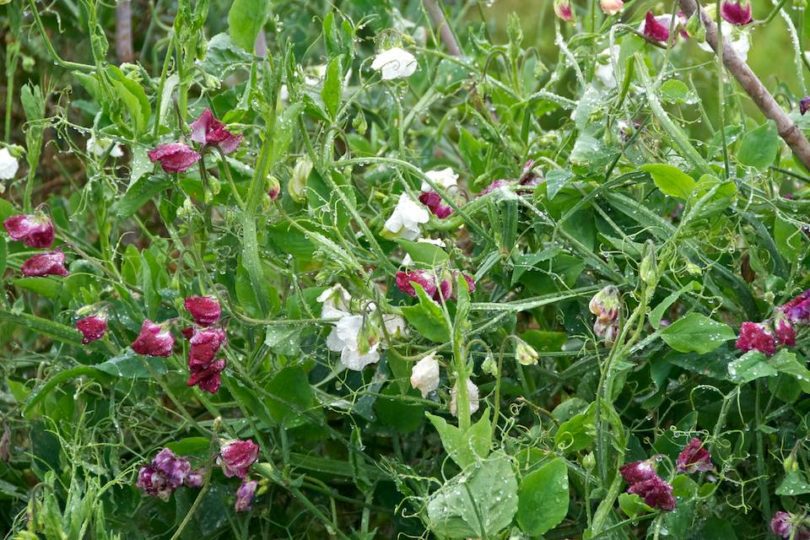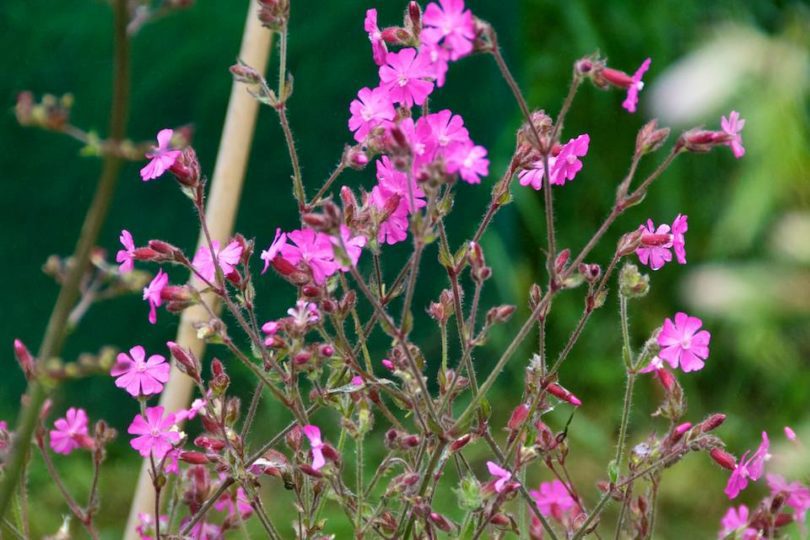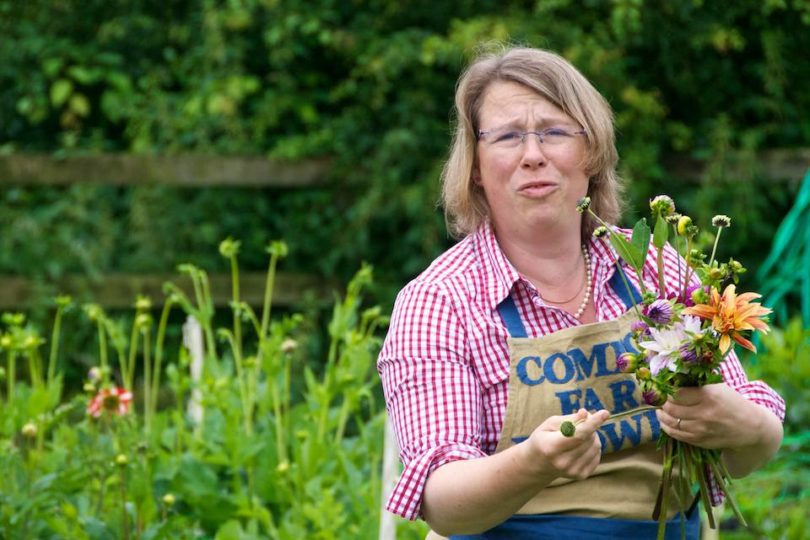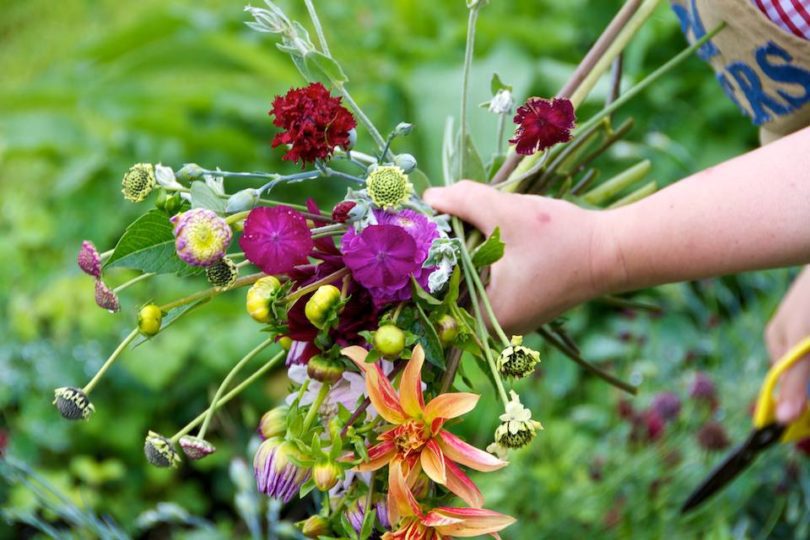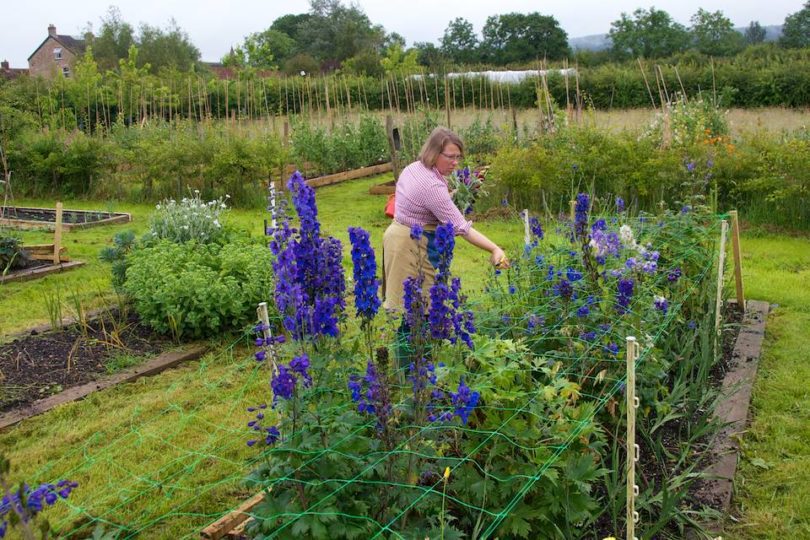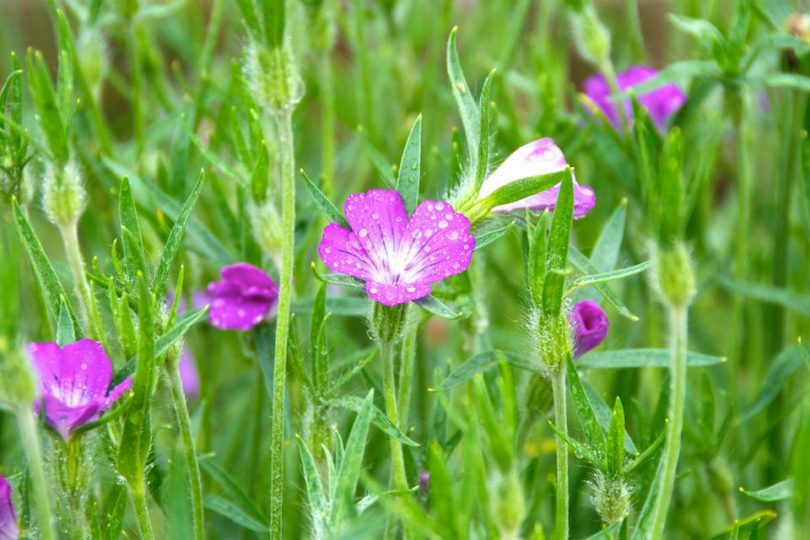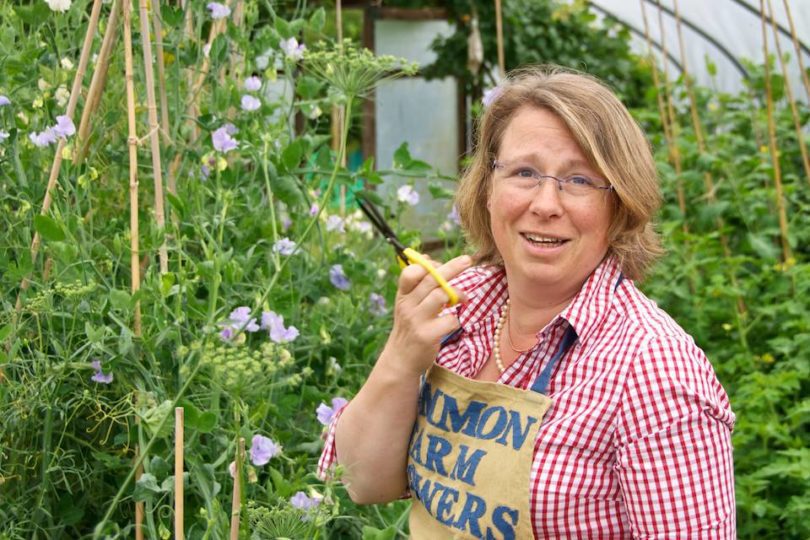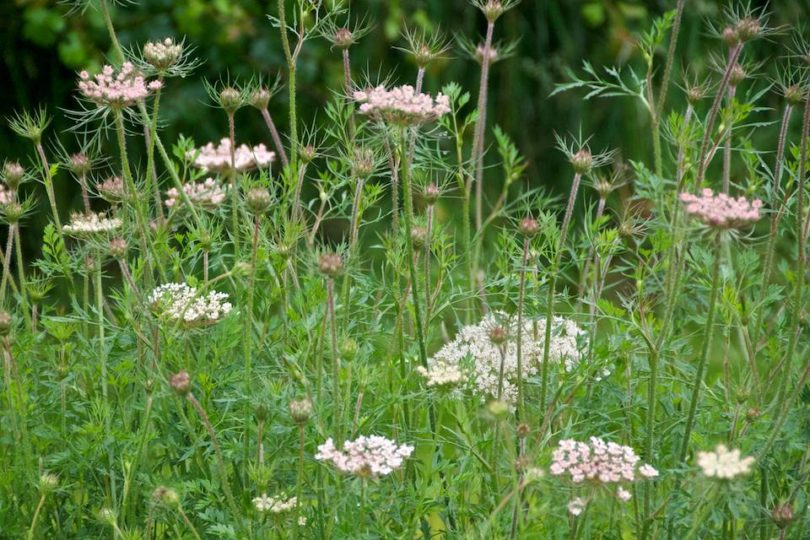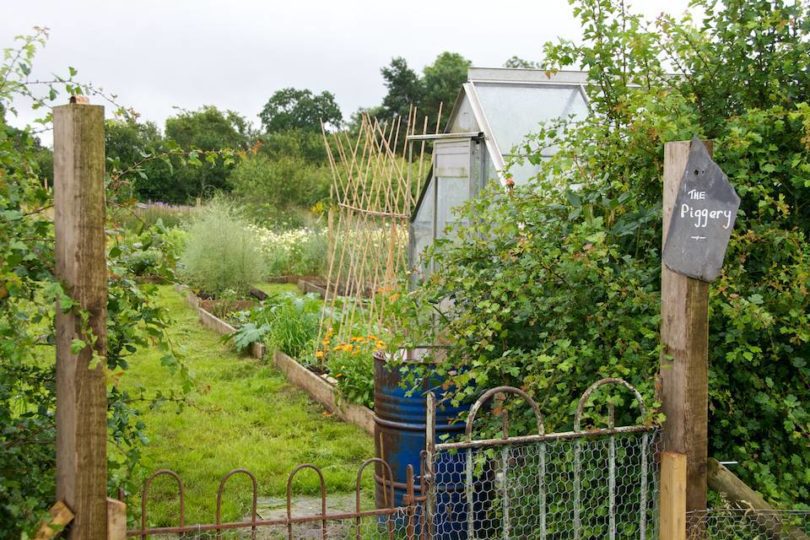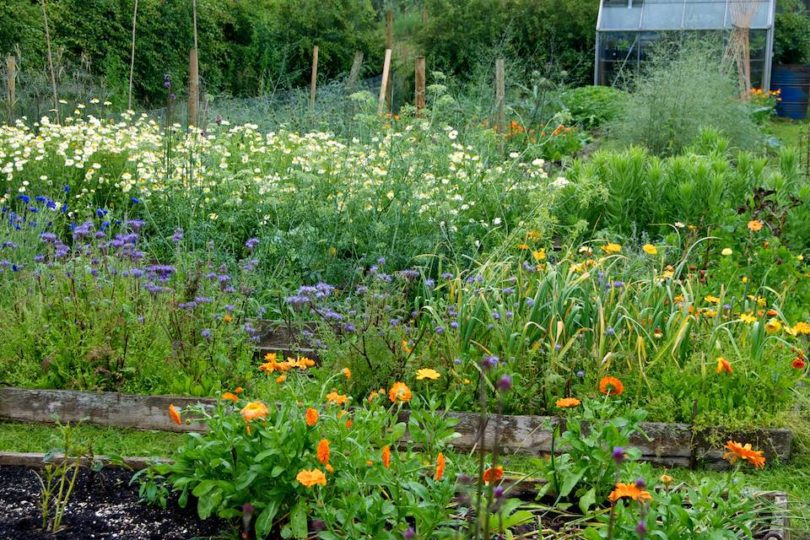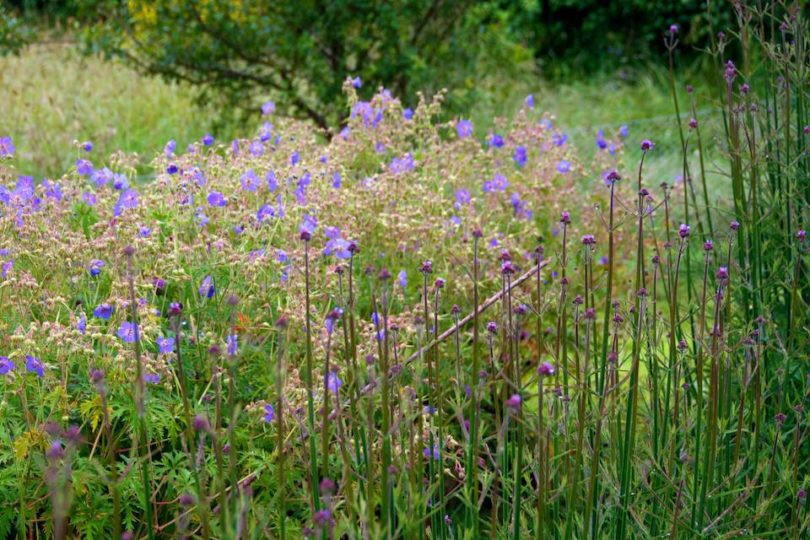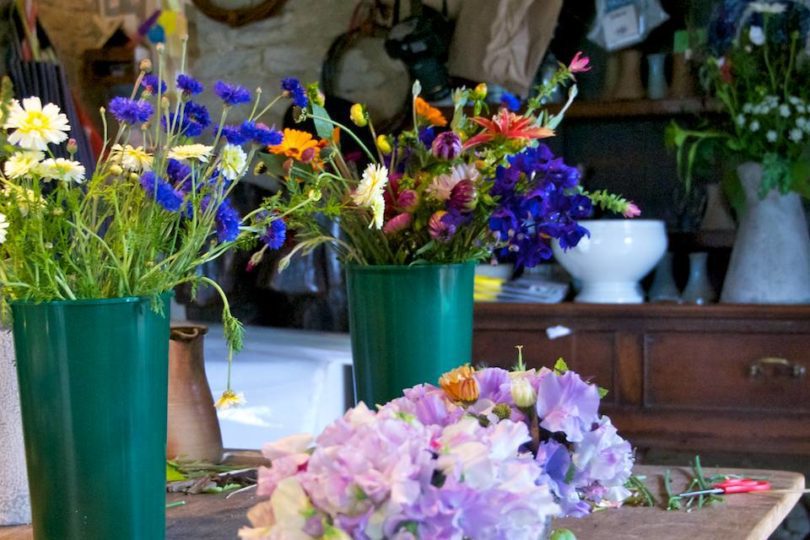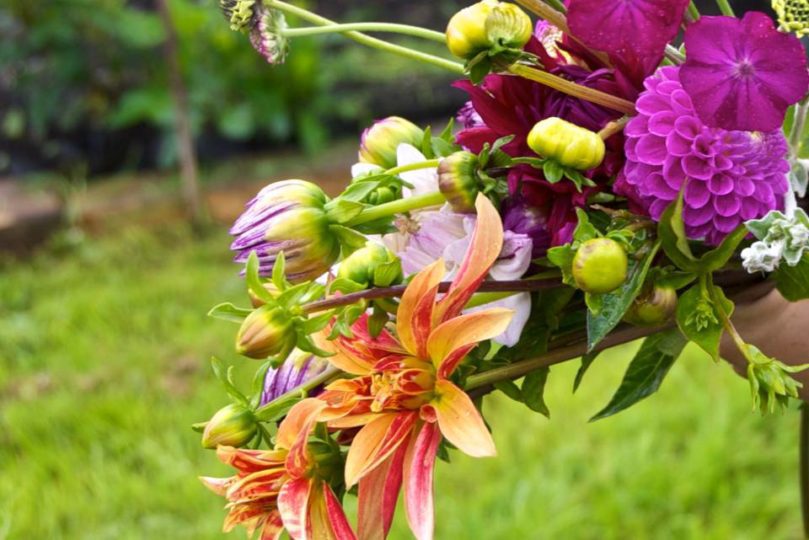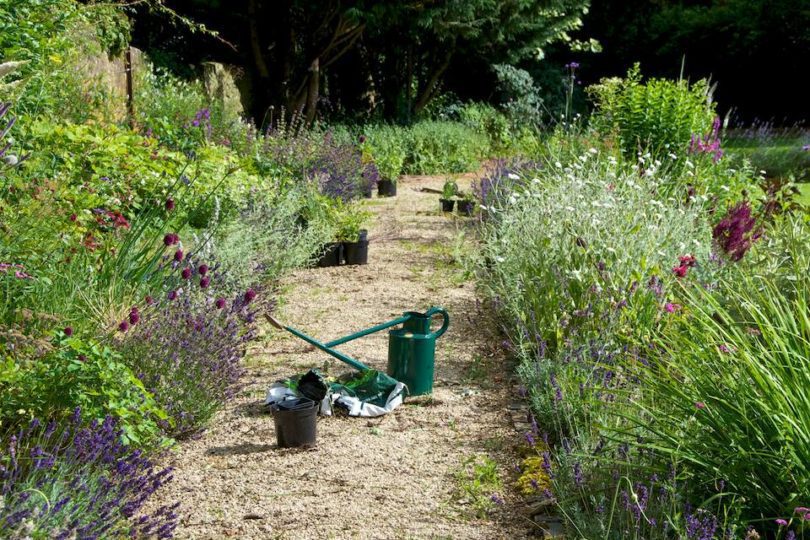 Newbery has exquisite taste in flowers and colours, very much evident in not just her stunning flowers, but her home and garden. Common Farm flowers are glorious, generously incorporating, not just (bi)annuals, but also wildflowers and perennials. The resulting bunches are nothing short of delightfully burgeoning mini gardens. The cutting garden and meadow is brimming with (a.0.) Delphiniums, Roses, Lychnis, Dahlias, Verbena Bonariensis, Calendula, Ammi Majus, Ammi Visnaga, Sweet peas, Pinks, Cepherlaria Gigantea, Monarda, Sedum, and wild flowers such as (a.o.) Corncockle, Field Scabious, and Red Campion. Working with such a range, quality and delightful material was a real treat, especially as we all have some/all of these in our gardens.
In her twenties, Newbery worked for Susan Train, Bureau Chief at American Vogue, in Paris, which has clearly rubbed off. 'It was fantastic. I think it taught me the value of real impact. We'd receive quite a lot of flowers at the office and they would come from Moulliee Savard (Rue Bonaparte 75007), the French equivalent of Moyses Stephens (Bond Street), located next to our offices. I remember this enormous basket of black tulips arriving in a nest of ivy, with black ivy flowers in February, and they were astonishing. I have always grown black tulips because of that', explained the passionate Newbery.
No nonsense
Newbery is refreshingly practical, and completely allergic to being too precious about anything in the garden, plants and especially flowers. Wandering around with her scissors, no plant is safe and she'll try cutting anything that flowers. 'If somebody says, that doesn't cut, that just makes me want to go and cut it and see because chances are it will', she says. Working at Vogue taught Newbery not to be over respectful of things. 'I'm not keen on seeing sweet peas for example, displayed at the various RHS shows, in that madly separated, stiff manner. Yes, they have four flowers on each stem and they're the best quality ever, but is that nice? Similarly just because something's has a long stem doesn't mean you can't cut it, or just because it has four flowers on the stem doesn't mean you can't take three off and use the top one. Make things work for you. I remember buying some parrot tulips for John Galliano and they were on, meter long stems. The florist was shocked when I asked for them to be cut short to keep the focus on the parrot part, tied simply with raffia tie, without cellophane or florist ribbon. He liked them though', she laughed.
Newbery has no qualms about cutting, what I class as precious, delicate single stems of plants such as Monarda or Delphiniums, plants which I usually leave well alone to flower on their own terms. Though, cutting even those does encourage more flowers, and agreed the repeating flowers are smaller, but in a way nicer, more natural looking. Since attending her course, my secateurs have been working overtime, and the benefits of prolonged flowering, much enjoyed.
Good Taste Brigade
There is ample literature on colour, rules as to colour combinations, optimum colour harmonies, colour theming but similarly to kaleidoscopic gardening genius; Christopher Lloyd, Newbery shuns all the prescribed rules. Exasperated by the 'I don't like orange', or 'I don't grow annuals' contingent, Newbery passionately encourages the use of strong colours, to provide contrast and interest. 'I've just cut lovely white and pale pink roses, very classic, with some pale pink and white sweet peas. While it's very pretty it's boring. Add some black sweet peas, add yellow, for that all important contrast', explained Newbery.
For fear of a severe scolding, unbeknownst to Newbery at the time, my long time personal membership of the 'I don't do yellow and especially no orange' club was of course kept schtum throughout the course. Our garden is pretty much void of yellow, and despite Dutch ancestry and their enthusiasm for the colour, so too of orange. Seeing Newbery work with yellow, it is clear that yellow does not dominate, but seems to bring out other colours. Chrisptopher Lloys said it best, 'Yellow is hugely invigorating. And combined with clear pink, yellow can jolt us out of habits that have become over-predictable'2. Admittedly, orange is personally still a rather aggressive colour (at this stage) but the likes of Cephalaria Gigantea, Coreopsis Verticillata 'Moonbeam', and Sisyrinchium Striatum, granted of lighter acid green yellows, will be making their way into the borders.
Newbery added, 'We believe really strongly in being unorthodox with our flowers. The day I find myself making flowers that look like flowers that you can buy in an ordinary florist shop, lovely though those flowers are, that is not what we're doing. Our flowers are interesting, interesting mixes of texture and colour, and we will never listen to accepted wisdom on what colour goes with what or whether something matches'.
Flower Farming
The estimated worth of the cut flower industry in Britain is £2billion, yet sadly only a meagre 10% of that, is British grown. According to flowersfromthefarm.co.uk, the nationwide network (co-operative) of cut flowers, twenty years ago, 50% was grown in the UK, but over the years we have lost out to countries such as Colombia, Kenya, Israel and the Netherlands that flood the UK market with the usual carnations, chrysanthemums, roses and lilies, selected for their ability to travel, and capability to store without water for long periods of time. 'There are actually many of us in this business, from people who have a cut flower patch in the back of their garden, to those half an acre or more in their market garden business, to large players such as Clarence in Cornwall with acres of greenhouses. The British flower industry is one which needs to be recognised that it exists', explains Newbery.
Curiously, when it comes to fruit and vegetables most of us do seek out British produce, but when it comes to flowers we seem rather indifferent. Granted, as Newbery confirmed, British flowers come with a higher price tag, but you are buying inspired variety, often natives, seasonality, supporting an industry that is beneficial to native pollinators and more often than not, such as is the case for Common Farm Flowers, free of chemicals.
Variety is key, and flower farmers such as Newbery help preserve and develop that variety. Newbery's course introduced me to new plants and varieties never previously seen or considered, which is invaluable. In addition, and granted this may (at this stage) be unique to Common Farm flowers, Newbery includes native wild flowers in her arrangements, which is not only encouraging in terms of preserving wild flowers, but her work to find wild flowers that are suited to cutting, should encourage others to follow suit.
Cutting Patch Wisdom
It started as a silly experiment, a small 3x2m cutting patch in the kitchen garden, but has generated an astonishing volume of delightful flowers. The enjoyment thereof has ensured it permanent feature status. Furthemore, more flowers will be grown in and amongst the vegetables for further cutting and curb appeal. This years haul included; sweet peas ('Karen Louise' and 'Flora Norton'), Ammi Majus, Ammi Visnaga, Centaurea Cyanus 'Black Ball', Orlaya Grandiflora and superbly generous supplements of additional sweet peas to replace those murdered by slugs, grown by the talented Tamsin Borlase of @Bosleypatch.
When it comes to choosing plants, the message is similar to choosing one's fruit and vegetables; grow what you love. Practically crucial, as Newbery explains, 'Don't grow something you don't like or aren't interested in because you'll lose interest, stop cutting and it will simply go over and die'. Trying to keep up with the Olympic race that is keeping sweet peas from going to seed is quite something. So far pods are in the lead…
In terms of number of plants, Newbery explains that you'll need less than you think you need. 'If you're cutting just for an ordinary house, you only need a tiny patch. You need maybe one cornflower plant, one calendula, one stand of sweet peas, one dahlia. Really. My first cutting patch had five dahlias, five cosmos, five Verbena Bonariensis and five sunflowers. You will get an incredible amount of flowers from just that', confirms Newbery. For successive cutting, Newbery advises to plant a few bi-annuals in June, plant some hardy annuals in September, plant more hardy annuals in January and then plant your tender annuals in April.
Colour-wise, the cutting patch is very pretty, but still too dominated by predictable pastels, which I am keen to correct. The kind @bosleypatch additions, have injected some much needed colour this year for which I am eternally grateful, but vibrancy is certainly on the menu for next year.
Clashing Phlox
In his book, 'Planting the Natural Garden', Oudolf described one particularly admired plant, the Phlox Paniculata Dusterlohe, as having an 'Alarmingly brilliant lilac-pink color, that makes the phlox extremely ugly and incomparably beautiful at the same time'. Despite much hesitation, the Phlox was proudly planted in the autumn last year, and seeing its stunning uninhibited colour this summer, one can't help but wonder why on earth I didn't do that before?
Unfortunately, there are at present, no photographs of my superb daredevil Phlox, for which Georgie Newbery and my shiny secateurs are fully to blame.
 Footnotes
Designing with plants, Piet Oudolf & Noel Kingsbury, Conran Octopus Ltd, 1999
Colour for adventurous gardeners, Christopher Lloyd, BBC Books, 2001