Aghast I tell you, aghast. According to scientists, pink doesn't exist! My favourite flower colour is apparently nothing but a cunning construct of our eyes and brain. Dubbed, a 'made-up' colour, or 'minus-green'1 even. How very dare they…
Apparently pink is absent from the visible spectrum, which is why it's seemingly somewhat of a scientific enigma. Colours from the rainbow correspond to different wavelengths of light. Red, orange, yellow, green, blue and violet. No pink. Discerning labcoats therefore conclude that the colour pink is just the wishful thinking of our brain blending spectrum opposites (red and violet wavelengths of light) together to create the colour. Since the two arguably don't naturally interact, scientists argue that pink isn't real. It's a cognitive fraud. A big lie we've invented in our brains.
A cunning brain concoction or otherwise, I couldn't imagine the garden without pink. Therefore by means of this post, I intend to celebrate glorious pink in all shades of its 'non-existent spectrum', in perennial form. Fifty of them, oh yes. Take that, all ye pink skeptics out there.
Without further ado, and in no particular order,…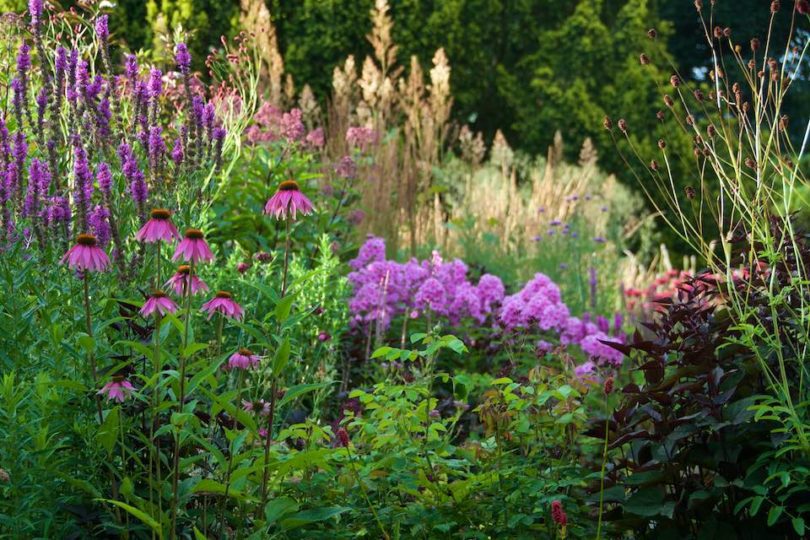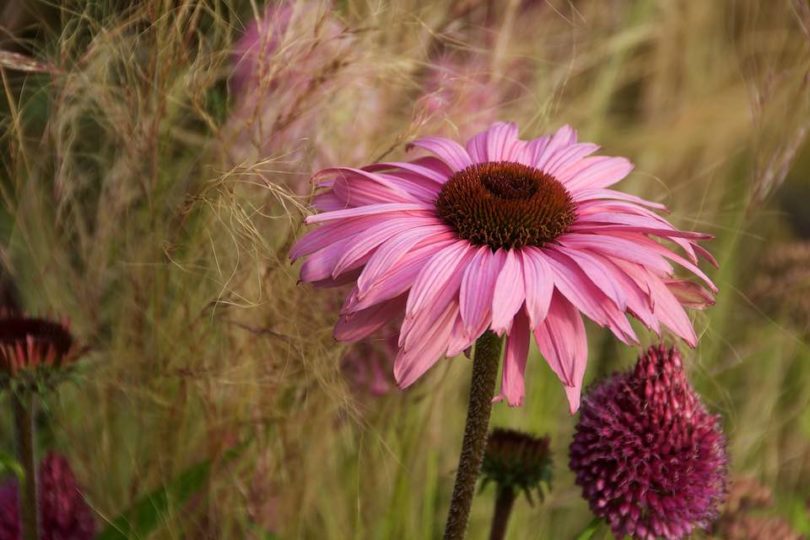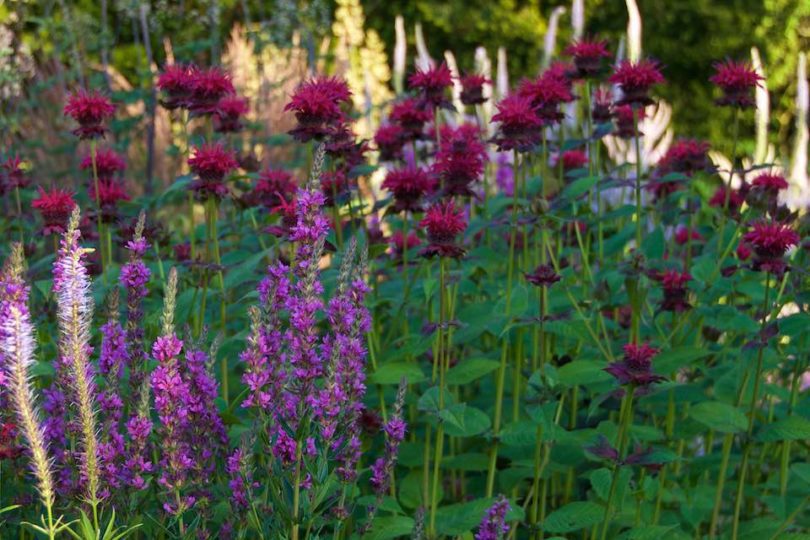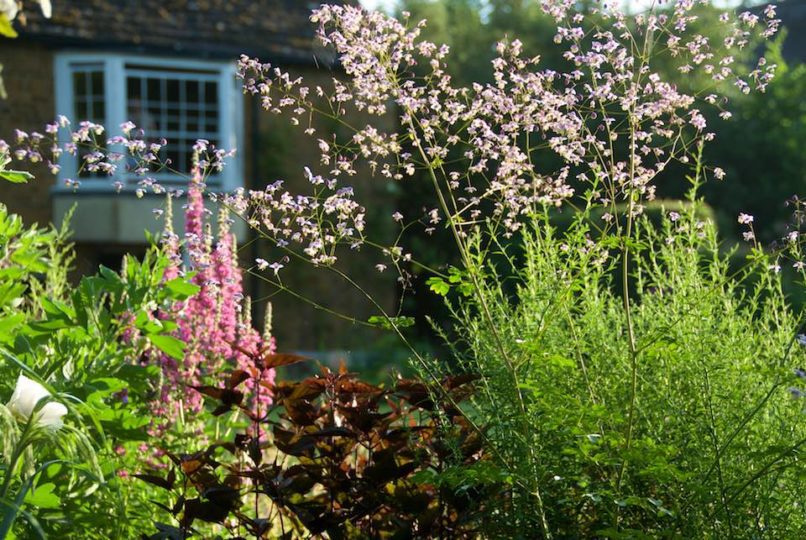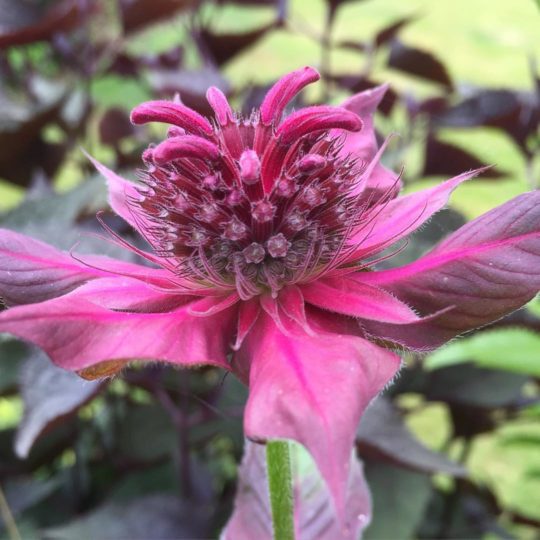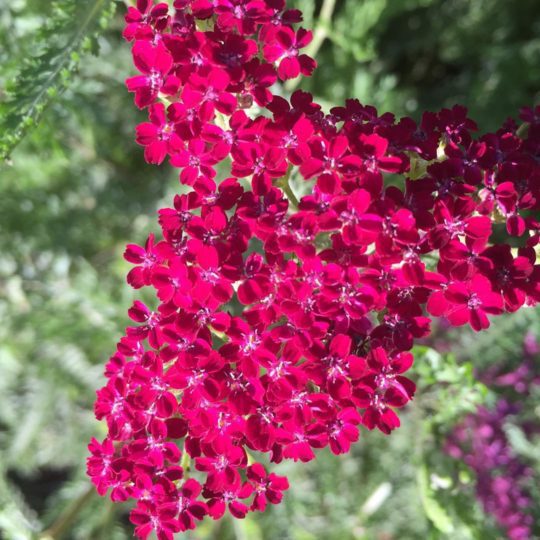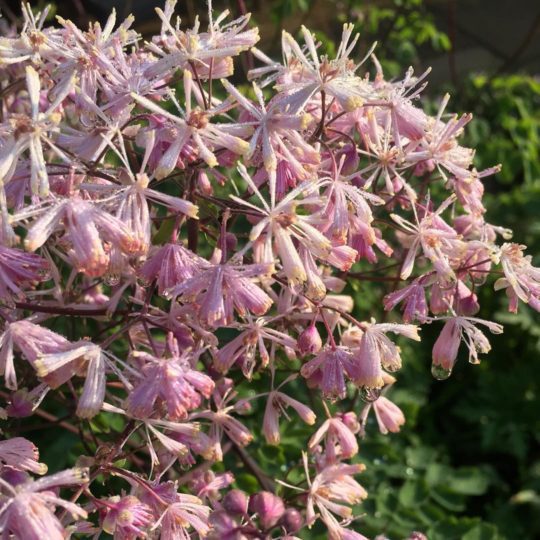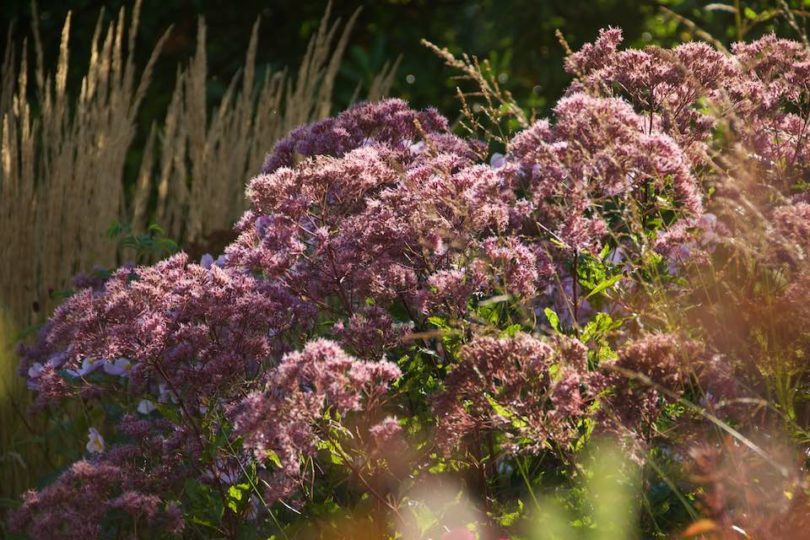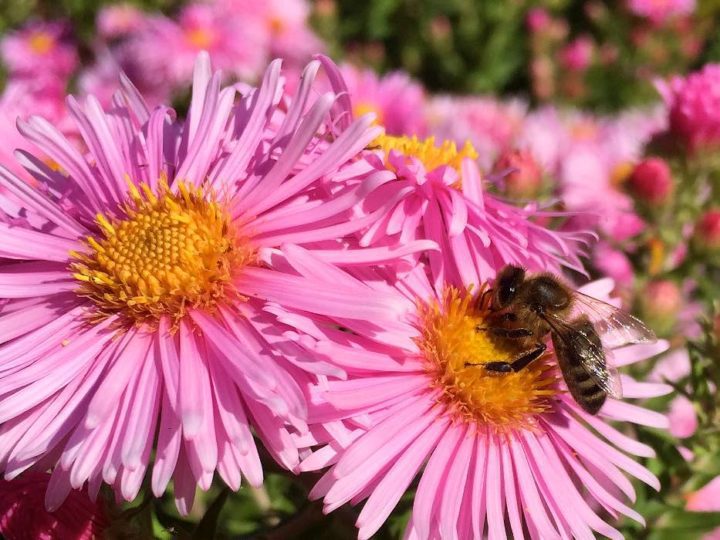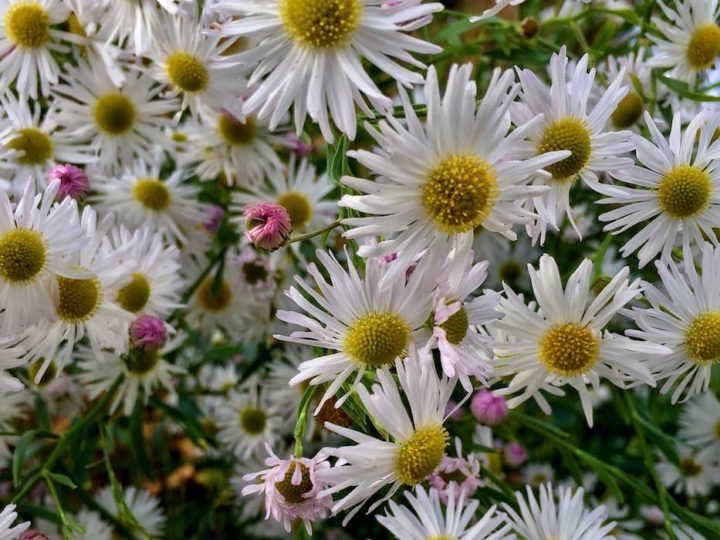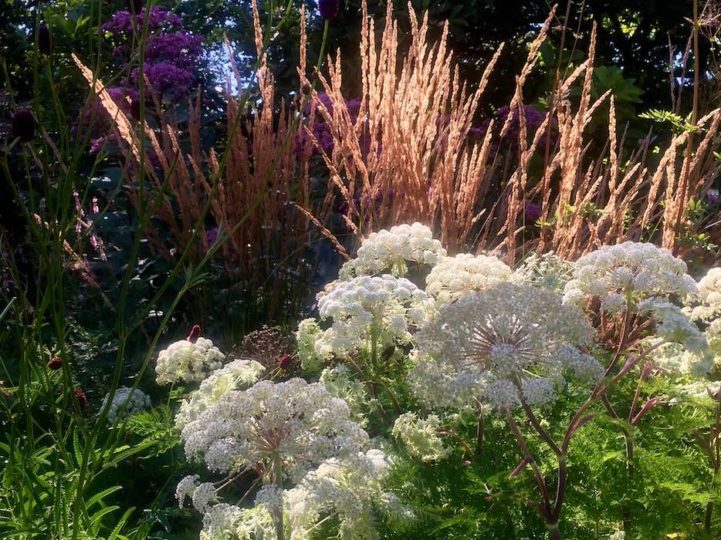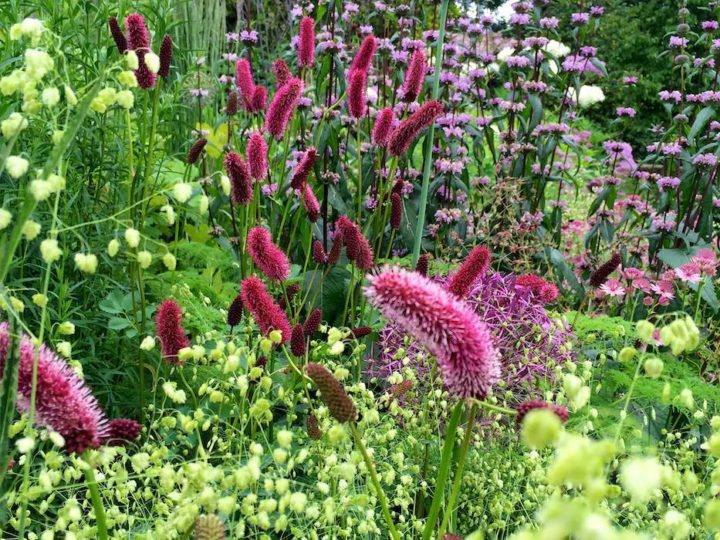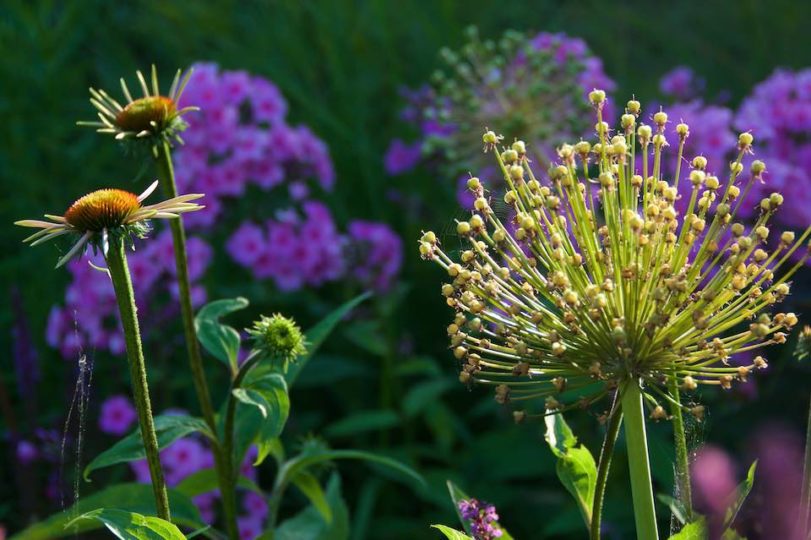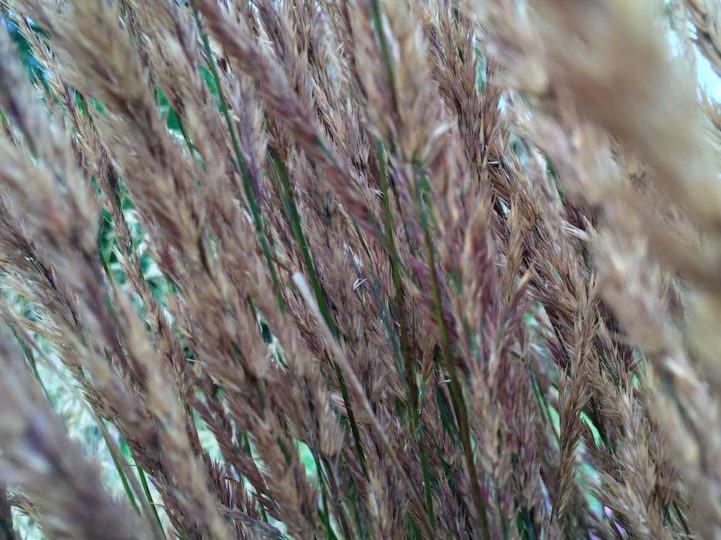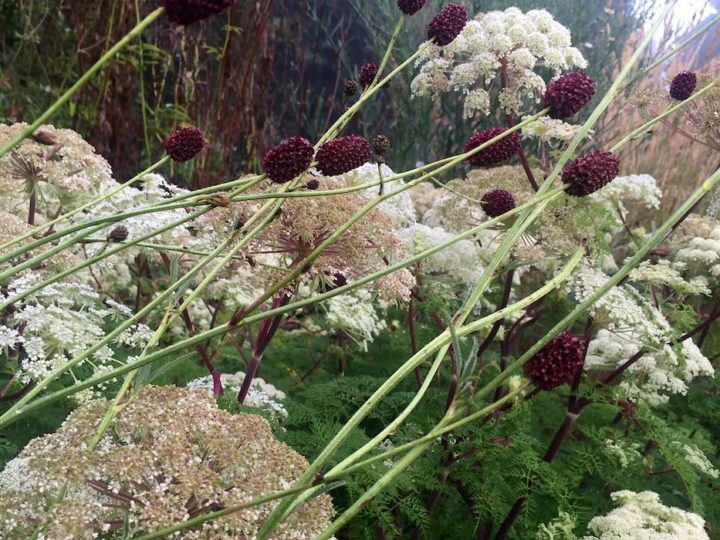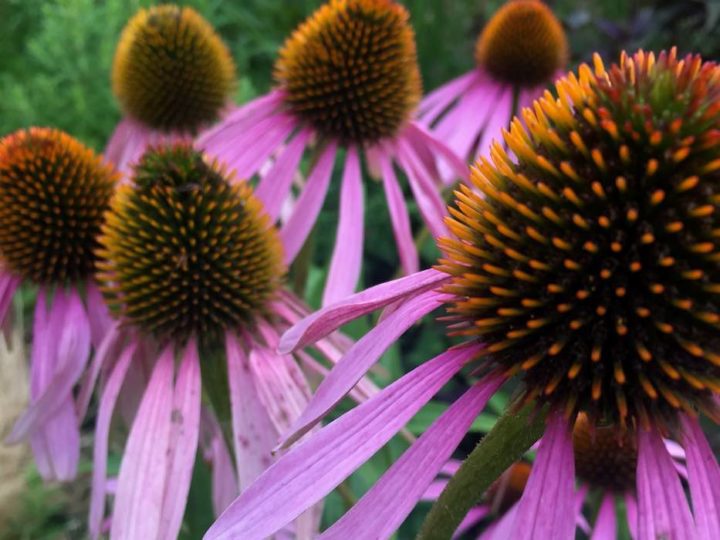 In your face, startling 'Ooh Matron' Pink…
For a good solid dose of 'Ooh You Are Awful… But I Like You!' pink, few plants provide a better solid block of colour than phlox. My favourites certainly don't take pink prisoners.
Top in this class is, (1) Phlox paniculata 'Dusterlohe'. Introduced in the 1930's by the genius Karl Foerster, this beautiful phlox has the most alarmingly brilliant magenta-pink colour. There are no shades quite as bold and it simply glows in evening light. Not quite in the same radioactive pink genre, but equally audacious is the cyclamen pink (2) Phlox paniculata 'Sandringham' with its elegantly dark centres. A fortunate gift we inherited in this garden, now happily divided and oozing pinkness throughout the garden.
For that similar density of 'How very dare you' pink colour late in the season, asters are the weapon of choice. Flowering profusely now with its undaunted cerise-pink flowers, (3) Symphyotrichum novae-angliae 'Andenken An Alma Potschke' is difficult to out-pink. Mind you (4) Symphyotrichum novae-angliae 'Lucida' and (5) Symphyotrichum novae-angliae 'Crimson Beauty' come close.
Not to be outdone, the romantic rose can certainly compete in this class of startling pink. With its distinctive opulent rich crimson pink flowers and closely packed petals, (6) Rosa 'Charles de Mills' is my first brassy crimson pink trumpeteer. This gorgeous, old Gallica rose flowers just once, but is supremely beautiful when it does. Generous double blooms of the richest crimsony pink colour. Similarly potent, (7) Rose de Rêscht packs a good pink punch. A great upright, and compact bush that will gradually grow to be about 3-4 feet and capable of providing a good second flowering late into the season. In fact it's still flowering generously today, with more buds on the way.
Despite being infuriatingly 'short-lived' perennial, leading the 'well hello it's pink' pack for team Monarda is (8) Monarda didyma Raspberry Wine. Whorls of the deepest crimson pink flowers with dark pink tinged bracts appear in July and last right into September. Definitely my top plant this year.
Wherever possible, brassy pink accents have been planted throughout the borders. The most sparkly and intense pink is (9) Filipendula purpurea. A superb plant with fern-like leaves, topped with plumes of pink carmine flowers, which fade as they mature. Tall deep pink spikes of (10) Lythrum salicaria Robert supplement its wilder more purply pink cousin (11) Lythrum salicaria beautifully. (12) Dianthus carthusianorum provides superb accents of small, single, magenta flowers that seem to float on its near invisible grassy green foliage. The last of alliums to flower in late summer, (13) Allium sphaerocephalon adds great colour by means of its claret pink egg-shaped flower heads which fade to a lovely dusky pink. For superb tapestry of fine pink flowers, I refer to the much relied on (14) Achillea millefolium 'Cerise Queen' and (15) Achillea 'Summerwine'.
Most Sanguisorbas work well in the dark cerise pink scale. Some of my favourites include; (16) Sanguisorba menziesii, (17) Sanguisorba officinalis, (18) Sanguisorba officinalis Dark Form. For delicate yet wonderful floaty dark flowers (19) Anemone hupehensis 'Hadspen Abundance' is a favourite.
I end this section of beloved 'Lovely jubbly' intense pinks with none other, than the king of spring and a favourite every year at the RHS Chelsea Flower Show; (20) Cirsium Rivulare Atropurpureum. Commonly known as the Brook Thistle, this statuesque plant is a must for long continued startling crimson pink colour.
Classic, 'Pass the Dubonnet' pink
When it comes to the dainty soft pink shades, roses are winners. In the borders, we have several including (21) Rosa 'Comte de Chambord', (22) Rosa 'Jacques Cartier', and the vigorous shrub rose (23) Rosa 'Königin von Dänemark'. Incidentally, the lady queen of Denmark's roses stand up well to rain and our cold weather which is a real bonus up here in tropical North Oxfordshire. Finally, my treasured crested moss (24) Rosa 'Chapeau de Napoleon' with its fully double, deep silvery-pink flowers which fade to lovely soft rose pink.
Several phloxes qualify for my favourites in this, 'I'm a laydee' class of pink. Top of of the list; the pinky violet coloured (25) 'Franz Schubert', and the distinctive (26) 'Mother of Pearl' with its delicately cupped white flowers suffused with glorious hues of pink. These phlox look especially good with their fellow soft pink neighbours (27) Monarda 'Beauty of Cobham' and (28) Monarda 'Croftway Pink'.
Especially at this time of year, sedums add a splash of colour when most flowers are going over. I love sedums, but my favourite cultivar by far is (29) Sedum 'Matrona' with its dark purple stems and clusters topped with clusters of soft pink flowers in late summer.
In my book, no garden should be without thalictrums. With their delicate airy flowers and lacy foliage, thalictrums always make me smile. In terms of soft rose charm, my thalictrum army easily clock up a few notches on my pink scale. For starters, on my 6ft3 eye line, it's none other than (30) Thalictrum Elin. A superbly handsome beast, with attractive glaucous green foliage and haze of dusky lavender-pink flowers in June and July. For superb rich pink fluffy display, (31) Thalictrum aquilegiifolium won't disappoint. Venturing to pinky-lavender hues, favourites include (32) Thalictrum Black Stockings and the taller (33) Thalictrum delavayi.
Pink is synonymous with anemones. I love them and they play a big part in my pink garden tapestry. Somewhat slow to settle and establish, but once they do, the garden will be blessed with masses of elegant, cup-shaped, pink flowers on tall, wiry stems from August to October. My favourites include; (34) Anemone x hybrida 'Serenade', (35) Anemone x hybrida 'September Charm', (36) Anemone x hybrida 'Robustissima' and the seemingly sturdier (37) Anemone × hybrida 'Königin Charlotte'. The latter is a superb neighbour to the subtle (38) Symphyotrichum novae-angliae 'Harrington's Pink' and (39) Symphyotrichum 'Pink Star' with its charming fluffy pink flowers.
Elegantly faded, 'Ooh Betty' pinks
All perennials in this garden have to sing endless tunes for their supper. Indeed. They all have to work hard and provide interest right from the moment they spew out tiny maiden shoots in spring, to interesting seed heads post flowering season. And that's not all I ask. Flowers should ideally also have a colour that develops to interesting antiqued shades throughout the flowering season. One of the best examples is (40) Tulip 'La Belle Epoque' which is an incredible tulip which starts off a beautiful dusky apricot-pink, maturing slowly into a kind of pink coffee mousse.
Of all my favourite pink faders, none beats (41) Eupatorium maculatum (Atropurpureum Group). If I was to take one plant to a desert island with me, this would be it. Granted, I'd probably starve as they're not edible, but they'd certainly put on a show. Big, sturdy, majestic, superb foliage, coloured stems, topped with large dome-shaped clusters of small pinkish-mauve flowers which last for weeks and fade beautifully to a dusky persian pink. The slightly wilder, blush pink (42) Eupatorium purpureum looks superb planted together with its purpler cousin.
Echinacea flowers too, mature beautifully. If you look carefully, their petals fade at the edges to an elegant frosted grey fondant pink. Annoyingly, like Monardas they're quite short-lived and can just disappear despite generous shows in the summer prior. To combat this, we have a constant supply of new recruits. Favoured cultivars include; (43) Echinacea 'Rubinglow' with its horizontal ray florets, (44) Echinacea purpurea 'Magnus' and the taller (45) Echinacea purpurea.
Sedums are similarly good at the fading colour trick. The flowers of (46) 'Sedum spectabile 'Brilliant' start off conservatively salmon-pink, but mature to a rich pinkish-bronze, worthy of a place in this category.
No, but yeah, but no,… but yeah I call it Pink
And if you think I couldn't possibly add any more pink to this garden, you are mistaken. There's more.
This category of pink is dedicated to those plants that provide a gentle hue, a flicker or just a whisper of pink to my rose tapestry. Some might argue they're not pink, but as I see everything through very rose tinted glasses, despite what the starched labcoats have to say, they're (in part) pink. We're also incidentally just a few perennials short of my ambitious fifty roseate target, so we're arguably stretching the boundaries of this fine non-existent colour. (Having said that, I realise now that we haven't even tackled astrantia, hardy geranium, veronicastrum…)
To start the ball rolling in this category of 'I don't beleeeeeeeeeeeeeeve it! (but you really should)', pinks; (47) Macleaya cordata. Tall, (can be invasive) plant with beautiful hazy plumes of tiny, coral-pink flowers which appear in June and July on stiff, towering stems, above unusual, scalloped, glaucous leaves. (48) Selinum wallichianum has to be one of my favourite umbels. Masses of tiny, star shaped white flowers appear in flattened umbels from summer right through to autumn. Holding these beautiful billowing clouds of flowers are beautiful pink tinged stems, adorned with fine fern like leaves. Similarly embellished with a mass of white flowers, (49) Boltonia asteroides puts on a lovely pink display when the flowers are still in bud. A lovely plant, which grows like the clappers and will need staking, but is a beauty to behold.
We end my pink catalog suitably where we started with another plant by the esteemed Karl Foerster. Many may disagree with this entry in my pink line up, but amongst its straw haze there are most certainly pink tinges. I am speaking of none other, than my favourite grass (50) Calamagrostis × acutiflora 'Karl Foerster'. A truly brilliant grass. One of the earliest perennial grasses to get going in spring, followed by flowers that are green first, then fade to soft pinky buff. Look carefully, you'll see that bit of pink panther in there. I promise you it's there.
Eh voila, my homage to pink! A construct of my eyes, made-up or otherwise, but a colour without which the garden would be much be a minus….
Footnotes
Minus green because apparently it is the effect of white light once you remove green