Without their autographed covenant, the aspiration of an RHS Chelsea Show Garden will remain just that; an aspiration. Eligibility for designing an RHS Chelsea Flower Show requires not just exceptional design, salient designer qualifications, previous show experience, generous sponsor, but above all, cooperation with a dexterous and experienced contractor. Leading on from 'Chelsea Flower Show: The 2012 Thompson Design', the fourth article in this Chelsea series, highlights the role of the contractor in the creation of an RHS Chelsea Flower Show Garden. Meet David Dodd, founder of the Outdoor Room, and assigned contractor for Jo Thompson and The Caravan Club's, 'A Celebration of Caravanning', 2012 Chelsea Flower Show Garden.
'It all started with the storm of 1987', explained award winning, RHS Chelsea veteran contractor, David Dodd. 'I was 17 years old, wondering what to do with myself and about to sign up for the navy', laughed Dodd. On a job assigned on the recommendation of his (employment agent) sister, the allure of that salty Navy career soon faded. 'After the storm, I was told to rake up two football pitches at Whitelands College in Putney'. For most, such an assignment would have resulted in a very short horticultural career, but not for Dodd. 'I thought this to be the best job in the world. It was a glorious October day, and I remember going home, determined to become a gardener', reminisced Dodd. Not even the superb garden tool maker Sneeboer, could have come up with a better advert for the humble rake.
Trained at Merrist Wood College, Dodd founded his landscaping business in 1995, bringing him to RHS Chelsea, via Hampton Court. Dodd's impressive RHS bling credentials will be known to many, including; (a.o.) 2006 RHS Hampton Court Gold Medal 'The Artist's Garden', design by Thomas Hoblyn; 2007 and 2008 RHS Chelsea Gold Medal Cancer Research UK Garden, design by Andy Sturgeon; 2010 RHS Chelsea Silver Gilt for Foreign and Colonial Investment Trust, design by Thomas Hoblyn. This year, Dodd is working with the talented Jo Thompson, on her 'A Celebration of Caravanning' show garden, for the Caravan Club. To date, Dodd's favourite build was Andy Sturgeon's 2008 Cancer Research Garden, so Thompson has quite some competition.
Contractor Craft
In the long run up to the show, contractors work closely with the garden designers, to assess the feasibility of the design, in terms of construction, method of construction, material selection, and project budget. Costs cover the accommodation of staff, machinery, building materials, special items and plants. 'Pretty much everything there is to do with the build', confirms Dodd.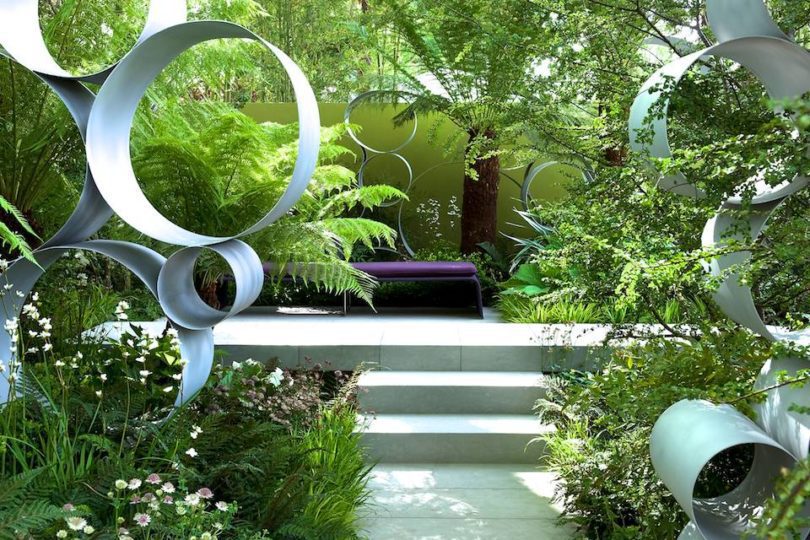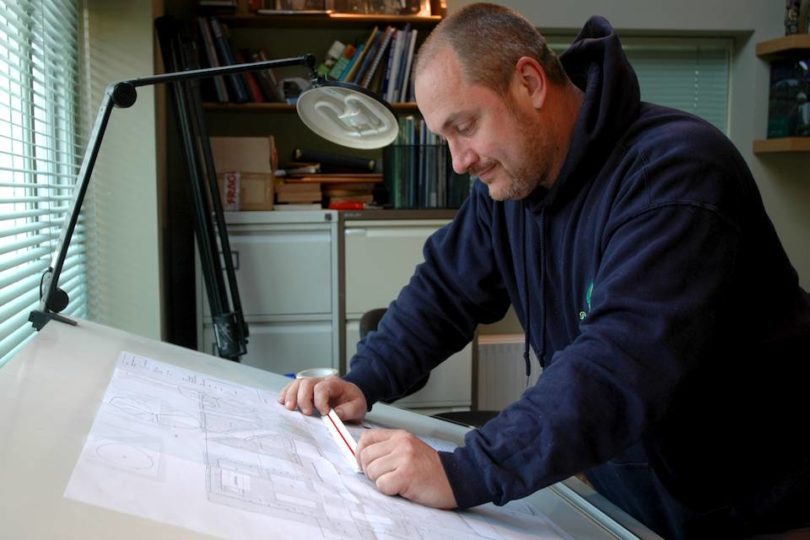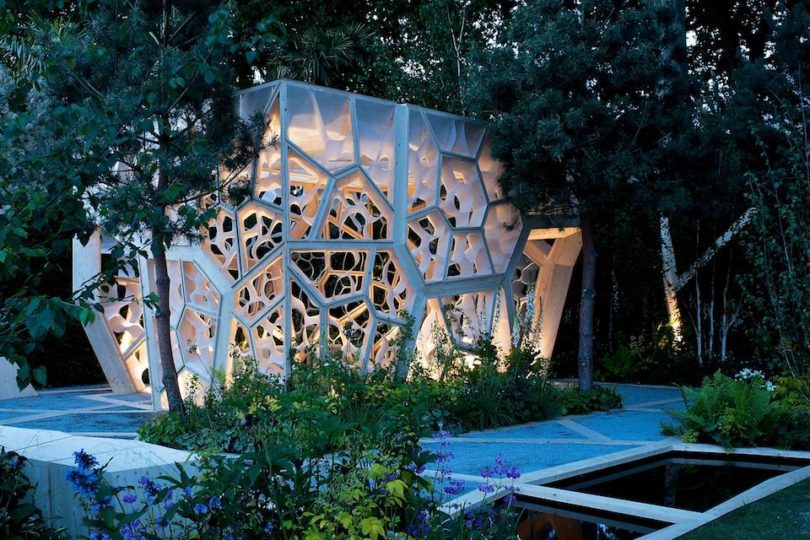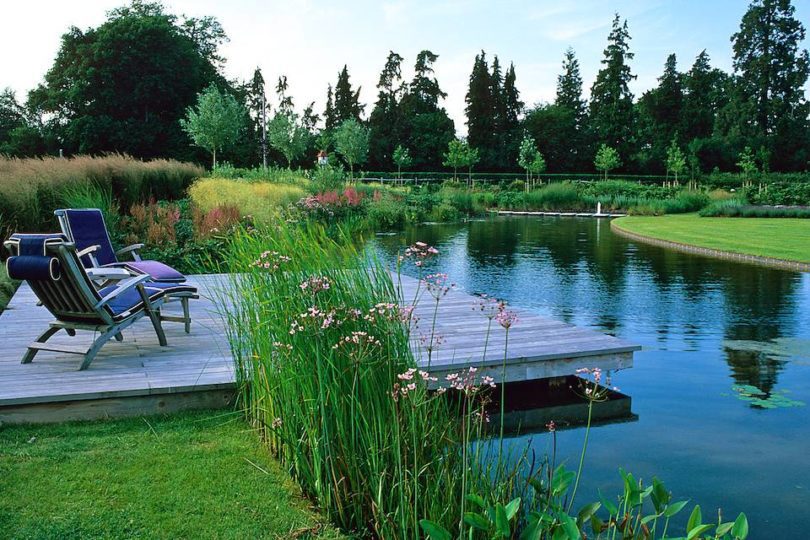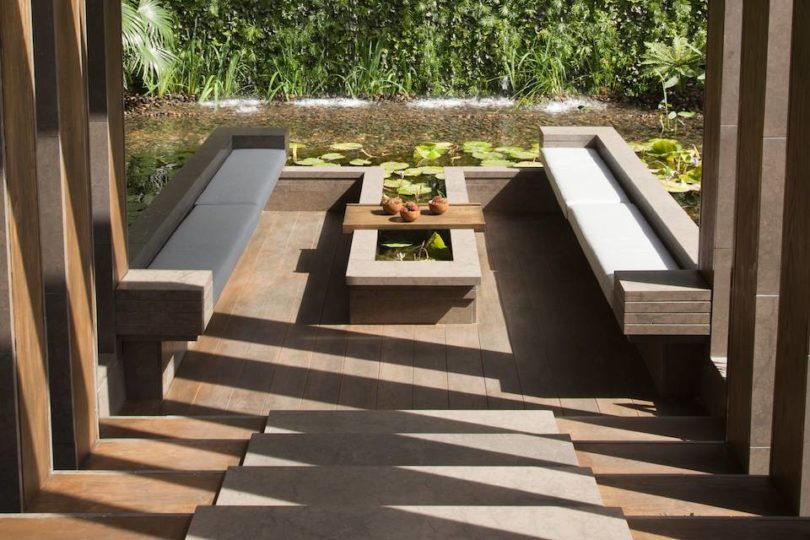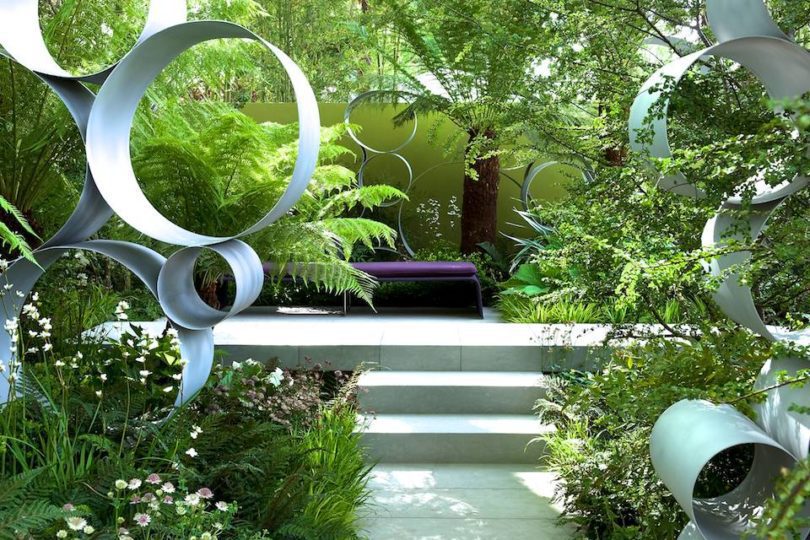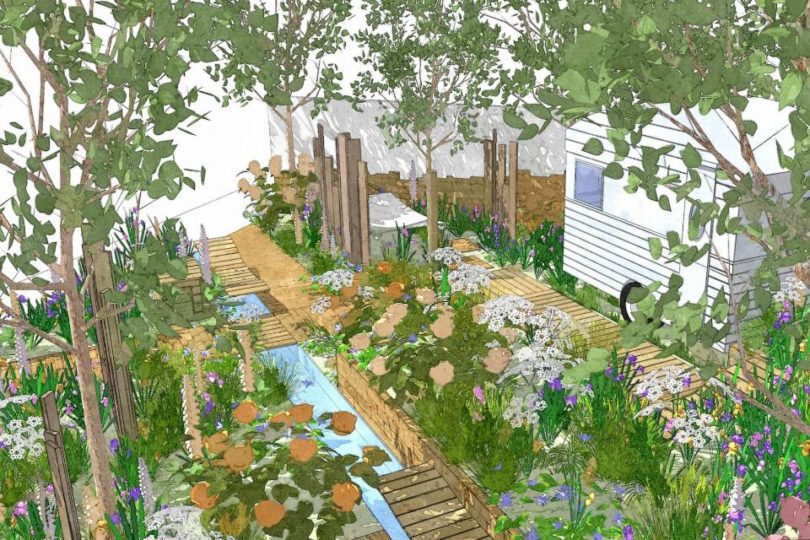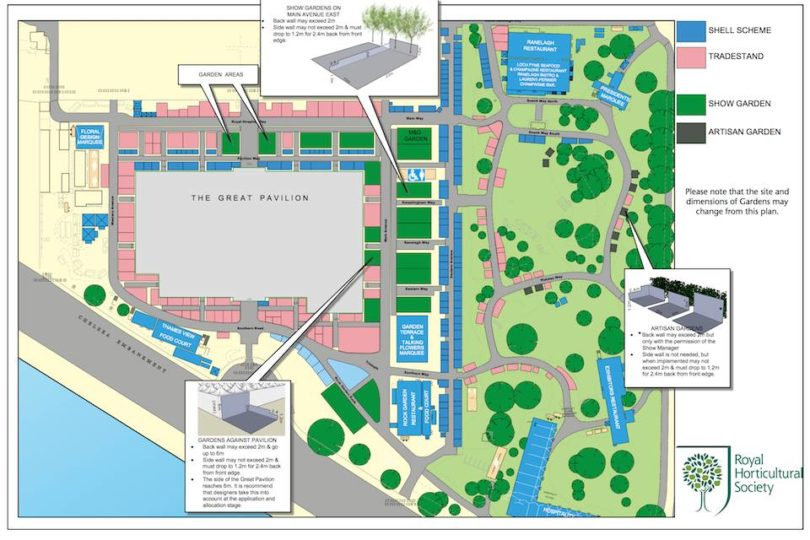 As the build approaches, the contractor's role involves meticulous project management, where everything is organised, down to the last minute. 'It's almost a military operation in terms of the precision required for the operation and construction, and hence ensure we work to the build schedule'. As Alex Denman, Show Manager, Chelsea Flower Show, explained, the main reason both contractor and designer, are required to have previous show garden experience is the complicated Chelsea build schedule. 'At RHS Tatton for example, there is enough room to bring in all one's materials at once, but that is not the case at Chelsea', explained Denman. 'We require the detailed build schedule to ensure we have complete understanding of all the elements that are brought in and timing thereof. It is not just the show gardens that are being built but also the marquee, visitor facilities and so forth. All need to be looked at very time sensitively', confirmed Denman.
Denman will be pleased, as Dodd explained that team Thompson is now at the stage, where they can simply 'roll up and start working'.
RHS Chelsea Gold Dust
Just as it is for the designers, the atmosphere amongst the contractors during the build weeks at the Royal Hospital, is very amicable. 'I don't think we are very competitive, just because we all know each other. It's quite nice actually, a chance to catch up', described Dodd.
However, despite such amicable relations, the RHS Chelsea (show garden) contracting business is tight-knit, making it tough for new entrants. 'You have to prove yourself. Shows such as Hampton Court or Tatton are good to start with', explained Dodd. Show experience is crucial, to ensure understanding of build schedules paired with the respective health & safety regulations, however it mostly comes down to the scale of budgets involved. 'Budgets for Chelsea show gardens, range from around the £200,000 to £500,000, with some rumoured to being much higher', revealed Dodd. Understandably, such astronomical budgets demand delegation only to the most experienced of hands. Furthermore, with Osborne, relentlessly crunching his much hackneyed calculator, those budgets will undoubtedly continue to soar.
As a consequence, there are but a small number of RHS Chelsea show garden contractors on Denman's Chelsea Rolodex. 'With regards to show gardens, I would say there are ten of us', confirms Dodd. For a designer to find their partner of choice, is therefore not too difficult a task. 'Most designers know us and some have their preferred contractors', explained Dodd.
Thompson Magic
After an exhausting 2011 Chelsea Flower Show for the Outdoor team, where they completed, both the 'Tourism Malaysia Garden', by David Cubero & James Wong and the 'Times Eureka Garden' by Marcus Barnett, Dodd was only too keen for a 2012, Chelsea-free year. However, potential absence can make even the best, nervous. 'From a contracting point of view, once you're in there, you've got to be seen to be there', revealed Dodd. Thompson's smaller show garden proved the perfect solution. 'I really liked Jo, and we were more than happy to be doing a ten by ten', said Dodd.
All elements for show gardens, made by the various select specialist fabricators, are carefully programmed into the build schedule. Beside the (soft and structural) planting, Thompson's show garden features, include; the illustrious 'Doris', the British Fisher Caravan, steel water rills made by Simon Percival, timber furniture and bridge, made by Auspicious Joinery, dog kennel designed by Thompson, and patchwork hammock and cushions, made by Carmel Meade. Individual production plan for each element is down to the agreement with the respective specialist fabricator, and probably some gentle, whip cracking by Thompson along the way.
According to Dodd, one of the more challenging aspects of Thompson's design is to ensure the water and rill levels are all correct. 'For rest it's the detailing, and that's going to take time. We have the right staff to do that', explained the confident Dodd.
White Elephant
The allocation of respective spaces is completely at the discretion of the RHS. Thompson's allocated show garden is situated on the renowned Main Avenue. Though, despite such an illustrious position, there are complications. Lack of storage is an issue, though Doris, being of generous girth may provide the solution to that problem. Perhaps the biggest conundrum, and point of contention for Dodd, is the enormous white Chelsea Pavilion, situated right behind Thompson's plot. 'I think that the RHS are slightly unfair on this aspect, as one can be marked down for not screening off enough of the huge white Pavilion behind the garden. I have known gardens in the past to be marked down on that', remarked Dodd. For gardens with smaller budgets, stretching the budget, to hide the imposing Pavilion, is a challenge.
Lady in Waiting
Doris will need to await her Chelsea arrival, until Dodd's team have set out the garden, ensured the levels are exact, steel rill excavations are completed, and foundations laid. Doris will then be towed (and probably pushed) into position, after which the garden will start to take its shape. 'Only then will Doris be brought in, because we have to literally build the garden around her', explained Dodd. Once Doris is settled, the paving, walling and rest of construction is planned, leaving approximately a week for planting.
Doris needn't worry about being in the middle of a manic building site. Dodd has completed all the strict, Risk Assessment and Method Statements, required for RHS Chelsea. 'Everything you do has to be accompanied by a risk assessment', explained Dodd. Rather painfully, that includes even the most basic of operations such as for example, evaluating the risk of banging a peg in the ground. 'Someone could trip over it, so it's a trip hazard. If so, what is the risk element? Is it (a) high, (b) medium or (c) low risk? What precautions are taken to reduce that risk element? Spray it with fluorescent paint, I've therefore lowered that risk element', explained Dodd.
Considering the degree of detail involved in the construction of an RHS Chelsea show garden, I can imagine that the risk of a hernia whilst lifting Dodd's Risk Assessment report for Thompson's 2012 show garden is undoubtedly; (a) high.
Bring on that fluorescent paint.