I write this in a disguise worthy of Inspector Clouseau as sharing any patisserie related recipes with anyone outside the family isn't very popular. You see, my grandfather was a master pâtissier, who learned his craft over many years in the sovereign patisserie territories of the world: France, Austria, Italy and Switzerland. His recipes were his trade, and he therefore, quite understandably, guarded them fiercely. To such an extent that even his treasured recipe notebook is written in code, which sadly none of us can decipher. My grandmother, a wonderful cook herself, fortified his fortress of recipes sternly, and made all of us children promise we wouldn't ever reveal any of the secrets of their craft. Until now that is.
Guilt ridden, I give you one of my grandmother's own recipes, which she learned from her mother. Despite it's incredible simplicity, these are simply the loveliest of orange biscuits I have ever come across. Fortuitously, these biscuits also present a good excuse to use the precious rind of oranges for anything but marmalade, as despite this most delectable of features, is not much favoured by yours truly.
A child of the Mediterranean, my grandmother never skimped on gastronomic offerings, generosity is key. This recipe is therefore munificent in its quantities, but with the aid of ye oldie arithmetic, one can of course make smaller batches.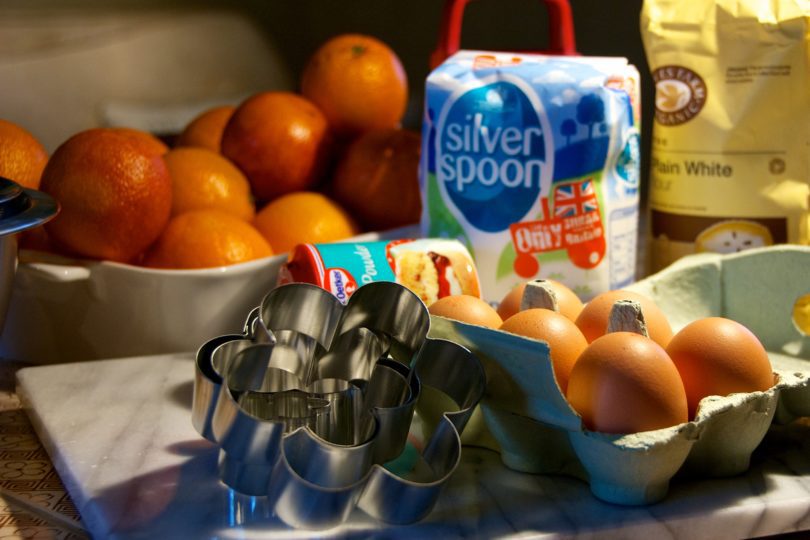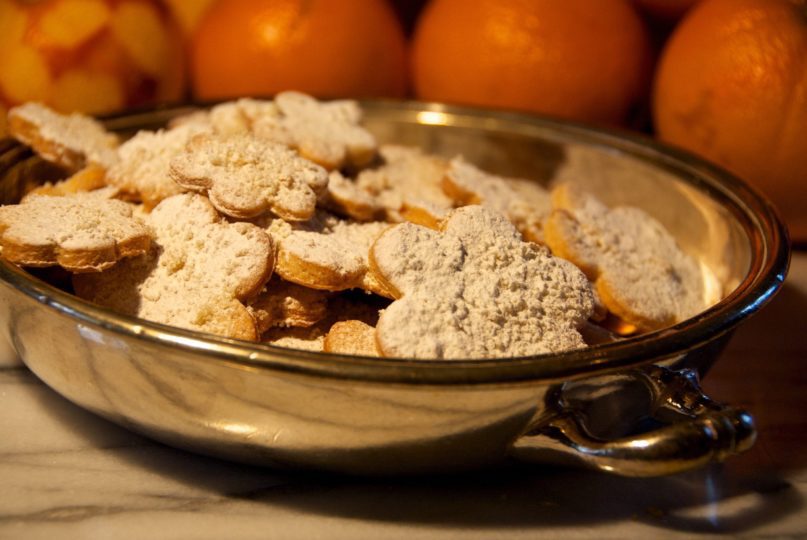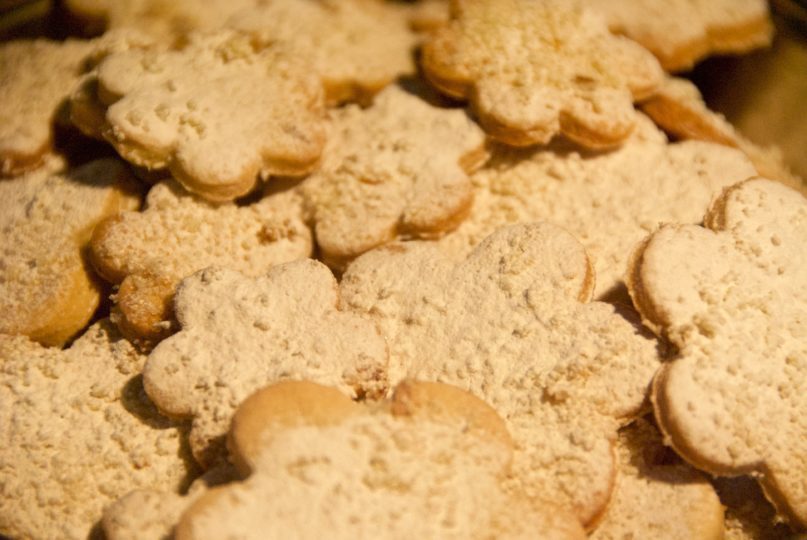 Ingredients
300g (good quality) unsalted butter
300g granulated sugar (Tip; she infuses her sugar by keeping it in a huge jar with copious vanilla pods)
Grated peel of 2 amply proportioned oranges (add more if you wish)
Generous splodge of vanilla extract
1kg of sifted fine flour (00 flour preferable but not a prerequisite)
2 tsps of baking powder
Generous pinch of salt
4 eggs
2 tbsps milk
Couple of tbsps of sugar mixed with a pinch of the orange peel
Icing sugar to decorate
Forget your magi-mixers, these biscuits are best made by hand. Preheat oven to 160°C and line large baking sheets with baking parchment.
Method
Mix the flour, baking powder, salt, orange peel and sugar into a bowl. Rub in the butter to a fine crumb.
Crack the eggs into a small bowl, and gently whisk in the vanilla and milk. Carefully pour the egg mixture into the buttery crumb and gently combine, until it forms a lovely, fragrant dough.
Wrap the dough in cling film and place in the fridge for at least an hour to rest.
At this stage, the world is your biscuit oyster, and one can roll and cut into any desired biscuit shape. My grandmother though, made them circular, but it is important that they are rolled thinly. Thin is key. She liked them so thin in fact that she used her pasta machine (on its widest setting) to not only ensure they are suitably thin, but also consistent in height for an even bake. Unknown to some, pasta machines make rather good biscuiting equipment.
Once the biscuits are cut to desired shape and on baking tray, allow to rest for a few minutes in the fridge. Though if one is hurried, and keen for a biscuit you could be forgiven for skipping this part.
To finish off, very gently paint the biscuits with a smidgen of water – either with a pastry brush or fingers, and coat with a generous scattering of the orange peel sugar.
Bake for approximately 10 min (or) until golden.
Transfer to a wire rack to cool.
Sift icing sugar over the biscuits.
And there they are, or as my grandmother would say 'Eccoli qua!', truly delicious, in their buttery orange goodness. Enjoy, and please for my sake, don't share this recipe with anyone.
Mum's the word.