By now, the magnificent Magnolia flowering season has probably ended. Though, depending on your location, for the lucky few, it may still be in full glory.  Admittedly, my knowledge of these wondrous trees is very limited indeed, having to date, simply admired from afar.
However, that changed after seeing Carol Klein's visit to Geldurgan Garden in Cornwall on a recent episode of Gardeners' World. In particular, regarding the Magnolia Campbelli Alba, which featured on the programme. The sheer size of the Magnolia Campbelli Alba tree, and not to mention its enormous, yet delicate, flowers, can only but induce one to scurry, wallet in hand, to the local nursery. However, our North Oxfordshire weather is no match for Cornwall's unique micro-climate. So, could this superb tree survive in other parts of the country, particularly in colder areas?
In an attempt to find the answer, I have been doing some digging in our bulging book shelves, on the internet, and consulted some specialist nurseries for additional advice. In his comprehensive book entitled, Magnolias A gardener's guide, Jim Gardiner, describes the Magnolia Campbellii, as the 'aristocrat amongst the Magnolia species'. Despite discovery by Archibald Campbell (hence its name) in Darjeeling, the first white Magnolia Campbellii ('Alba') was discovered by William Griffith in 1838. Incredibly, the first Magnolia Campbellii 'Alba' to be grown in the West, was raised from just three seeds, sent to J.C. Williams at Caerhays in 1926.
This particular Magnolia has a variable habit, in that it can either become a single stemmed tree with pyramidal outline, or have a more sprawling habit, similar to that of that many common Magnolia species. The former was the certainly the case for the tremendous tree featured on Gardeners' World. Surprisingly, its growth rate is vigorous, growing on average 90-120cm per year and could start producing flowers from 10 years. Maturity is reached at 25-30 years, where depending on location, is capable of growing up to 35 metres in height. This, therefore, certainly seems to be the Magnolia of choice, for the impatient gardener. Hence, brilliant, for yours truly.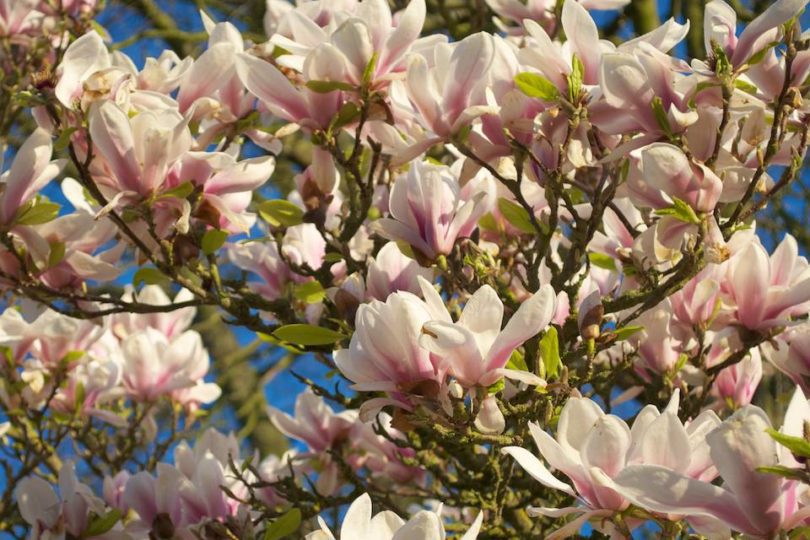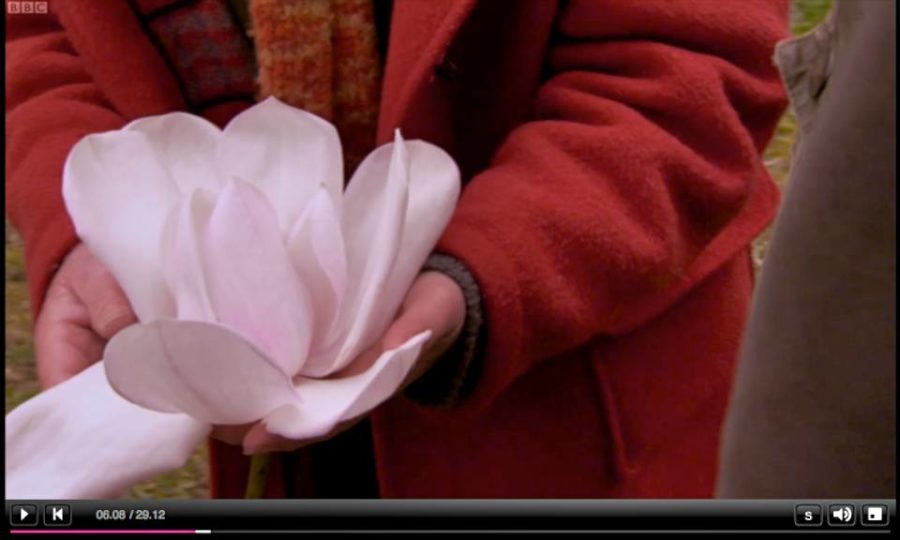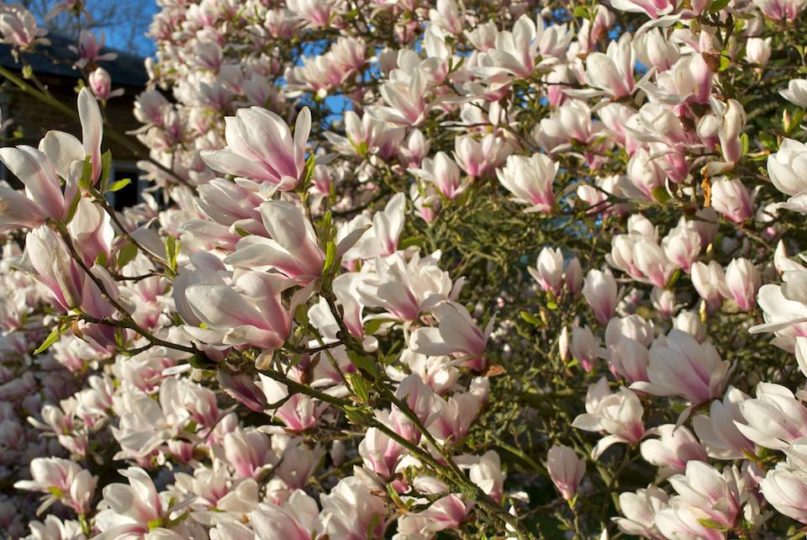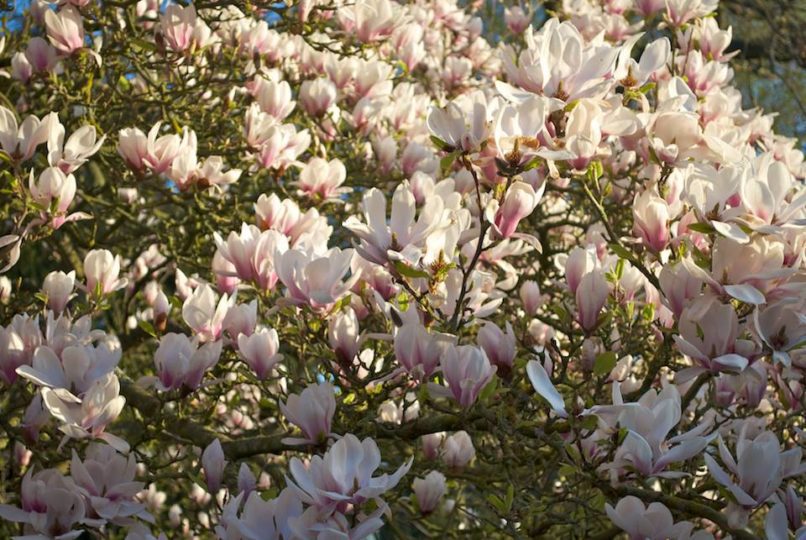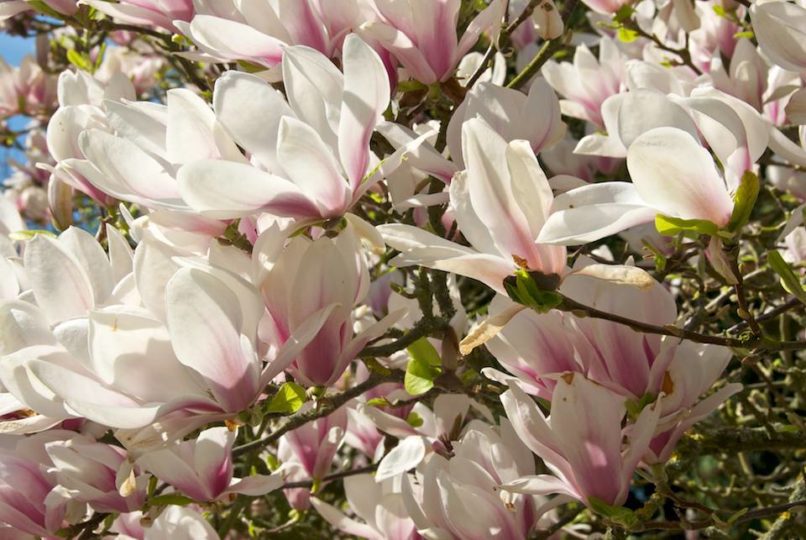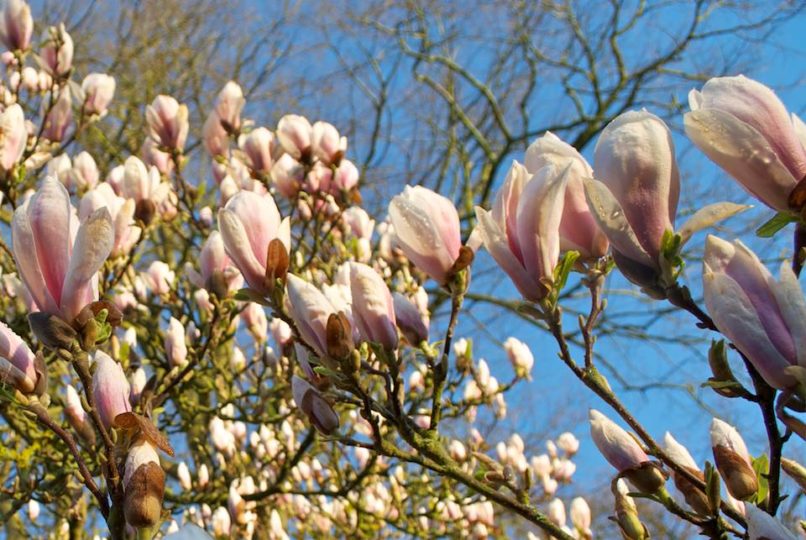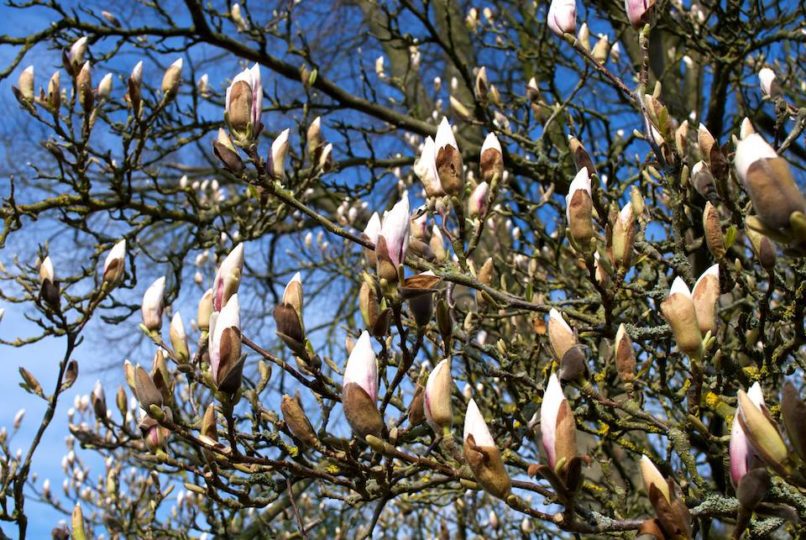 Flowering & Frost
Though, on further reading, the M. Campbellii is said to be amongst the first Magnolias to flower, which sadly does not bode well for our cause. As with all early flowering varieties, it is therefore very susceptible to (spring) frost damage. I would hazard a guess, that the sheer size of its buds makes it even more susceptible to frost and especially cold winds, all of which our region has in abundance. However, it is said to be hardy in temperate regions to about -15°C, and planting in a sheltered spot should provide sufficient protection. Furthermore, just as it for its cousins, frost is a danger to most Magnolias, but they seems to thrive regardless. We have two, established Magnolia x Soulangeana in the garden, that despite flowering late (late March/early April) are still susceptible. When frost damage did occur, they recovered and continue to thrive.
Interestingly, too much shelter is no good either. According to Gardiner, if planted within a walled garden, a North facing wall is preferable. West facing walls could generate too much heat, causing its buds to burst even earlier, and hence putting it at more risk of frost. This is all becoming rather complicated…
Sadly Gardiner's erudite book had no further answers to my quest, so I turned to some of the specialist nurseries for additional information.  Obligingly, Burncoose nurseries in Cornwall, provided both helpful and hopeful advice. According to Burncoose, the Magnolia Campbellii Alba is perfectly hardy and in the wild, grows in far colder temperatures than in our humble North Oxfordshire. Flowers may get frosted in odd years when they are out, but this is the case for all Magnolias. They confirmed that due to our colder climate, Magnolias flower much later, as they adjust to local conditions. All good news therefore.
Burncoose went on however, to mention that it would be a smaller tree than those growing in Cornwall, but that it will certainly flower. To flower successfully, it would need to be planted, in full sunlight, and under no circumstances be overshadowed by other trees. Similar to Gardiner's advice, shelter is good, but it has to be selected shelter. In this case, shelter from overhead trees is definitely not good. As a local condition and weather gauge, one of our local nurseries, Nicholsons, kindly confirmed that the tree would need protection from strong winds and that it should be able to withstand temperatures down to -15°C.
So, the good news is that the Magnolia Campbellii Alba should certainly be able to grace our garden, and thrive. The bad news is that it may not be the enormous sparkler, I had hoped it to be. We will certainly be looking out for a good place to plant one in the autumn. For those, keen to plant a Magnolia, Gardiner recommends autumn planting, though he went on to say that spring (March – April) planting can produce equally good results.
And who knows, with special care and attention, our future, soon-to-be-purchased, Magnolia Campbellii Alba, may prove us all wrong and grow into that magnificent towering tree that I so admired on the programme. One can always hope….